WND Finally Gives Up On The Proud Boys To Protect Trump
Topic: WorldNetDaily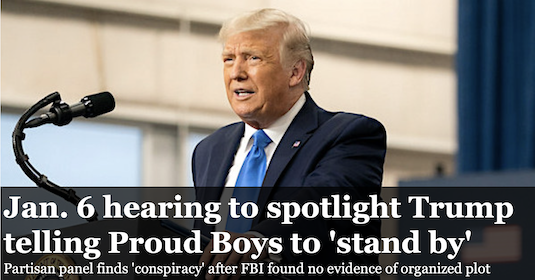 Prior to the Capitol riot, WorldNetDaily did a couple of fluffy profiles of the Proud Boys to attempt to dispel the not-inaccurate idea that they're a bunch of violent white supremacists. That didn't work. But interestingly, on the day after several Proud Boys leaders were charged with seditious conspiracy for their roles in the Capitol riot, WND's Art Moore devoted a June 7 article to trying to parse the words of Donald Trump in telling the Proud Boys to "stand by" during a debate:
The Biden Justice Department's charges this week of seditious conspiracy against five members of the Proud Boys group suggests the Jan. 6 committee's televised hearings will feature reruns of President Trump saying "stand by" during a 2020 campaign debate as purported evidence of an organized plot.

The FBI found no evidence of any coordinated conspiracy to overthrow the election, Reuters reported last August. But Democrats and establishment media continue to call a riot that disrupted Republican efforts to use the constitutional process for Congress to certify Electoral College votes an "insurrection."

[...]

After the Sept. 29, 2020, debate, establishment media took Trump's use of the term "stand by" to mean the Proud Boys should wait for his command to attack. But Trump clearly meant "stand down," as he explained to reporters the next day. It was the term moderator Chris Wallace used in his question. And it was Wallace who invoked the Proud Boys as he prodded Trump to denounce white supremacists – which the president had done many times before and which he did at that time during the debate, contrary to the media's headlines.
Moore is WND's leading purveyor of the "Charlottsville lie" lie.
Moore then rehashed his earlier article letting Proud Boys leader Enrique Tarrio defend himself, then moved on to the task at hand of trying to discredit the House committee looking into the riot, invoking its new favorite fraudulent filmmaker to do so:
Filmmaker Dinesh D'Souza contended Tuesday that the True the Vote investigation of illegal ballot trafficking in the 2020 election presented hard data that "has blown up" the committee's "underlying premise."

"The 'big lie' turns out to be a documented truth," he said, referencing his film "2000 Mules." "The 2020 election was demonstrably stolen by the Democrats. Patriots came to DC on January 6 to complain about that!"
So it seems Moore is throwing the Proud Boys under the right-wing bus in order to deal with issues that currently fit the needs of its right-wing, pro-Trump agenda. Poor Enrique.
Posted by Terry K. at 1:27 AM EDT