Psaki-Bashing And Doocy-Fluffing At The MRC: The Finale
The Media Research Center's Curtis Houck made sure to get his final licks in before he no longer had Jen Psaki to kick around as White House press secretary.
By Terry Krepel
Posted 7/13/2022
---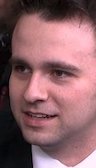 Curtis Houck
When it was rumored in February that White House Press Secretary Jen Psaki was thinking of leaving her position, the Media Research Center's Curtis Houck -- whose hatred for Psaki has been reinforced every day he smears her and fluffs Peter Doocy -- was eager to pounce in a Feb. 28 post:
According to Puck News's Dylan Byers on Wednesday, a real Psaki Show could soon become a reality as CNN and MSNBC have been jockeying to hire the current White House press secretary as a full-time host (and not as a commentator, like she did from 2017 to 2020 at CNN).

Byers — formerly of NBCNews.com and the CNN Media team — wrote that, "earlier this month," Psaki had respective lunch meetings with "CNN interim co-president Amy Entelis and CNN+ programming lead Rebecca Kutler" and then "NBC News Chairman Cesar Conde and MSNBC President Rashida Jones."

For CNN, they're hoping to nab "a marquee star" amidst chaos within the company. As for MSNBC, they're aiming to find someone to fill the void that'll be left by Rachel Maddow.
Because Houck can't abide anyone saying nice things about Psaki, he grumbled that "Byers gave syrupy praise for Psaki" by putting her in the company of other former White House staffer who have gone on to greater things, then whined that "Of course, Byers left out the affable and widely-respected Dana Perino of Fox News." He then complained that "Byers boasted that 'many of whom credit her with restoring dignity to a lectern that had been ravaged and abused by Sean Spicer, Sarah Sanders and Kayleigh McEnany. And her daily briefing has become appointment viewing for fans who eagerly await her pithy retorts to reporters[.]'"
He did, however, repeat Psaki tweaking Doocy during that day's press briefing:: "On Friday afternoon, Today News Africa's Simon Ateba asked Psaki about the report, to which she replied with a nod to Fox's Peter Doocy: 'I have more than enough on my plate here and so, you can't get rid of me quite yet. Sorry, Peter, for you on that.'"
When Psaki's next gig at MSNBC was reported on April 1, Houck made sure to insult her on the way out the door, though no departure date was announced:
Psaki — host of what we've referred to as The Psaki Show — has spent the entirety of the Biden presidency as perhaps its most public face (aside from the President himself), left to answer, lie, and spin her way through the many controversies, crises, and gaffes.

And, of course, it's safe to argue Psaki's stock wouldn't be anywhere near where it is without her viral back-and-forths with Fox News's Peter Doocy, who's been able to hold the administration accountable without scooping to the juvenile levels we saw with a host of liberal journalists to Trump press secretaries.

So, whether it'll be called The Psaki Show, Circle Back with Psaki, or Psock It, or Put a Psock in It, White House reporters will soon face a new face on a day-to-day basis at the podium.
Actually, the only juvenile behavior we saw in the White House briefing room during the Trump years were attempts by the administration to expel reporters whose aggressive reporting press secretaries the Trump crew frowned on, like Jim Acosta and Brian Karem.
Since he gets paid to trash Psaki at every opportunity, Houck used his briefing writeup that day to trash her for not confirming reports about her departure and purported ethics questions about negotiating a new job while still in the old one:
Hours after Axios's Sara Fischer broke news that White House Press Secretary Jen Psaki would be joining MSNBC, Psaki faced a slew of questions in Friday's briefing about the ethics behind such a swift move and negotiating a job while still in government. CBS's Ed O'Keefe broke the ice, but he was followed by future Psaki colleague Kristen Welker of NBC, who questioned whether she should be allowed to stay at her post.

O'Keefe stepped up after most of the briefing had been dominated by the March jobs report, gas prices, and Russia's war against Ukraine: "[O]ne little bit of housekeeping. Is it true that you are leaving the White House to work for MSNBC?"

Psaki tried to get away by quipping that "you can't rid of me yet," but that fell on deaf ears as she went onto say she couldn't "confirm" anything "about my length of public service or planned service or anything about consideration about next plans."

[...]

As Stephen L. Miller (@redsteeze) correctly noted, it's all but certain "[e]very reporter in that room knew that Psaki was negotiating with several networks," so it's worth pondering a question he raised: "They all just went on with the charade of asking and answering questions from a known future colleague."
By contrast, Houck was completely silent when his beloved Kayleigh McEnany arguably violated ethical employment practices by refusing to do her job at the end of the Trump administration, holding absolutely no press briefings lest she be forced to answer questions about the Capitol riot her boss helped to incite.
When Psaki's departure date of May 13 was announced, Houck unsurprisingly took a shot at her -- while, of course, engaging in a little Doocy-fluffing -- in a May 5 post, claiming that "ending a 17-month run that saw her become a household name with spin of the administration's struggles and presidential gaffes and viral exchanges with Fox's Peter Doocy." Because for Houck, it's all about Doocy-fluffing, not about Psaki.
Houck then obsessed over the sex life of Psaki's replacement, Karine Jean-Pierre -- whom he had previously smeared as a diversity hire because she's black and LGBT -- making sure to highlight that "Jean-Pierre is the partner of longtime CNN correspondent Suzanne Malveaux (with whom they share a daughter)."
The final two weeks
Given Houck's visceral hatred for Psaki for being good at her job, he certainly was not going to stop hurling the insults and denigration that has sustained during his 14-month war on her. After the May 4 briefing, it was cookie time for his longtime man-crush:
Wednesday afternoon on The Psaki Show, Fox's Peter Doocy held the White House press secretary under duress with questions on the Biden administration's reaction to the leaked Supreme Court opinion on abortion, including the President's claim that Republicans could ban gay students from being in the same classroom as straight students and his phrasing of abortion involving "a child."

[...]

As for Doocy Time, he began with the notion that the administration chose to weigh in on the draft by breaking its pattern of not commenting on leaked materials.

Psaki insisted they weren't because "the Supreme Court confirmed" it and, after Doocy noted it came out before the Court statement, Biden "made clear we don't know if this is accurate." In other words, they did stray from past procedure.

Doocy also asked whether the President believes "the leaker should be punished," but Psaki reiterated an earlier answer to ABC's Cecilia Vega that it's "up for the Department of Justice and others to determine." Psaki added what matters most "is the fact that women's healthcare is at risk for millions of people across this country."

The Fox reporter pivoted to one of Biden's more incendiary comments from Wednesday morning in predicting Republicans could segregate classrooms based on a student's sexuality.

[...]

Moving to his final line of questioning, Doocy asked: "Why is the President talking about the judgment to choose to abort a child?"

Psaki emphasized it wasn't a big deal since Biden's "view on a woman's right...is well known, well documented, well stated," which left Doocy to press on the real issue in that "he said 'abort a child.'"
In Houck's view, the "real issue" is a right-wing reporter cherry-picking words to obsess over for partisan gain.
For the May 5 briefing, the right-wing talking point du jour was outrage over protests outside the homes of Supreme Court justices following the leak of a draft ruling that would overturn Roe v. Wade. And Houck made sure that Doocy got his cookie:
The Psaki Show got off to a late start Thursday, owed to Jen Psaki announcing she's leaving the press secretary position (while still playing coy about going to MSNBC). Despite this delay, Fox News White House Correspondent Peter Doocy grilled her on the issue of leftist activists doxxing the conservative Supreme Court Justices and planning to assail their homes (opening them up to possible violence) over the leaked draft decision to overturn Roe v. Wade. But Psaki wasn't concerned.

After some light sniping back and forth about her leaving, Doocy called out how President Biden smeared Republicans as "extreme" and wanted to know if "the progressive activists that are now planning protests outside some of justices' houses are extreme?" Ignoring the issue of their homes now being exposed to violence, Psaki rhetorically shrugged. "Peaceful protests are not extreme," she said.

Doocy immediacy pointed out that "some of these justices have young kids" and "their neighbors are all not public figures." And when asked if Biden would be "waving off" these leftists that were planning to descend on peaceful "residential neighborhoods in Virginia and Maryland," Psaki couldn't care less.

"Peter, look. I think our view is that peaceful protests, there is a long history in the United States and the country of that," she condescendingly argued. "And we certainly encourage people to keep it peaceful and not resort to any level of violence."

With a more direct example of leftist violence, EWTN White House correspondent Owen Jensen later stood up and aggressively pressed Psaki on how "a Catholic church was just vandalized with pro-abortion slogans in Colorado." She said she had "not seen that report" but "obviously, we don't condone vandalism." And as Jensen continued to press, Psaki just spewed polls at him about support for Roe.
That was followed by a post whining that a reporter didn't hate Psaki's designated replacement, Karine Jean-Pierre, --whom, again, Houck has smeared as a diversity hire for the sin of being black and LGBT:
Minutes after White House Press Secretary Jen Psaki gave the Biden administration's blessing Thursday for progressives to stage protests outside the homes of Supreme Court justices, NPR White House reporter Franco Ordoñez sucked up to Psaki's successor Karine Jean-Pierre, by wondering if she could share "what this means to you" and comment on both "the historic nature" of her appointment and advice for "young girls" and "minority communities."

The reporter from the taxpayer-funded outlet first congratulated Psaki on her run, but asked if Jean-Pierre "could share some words about what this means to her...and if [she] could talk a little bit about the historic nature of" the appointment as the first black and first openly gay press secretary.

Of course, Jean-Pierre thanked him for the question before stating she had to first "thank Jen" for having been "a wonderful colleague, a friend, a mentor" in addition to being "a true, solid, amazing person."

The former MoveOn.org spokeswoman insisted she's "still processing it because...this is a historic moment, and it's not lost on me" and thus "understand[s] how important it is for so many people out there, so many different communities that I stand on their shoulders[.]"
Related articles on ConWebWatch:

Curtis Houck's War On Jen Psaki (And Man-Crush On Peter Doocy), The Series:
This from a guy who tossed nothing but softballs at McEnany in an April interview despite her incompetence in the job and absolute refusal to do it after the Capitol riot.

Houck kicked off his final week of having Psaki to kick around by writing about an "exit interview" she did with Fox News' Howard Kurtz, cheering how Kurtz hit right-wing talking points by asking about "media access to President Biden, rumors about her move to MSNBC, and Twitter being a liberal echo-chamber." Houck didn't mention that McEnany would never have sat for an exit interview with, say, CNN's Brian Stelter.

Houck returned to anti-Psaki hostility in writing about the May 10 briefing, maliciously interpreting Psaki's words while fluffing the latest person in the briefing room's Fox News seat:
Filling in for Fox's A-Team of Peter Doocy and Jacqui Heinrich, correspondent Alexandria Hoff joined The Psaki Show on Monday and Tuesday, as Jen Psaki began her final week at the podium, and Hoff made it count by joining other reporters in grilling her on the threats to Supreme Court justices due to the leaked draft opinion on abortion.

Starting with Tuesday, Hoff called out the Biden administration's double standard when it comes to what they claimed were threats to the lives of school board members as "the Department of Justice was very swift in responding" and whether they'll do the same toward (actual) threats to Supreme Court justices like Samuel Alito.

In response, Psaki predictably claimed Biden opposes "violence, threats, and...intimidation of any kind," but then droned on about how Republicans are raging hypocrites when it comes to (alleged) school board threats, Michigan election officials, women seeking abortions, or January 6. Interspersed with that, Psaki said the administration "continue[s] to encourage" such protests and intimidation tactics.

[...]

Psaki defended the mental terrorizing of justices and their innocent families, boasting that "the protests...have not turned violent" and "[j]ust because people are passionate" and "fearful about their own healthcare," "it does not mean they're violent."
"Mental terrorizing"? Isn't that what Houck has been doing to Psaki for the past year and a half?
Houck used his summary for the May 12 briefing to tout the latest manufactured right-wing outrages:
White House Press Secretary Jen Psaki went before reporters Thursday for her penultimate press briefing and she made it one to remember as she falsely claimed it's "a conspiracy theory" taxpayer dollars are funding free crack pipes despite intrepid reporting from the Washington Free Beacon that government-funded "safe smoking kits" contain crack pipes.

And on more conventional topics, Psaki squared off with a number of journalists over the administration being caught flat-footed amid a nationwide baby formula shortage and an increasing hostility by President Biden and the White House toward the 70-million-plus non-Democrats as dangerous, "ultra-MAGA" fanatics.
Houck kicked off Psaki's last day, on May 13 by lashing out yet again at Psaki (while backhandedly admitting she did a good job) while praising Doocy and all the other right-wing reporters who lobbed biased questions at her:
Friday marked the end of an era with White House Press Secretary Jen Psaki departing the Biden administration after over 200 editions of The Psaki Show, filled with humorous and tense moments. Simply put, Psaki was effective in having served as the chief spin officer and lying propagandist for President Biden amid a litany of crises as he himself has spent much of his presidency hiding from sustained questioning.

Hired away from CNN, Psaki is poised to move to MSNBC and NBCUniversal's streaming platform Peacock, which itself has been wrought with ethical concerns.

Fox's Peter Doocy became a household name alongside Psaki for their many exchanges on everything from hot dogs to horses to inflation to sex ed in schools. As we've coined it here at NewsBusters, Doocy Time was appointment viewing for the Fox correspondent's uncanny ability to ask questions the liberal journalists around him weren't asking and in a way that was brief, respectful, and tough.

Doocy wasn't the only person who stood out during Psaki's tenure. Softball artists included usual suspects such as Yamiche Alcindor, Andrew Feinberg, and April Ryan while journalists who often joined Doocy in tough questioning included the Steven Nelson, Real Clear Politics's Philip Wegmann, former Fox colleague Kristin Fisher, and current colleagues Jacqui Heinrich, Alexandria Hoff, Edward Lawrence, and wife Hillary Vaughn.
This was followed by a Doocy-heavy list of top "moments" from Psaki's tenure.
Houck ended things with a whimper, though, waiting three days before writing up the final Psaki press briefing, spending much of it complaining about her making "gooey platitudes" and an "emotional, eye-rolling series of thank you's" before going on to seemingly endorse disruptive "heckling" from a reporter from Today News Africa.
Houck was silent on the fact that this was a much classier way of ending a tenure than McEnany, who read a brief statement the day after the Capitol riot, fled the podium without taking questions and never held another presser in the final two weeks of Trump's presidency.
The attacks never stop
Houck wasn't the only MRC employee getting in some final licks at Psaki. His boss, Tim Graham, devoted a May 13 post to complaining about "liberal-media tributes" to Psaki, but cited only CNN's Brian Stelter and actual media research organization Poynter, which are only "liberal" when viewed from Graham's aggressively right-wing perspective. He was particularly annoyed that Poynter writer Tom Jones accurately pointed out that "Psaki was certainly a welcome change from her immediate predecessor, Kayleigh McEnany, who goes down as one of the most incompetent press secretaries ever. (McEnany's daily pokes at Democrats and the media now fit right in at Fox News.)" He huffed in response:
This is a revealing quote from Jones: "competence" and "pokes at Democrats and the media" are apparently opposites. Liberals want a press secretary who treats liberal reporters as the wisest people imaginable as they suggested Trump was responsible for every coronavirus death: "If an American president loses more Americans over the course of six weeks than died in the entirety of the Vietnam war, does he deserve to be re-elected?"

[...]

Stelter and Jones never acknowledge that press briefings for a Democrat press secretary are usually quite placid, a meeting among friends. Republican press secretaries, on the other hand, face a barrage of hardball questions. Under Trump, that multiplied into a brazen hostility, an outrage at the notion that Trump hadn't been removed yet.
Graham clearly thought McEnany was a great press secretary, even though she lectured reporters more than she answered their questions and abandoned her job after the Capitol riot. He also doesn't believe that Psaki faced no hostility whatsoever from biased right-wing reporters like Doocy -- or even that Doocy is biased.
He even complained that it was pointed out how Psaki held more press briefings than all of Trump's press secretaries combined, whining that "Stelter and Co. should acknowledge that Psaki's regular press briefings were a strategy for defusing any protests that they were hiding Biden from press conferences and interviews." He then flaunted his own partisanship by spouting dictation from his Republican overlords: "As the Republican National Committee often tweets, Biden hasn't granted an interview since February 10, more than three months ago."
Even Psaki being gone from the White House couldn't stop Houck from attacking her. He spent a May 20 post discussing her first appearance outside the job at the University of Chicago's Institute of Politics, where she "dished on her affinity for Peter Doocy, threats to her family (and not expressing concern for what Supreme Court justices have faced), some of her mistakes, and how a Hillary Clinton administration press office might have had less on-camera briefings." He then cheered that "during the Q&A portion, Psaki spared with a conservative student from the venerable Chicago Thinker over her encouragement of protests against the justices" in going into self-proclaimed "Peter Doocy mode." Houck declared those peaceful protests to be "harassment" -- something one can assume he never said about any anti-abortion protest, and he certainly didn't apply that to the threats Psaki said she has received. (Is Houck secretly rooting for physical violence against Psaki and her family?)
Houck also got annoyed that Psaki pointed out how Doocy's questions "were worked out with people he worked with at Fox. They represented what Fox was talking about on that day," and he dismissed as a "liberal narrative" the idea that "Fox questions were somehow less legitimate." He's obviously under orders to never admit how manufactured right-wing narratives are.

Houck took one final shot at Psaki (for now) in a May 24 post on MSNBC's formal announcement of its plans for her:
In one of Washington's worst-kept secrets that raised all sorts of ethical concerns, MSNBC finally announced Tuesday that former White House Press Secretary Jen Psaki would not only be joining the network "this fall...all the network's programs on cable and streaming," but she would be appearing on NBC and launching a real-life, yet-to-be-named Psaki Show on NBCUniversal's streaming platform Peacock in 2023.

That, dear readers, is what one would call a massive revolving door between corporate, liberal media and the very government they claim to be working to hold to account. This will mark Psaki's second foray into cable after having been a CNN political commentator from 2017 to 2020.

[...]

MSNBC boss Rashida Jones trumpeted Psaki as someone possessing a "mastery of the subjects she covers" that transformed her into a "household name across the nation" who'll bring "the type of analysis that sets MSNBC apart."

If that means deft but shameless spin for fellow liberals and ghoulish views such as encouraging protests at the homes of conservatives with whom she disagrees, then we guess she'll be top notch.

[...]

For her part, Psaki hilariously claimed that she was "thrilled to join the incredible MSNBC team" to help further "[f]act-based and thoughtful conversations about the big questions on the minds of people across the country" as they've "never been more important."
Of course, Houck wouldn't know a fact-based and thoughtful conversation about politics if it came up to him and gave him a fist-bump. Shameless spin and hate is all he has ever offered to her -- and there's no reason to believe he'll treat her successor at the White House briefing room any less harshly.
The latest from