CNS' Jeffrey Again Dishonestly Hypes Pockets Of High Unemployment
Topic: CNSNews.com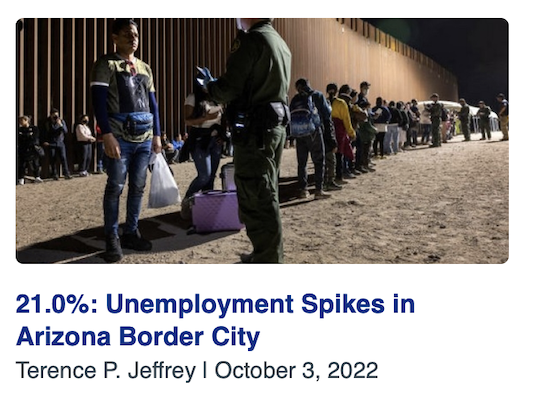 Last year, we caught CNSNews.com editor Terry Jeffrey taking a partisan shot at the high unemployement rates in areas like Yuma, Ariz., and El Centro, Calif., in an apparent attempt to make President Biden's jobs record look bad -- but he didn't tell readers that these areas are impoverished, undiversified, overly dependent on farming, and have been that way for years. With those employment numbers still looking good for Biden, Jeffrey felt the need to cherry-pick Yuma high unemployment rate again in an Oct. 3 article, with a guest appearance by El Centro:
While the national unemployment rate was 3.8 percent in August, according to the Bureau of Labor Statistics, the Yuma, Arizona metropolitan area not only had the nation's highest unemployment rate of 21.0 percent, it also had the highest year-to-year spike in unemployment.

Yuma sits on the U.S.-Mexico border.

The August 2022 unemployment rate of 21.0 percent in the Yuma metropolitan area was up from 16.6 percent in that metropolitan area in August 2021.

By contrast, the unemployment rate was only 4.0 percent in August in the Tucson metropolitan area, which sits about 70 miles north of the border.

It was only 3.4 percent in the Phoenix-Mesa-Scottsdale metropolitan area and 4.2 percent state-wide in Arizona.

Meanwhile, in the El Centro, California metropolitan area, which also sits on the border, unemployment was 16.2 percent in August 2022, the second highest in the nation after the Yuma metropolitan area. However, the El Centro unemployment rate of 16.2 percent for this August was down from 19.4 percent in August 2021.

The statewide unemployment rate in California was 4.1 percent in August.
As before, Jeffrey censored the reasons why the unemployment rate in Yuma and El Centro are high: seasonal agricultural jobs and little else, the migrants who work those jobs, and lower educational levels.
It's also worth noting that CNS devoted no articles to these pockets of high unemployment when Donald Trump was president -- indeed, its previous hyping took place during the Obama administration:
It clear that Jeffrey and CNS cares only about these pockets of high unemployment when they can be used to attack a Democratic president.
Posted by Terry K. at 1:10 AM EDT