MRC Still Trying To Distract From Herschel Walker Abortion Scandal
Topic: Media Research Center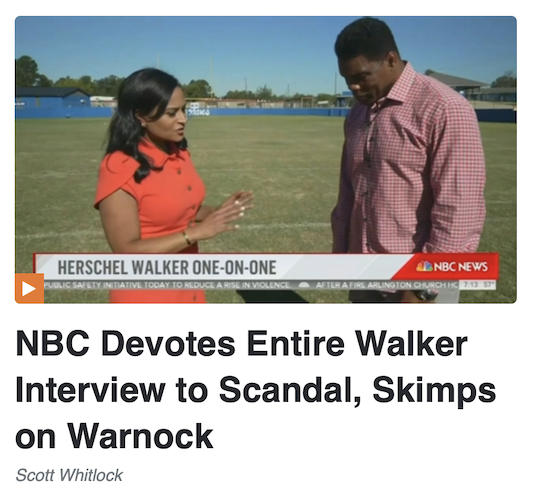 We've shown how the Media Research Center moved from defense to attack in deflecting from credible allegations that Republican Senate candidate Herschel Walker paid for a woman's abortion. The attack and deflection continued as Walker and Democratic opponent Raphael Warnock met for a debate. The MRC, of course, would only praise Walker's performance no matter how bad he did, and Mark Finkelstein used an Oct. 15 post to praise commentators who agreed that Walker didnb't suck:
Did you hear a boom 'round about 11 am on Saturday morning? That was the sound of the Georgia senatorial debate between Herschel Walker and Ralphael Warnock blowing up on Tiffany Cross during her MSNBC show.

Prior to last night's debate, Cross was surely salivating, anticipating a weak performance by Herschel Walker. It seemed a sure thing that Cross would lead this morning's show with a segment on the debate. But when she announced that it wouldn't be discussed until the second hour, it was obvious that the debate hadn't gone according to Cross's plan.

When the segment finally did air, things went from bad to absolutely horrible for poor Tiffany. Her two guests, both African American women, were Errin Haines, a liberal activist with The 19th and an MSNBC commentator, and Tia Mitchell, the DC correspondent for the liberal Atlanta Journal-Constitution.

Cross was presumably counting on her guests to take shots at Walker's performance. Instead, to Cross's shock and horror, both guests said that Walker met or exceeded expectations, and that his performance gave possibly wavering Republicans reasons to vote for him!
Scott Whitlock spent an Oct. 17 post whining that non-right-wing channels weren't pushing right-wing narratives attacking Warnock:
NBC on Monday Demonstrated that the network morning shows are still intent on investigating everything when it comes to Herschel Walker, but offer a collective yawn when it comes to the controversies connected to far-left Democratic Senator Raphael Warnock.

The Today show's Kristen Welker scored an interview with Walker and devoted all 4 minutes and 43 seconds to grilling the Republican. She mentioned the scandal involving a woman who claimed he paid for her abortion in 2009. After that, Welker dived into the moment trending on liberal Twitter: Walker brandishing a badge at his debate with Warnock:
Whitlock didn't mention that the badge was honorary, not real.
Nicholas Fondacaro whined the same day that the ladies of "The View" didn't spout right-wing talking points on Walker's supposedly stellar debate performance:
Monday was the first chance the ladies of ABC's The View had to spout off about the Georgia Senate debate between Democrat Raphael Warnock and Republican Herschel Walker last Friday. While Sunny Hostin managed to keep racist comments out of her mouth and was impressed with Walker, the majority of the panel couldn't believe their ears and suggested Hostin must have been drunk because Walker only looked good because the bar was "SO low."

After playing edited clips of the debate, co-host Whoopi Goldberg suggested the people saying Walker did well or won were only giving him sympathy points. "Now, some people are saying that Walker did better than they expected. You know, I guess when the bar is so low, we're happy to see folks do well at all," she proclaimed.
Fondacaro offered no proof that their assessment was factually inaccurate.
Bill D'Agostino found a new whataboutism target to distract from Walker in an Oct. 18 post:
With the 2022 midterm elections just weeks away, the corporate media have begun to turn up the heat on Republican Herschel Walker, having identified him as a potentially vulnerable candidate in a tight Senate race. Yet those same journalists have bristled at any criticism of Democratic Senate candidate John Fetterman — even when it's come from their own colleagues.

Earlier this month, Walker was the subject of an October surprise: allegations arose that back in 2009, he had paid a former girlfriend to have an abortion. Since then, the media have been obsessive in their coverage of the scandal, eagerly reporting every new detail as it unfolds.

Scandals are, of course, fair game in an election. They're a means of vetting candidates. But while the media eagerly flooded the airwaves with the latest tidbits about Walker's scandal, they have been incredibly protective of another embattled Senate candidate: John Fetterman, who's running as a Democrat in Pennsylvania.
D'Agostino didn't explain that the issues with Walker and Fetterman are fundamentally different -- Fetterman is facing questions about his health after suffering a stroke, while Walker was revealed to have moral and personal failings in paying for a girlfriend's abortion. He also didn't explain why right-wingers like himself are choosing to stand by Walker even though his moral failings contradict right-wing orthodoxy against abortion.
Alex Christy spent an Oct. 19 post complaining that right-wing hypocrisy over Walker was called out:
CNN's Wednesday edition of New Day lamented that the GOP midterm strategy for winning the Senate involves trying to win elections even if that means putting "party over country" by supporting "dumpster fires."

Host Brianna Keilar lamented that this is a party-wide phenomenon, "We just had Governor Asa Hutchinson on, who sometimes has some constructive criticism for members of his own party. He has really been critical, obviously, of former President Trump and I asked him about the Georgia Senate race and Herschel Walker and did he believe Herschel Walker's denials when it came to this story that he had paid for an abortion by a former girlfriend of his and he basically said, you know, to take him at his word or he's giving him the benefit of the doubt."

She further mourned, "it just struck me that some of these things, you know, years and years ago, would have been completely disqualifying for Republicans and they certainly no longer are."

[...]

Speaking of dumpster fires, it's funny that CNN refuses to cover allegations against Raphael Warnock considering they are such big believers in putting country over party.
Playing whataboutism to disctract from cynical hypocrisy -- did we expect anything different from the MRC?
Posted by Terry K. at 9:46 PM EDT
Updated: Wednesday, November 2, 2022 6:51 PM EDT