MRC Marks 30 Years of Anita Hill Derangement Syndrome
Topic: Media Research Center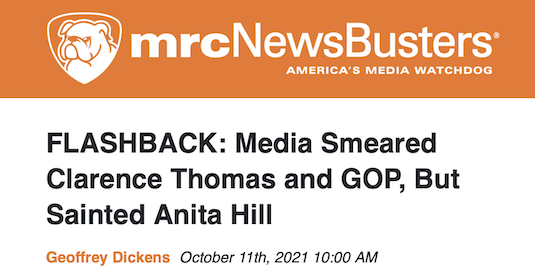 The Media Research Center has spent 30 years hating Anita Hill, smearing her as a liar over her allegations of sexual harassment against Clarence Thomas (despite offering no substantial proof to back it up). Indeed, we've noted one potshot the MRC has taken at her already this year; another occurred in an April column by Tim Graham, who wrote that a reporter "cited Justice Clarence Thomas noting 'the media often seeks to titillate rather than to educate and inform.' If you consider the role NPR and the "Democratic Party broadsheets" played in the titillating (and still-unproven) Anita Hill charges of sexual harassment against Thomas during his confirmation battle in 1991, you might understand his skeptical viewpoint."
So when the 30th ammiversary of Hill's testimony against Thomas came around on Oct. 11, the MRC was ready to flood the zone with more Hill-hating. First up wasGeoffrey Dickens, who served up a flashback item complaining that "the Democrats brought forth Anita Hill to accuse Thomas of sexual harassment, in a last ditch attempt to derail his nomination" and that "the media rallied around Hill":
While Thomas and his congressional defenders were demonized, Hill was instantly canonized as a Rosa Parks for her time by the likes of Time's Nancy Gibbs — and she's been celebrated as a truth-telling activist since then.

During the height of the #MeToo movement in 2018 PBS anchor Judy Woodruff, on the January 4 edition of NewsHour, pressed then-former Vice President Joe Biden to speak on his role in the Hill-Thomas hearings: "We have watched this incredible MeToo movement. In connection with that, you have said that you owe Anita Hill an apology about what happened back in 1991, the Clarence Thomas episode. Have you contacted her, number one? And, number two, do you think, this time, it's different, that we are seeing with the MeToo movement something that is truly going to lead for change, to change for women?"
This was followed by a post from Scott Whitlock fawning over Thomas' response at the time to Hill's accusations:
It was 30 years ago today that Clarence Thomas demolished the left — and the liberal media's — attempt to destroy him, condemning smears as a "high tech lynching." On October 11, 1991, the then-Supreme Court nominee finally got to speak for himself and respond to the charges that he sexually harassed Anita Hill. It was a moment of high drama when the conservative icon called out his attackers.

After unceasing vitriol by journalists and politicians like Joe Biden, Thomas blasted back at the process, calling out the left's "high tech lynching" against "uppity blacks who in any way deign to think for themselves." One of the targets hit by the devastating reply was Biden himself, then a Senator and Committee Chairman.

[...]

Biden's call for Thomas to stop complaining is a contrast to when he was accused of sexual assault by Tara Reade in 2020. Then, the Democratic presidential nominee had a compliant press to defend him.
The MRC didn't explain why it has refused hold Reade to the same factual standards it's holding Hill.
Next up was Kyle Drennen, who wasn't completely rehashing the past:
On Monday, CBS Mornings devoted nearly 10 minutes of air time to promoting a new podcast that marks the 30th anniversary of Anita Hill smearing Supreme Court Justice Clarence Thomas during his 1991 confirmation hearing and also celebrates Christine Blasey Ford doing the same to Justice Brett Kavanaugh in 2018. Appearing on the network broadcast, one of the podcast hosts noted how impressed she was with the "patriotism" of both women.

"We're going to begin this hour with a look back at a stunning moment in history involving a very high-profile allegation of sexual misconduct," co-host Gayle King announced at the top of the 8:00 a.m. ET hour. She explained: "Now, today marks 30 years since law professor Anita Hill went before a Senate committee to accuse Judge Clarence Thomas, then a Supreme Court nominee, of sexual harassment."
Drennen claimed the accusations of Hill and Ford were promoted by "bitter leftists" and were "failed, sleazy attempts by Democrats to take down conservative Supreme Court nominees."He didn't say whether anyone at the MRC was "bitter" and "sleazy" for their failed attempt to take down Biden in its enthusiastic, hypocriotical promotion of Reade's accusations.
Graham went down memory lane in his Oct. 11 podcast, where he made a point of rehashing polls claiming that people believed Thomas over Hill -- as if popularity was the same thing as truth -- and claiming that "not one co-worker of both Hill and Thomas of the Department of Education or at the Equal Employment Opportunity Commission -- and she followed her so-called harasser from one agency to the other there in the Reagan years -- not one co-worker testified on her behalf."He went on to rant that Hill "hasn't produced any more evidence than the lame claims she made back then, and they don't remember now that she was trotted out in the '90s to make excuses for Bill Clinton after the Monica Lewinsky thing broke out," and then whined that Paula Jones' accusations against Clinton were treated like she was a "Dogpatch Madonna" -- you know, not unlike the MRC treated Stormy Daniels' claims against Donald Trump.
Graham concluded by huffing: This was one of those defining events that underlined why the media isn't trusted, that it's viewed as an entrenched public relations arm of the Democrat [sic] Party."
Look for the MRC's collective case of Anita Hill Derangement Syndrome to fester for another 30 years.
Posted by Terry K. at 8:24 PM EST