WND Tries To Whitewash Oath Keepers To Protect Member Politician
Topic: WorldNetDaily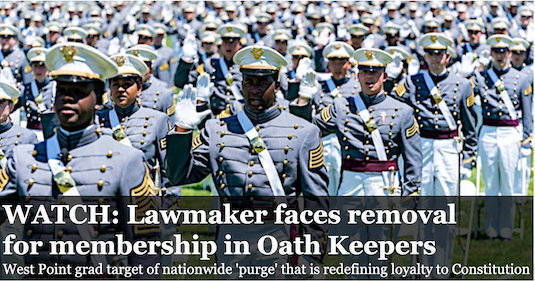 WorldNetDaily tried to soften the violent-thug image of the Proud Boys before the Capitol riot, which didn't age well. (It ultimately mostly threw them under the bus to protect Donald Trump.) WND has been trying to keep up the whitewash job ever since; for instance, we noted that in July, WND writer Bob Unruh laughably described both the Proud Boys and the Oath Keepers as "groups that mostly have acted in patriotic situations" -- as if the Capitol riot violence was somehow "patriotic."
Art Moore served up his own softening job for the benefit of an Alaskan lawmaker in trouble for his affiliation with the group in a Sept. 30 article:
Does membership in the group Oath Keepers – which is at the center of the partisan Jan. 6 committee's theory that the Capitol riot was an "insurrection" – disqualify someone from holding public office?

That's the contention of Democratic leaders in the Alaska state House of Representatives and a lawsuit against state Republican Rep. David Eastman, a West Point grad and Army veteran who served in Afghanistan.

In a video interview with WND, embedded below, Eastman said the effort to remove him from office is part of a larger, nationwide effort to "redefine" the Constitution, loyalty to America's founding document and terms such as "insurrection."

"If they're able to succeed in this, then we no longer have the Constitution," he said. "We have a new Constitution with definitions which are incompatible with the old Constitution."

And those who are loyal to the Constitution conceived by the Founders, Eastman continued, end up being condemned as disloyal.

"One of those sides is going to prevail," he told WND. "And if the goal is to purge society of whoever whoever loses the election and put them on an enemies list and target them and send the FBI to raid their house – that's a very different America than I grew up in."

The lawsuit accuses Eastman, by virtue of his Oath Keepers membership, of violating the Alaska state constitution, which disqualifies anyone who advocates "the overthrow by force or violence of the United States.

[...]

Eastman told WND he ran for office because of his concern about issues such as crime, upholding the rule of law, religious freedom and the right to life. He joined Oath Keepers, he said, as a commitment to uphold his oath to the Constitution. But there is no Oath Keepers chapter in Alaska, and he has never been to a meeting. He did travel to Washington on Jan. 6, he said, to show support for President Trump and the legal effort to contest the election results, and never went to the Capitol.

The Democratic leadership of the Alaska state House, headed by Speaker Louise Stutes, is trying to remove his legislative committee seats while a group called the Northern Justice Project is in court representing a constituent, Randall Kowalke, who says he supported Eastman until he found out about his membership in Oath Keepers.
Nnote the rhetorical tricks Moore is using here: He tries to delegitimize any criticism of the Oath Keepers as coming from "partisan" Democrats, and he portrays Eastman as a patriotic man who doesn't support violence. But at no point in the article does he quote Eastman disavowing violence or the actions of the Oath Keepers that day -- something you'd think he want to highlight if you're trying to portray Eastman as a peaceful man.Instead, he tried to whitewash the Oath Keepers some more:
The group's founder, Stewart Rhodes, and 10 other members have been charged with seditious conspiracy in the Capitol riot. Rhodes, a Yale Law School graduate and former U.S. Army paratrooper, has no criminal history. He never entered the Capitol on Jan. 6 and says he was in communication with members on that day to "keep them out of trouble."

Rhodes acknowledges a handful of Oath Keepers who "went totally off mission" did enter the Capitol.
That defense is also not aging well, given that an Oath Keepers member testified during the seditious conspiracy trial of Rhodes and others that the group brought a massive cache of wepaons it stored at a hotel in Arlington, Va., across the river from Washington, D.C., ready to be deployed on the day of the riot. And Rhodes' deflection that the violent Oath Keepers went "off mission" conflicts with his behavior befor the riot, Reuters reported that "In numerous text messages, online postings and speeches shown as evidence, Rhodes promoted the use of force and implored Trump to invoke the Insurrection Act, a 19th century U.S. law that empowers presidents to deploy troops to quell civil unrest."
Moore isn't going to tell you this, of course -- he's doing a whitewash job, not actual reporting.
Posted by Terry K. at 3:52 PM EDT