MRC Cheers Ye's Purchase of Parler, Censors The Person (And MRC Funder) He's Buying It From
Topic: Media Research Center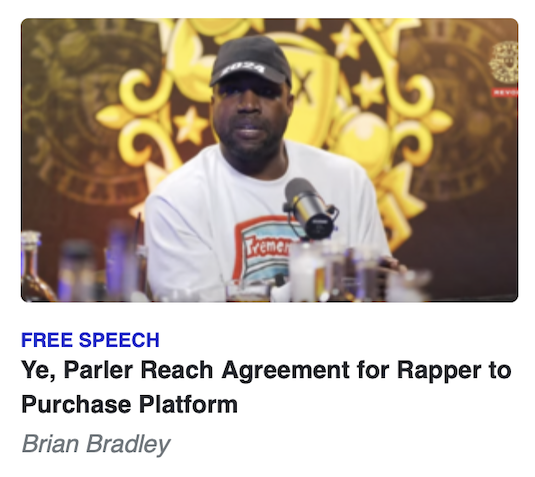 The Media Research Center was an early booster of right-wing social media site Parler -- though it censored the fact that Parler's biggest funder is also the MRC's biggest funder, Rebekah Mercer. But it grew bored with Parler as newer, shiner right-wing social media sites popped up, especially the Donald Trump-endorsed Truth Social; the only relevent reference to Parler at the MRC in recent months was a Sept. 6 post by Catherine Salgado touting how "More than a year after Google canceled the Parler app, the tech giant quietly let Parler back onto its Google Play Store." In typical fashion, Salgado censored the fact that Parler shares a funder with her employer; whiile she touted how John Matze co-founded Parler "as a pro-free speech alternative to increasingly woke social media companies like Twitter and Facebook," she didn't mention that Matze is suing Mercer for screwing him out of his share of the company whwen she seized control of it. (We wonder if Salgado had to clear the reference to Matze with Mercer before including it.)
That neglect of Parler fipped when Kanye West bought the company. Brian Bradley touted it in an Oct. 17 post:
Censored on one platform? No problem. Just buy another. That seems to be the situation for the rapper and fashion designer, "formerly known as Kanye West."

Parler, on Monday, announced that Ye will acquire Parler from Parlement Technologies, which is expected to take effect by the end of this year.

Parler bills itself as "the world's pioneering uncancelable free speech platform."

Platform CEO George Farmer expressed apparent optimism in reaction to the news, and said Ye will fight for free speech.

"We welcome Ye in the fight for free speech," Farmer said in a statement to MRC Free Speech America. "As the social justice mob continues to put the crosshairs on people they disagree with, Parler's open door and viewpoint--neutral take on social media offers an environment where everybody can speak freely. "

After the acquisition, Parlement would provide "ongoing technical support" and open up use of its cloud services via its private cloud and data center infrastructure, according to the announcement of the transaction.

"In a world where conservative opinions are considered to be controversial we have to make sure we have the right to freely express ourselves," Ye said in a statement.
Lots of stuff missing here. First, Bradley fell into the MRC trap of censoring the fact that the person selling Parler to Ye is the person who funds his MRC paycheck. Second, Bradley failed to report that Farmer is married to Candace Owens, the person with whom Ye did the stunt of wearing "White Lives Matter" shirts a couple weeks earlier that gained him even more favorable press from right-wingers like the MRC. That means Bradley avoided having to raise the question of whether that stunt was a ploy by Owens and Farmer to maneuver Ye into a position in which Parler could be unloaded on him.
Third, and most important, Bradley made no mention of Ye's anti-Semitic tweet in this part of the article -- even though said tweet is the big reason anyone is paying attention to his purchase of Parler and, thus, should have been the lead. As a result, Bradley's prattling on about Ye being "censored" and expressing "conservative opinions" leaves readers wondering if he's really saying that anti-Semitism is a valid "conservative opinion" that must not be "censored."
It wasn't until the eighth paragraph of his post that Bradley finally addresssed the elephant in the room:
Ye caused widespread controversy after he reportedly claimed he would go "death con 3 On JEWISH PEOPLE" in tweet on Oct. 8

"I'm a bit sleepy tonight but when I wake up I'm going death con 3 On JEWISH PEOPLE," he reportedly tweeted, according to screenshots. "The funny thing is I actually can't be Anti[-]Semitic because black people are actually Jew also [y]ou guys have toyed with me and tried to black ball anyone whoever opposes your agenda."

Ye's tweet came after Instagram restricted his account for other content that some users also viewed as being anti-Semitic.

Twitter locked Ye's account after his anti-Semitic post on that platform. His last tweet was on Oct. 9.
"Reportedly"? Really? Nobody's disputing that Ye made that anti-Semitic tweet -- given how many people screenshotted it -- not even Ye himself. Note that Bradley could not be moved to criticize Ye's anti-Semitism, making him the second MRC writer, after Tierin-Rose Mandelburg, to refuse to criticize blatant anti-Semitism when given the opportunity. It also means that in thte eight days between Ye's tweet and Bradley's post, no MRC item has explicitly criticized Ye's ugly anti-Semitism.
Seems like someone at the MRC needs to set up a field trip into Washington, D.C., down the road from MRC headquarters in the Virgina suburbs, to the Holocaust Museum to provide a lesson to these scrubs.
P.S. The MRC also censored Parler's post-purchase PR nightmare: Politico reported that Parler sent an email to its VIP users to announce the news, but it forgot to put the email list in a blind CC format, meaning that everybody knows everyone's email address on the list, with the side effect of some VIP users not being aware they were VIP users or why they were designated as such. Politico also reported Parler's puny size -- 16 million registered users and just 40,000 active ones, compared with Twitter's 237 million active users.
UPDATE: The MRC additionally censored how Farmer couldn't be bothered to criticize Ye's anti-Semitism, claiming that the anti-Semitic tweet was merely badly worded, that anti-Semitism is "up for conversation" and that Ye has "fallen victim to the cancellation narrative." He has a company to unload, after all.
Posted by Terry K. at 9:28 PM EDT
Updated: Friday, October 28, 2022 1:51 PM EDT