By Simply Appearing On TV, Anita Hill Triggers MRC Yet Again
Topic: Media Research Center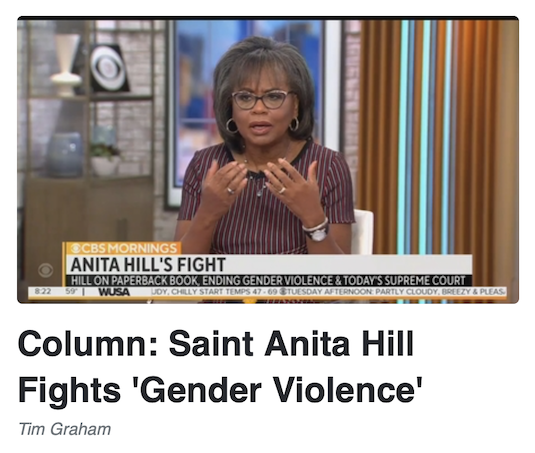 Thirty years after her testimony against Clarence Thomas, Anita Hill continues to live rent-free in the heads of the boys at the Media Research Center, and thety're triggered every time she appears on TV. Kevin Tober kicked off the latest round of being triggered in a Sept. 28 post over another TV appearance by Hill:
On Tuesday night's Alex Wagner Tonight, the eponymous MSNBC host brought her viewers back into the early 1990s by dragging sexual assault hoaxer Anita Hill on the show to help her sell a book she wrote. During this interview, Wagner predictably asked Hill if she sees chauvinism and misogyny in the Dobbs decision and the subsequent pro-life legislation that it gave rise to.

Wagner, after talking about the Proud Boys, asked Hill: "Do you see the Republican zeal to control a woman's body as an extension of that chauvinism, obviously pro-life groups will tell you this is about protecting the sanctity of unborn life but do you see the same sort of chauvinism and misogyny that gives rise to the Proud Boys and the Oath Keepers?"

Wagner didn't specify how pro-lifers are "chauvinist" or "misogynist" but she didn't need to because Hill jumped right into the fray and lied through her teeth in a rambling and incoherent answer.

[...]

Proving once again that she's just as big of a liar as she was over thirty years ago, Hill repeated the thoroughly debunked lie that the Supreme Court is inclined to rehear the so-called right to same-sex marriage. Hill claimed Thomas is "giving every indication that he's willing to hear LGBTQ rights put on trial again."
Tober offered no proof that Hill lied in her testimony against Thomas. He also put words in her mouth, creating a strawman by falsely claiming that she said "the Supreme Court is inclined to rehear the so-called right to same-sex marriage," when she was clearly referring to Thomas, who did say exactly that in a concurring opinion in the decision that overturned Roe v. Wade. Further, despite Tober's protestations, misogyny and chauvinism on the anti-abortion movement is not hard to find.
The MRC's chief Anita Hill trigger victim, Tim Graham, ranted against her yet again, but on a different subject, in his Sept. 30 column in which he again made the hoary and never-proven suggestion that Hill made her accusations against Thomas solely to make money on them:
Thirty-one years ago, a media-anointed secular saint named Anita Hill uncorked some sexual-harassment charges against Supreme Court nominee Clarence Thomas that she could not substantiate. Thomas called it part of a "high-tech lynching." But Hill, who became a millionaire author and a professor of "social policy, law, and women's studies" at Brandeis University, has been celebrated ever since.

On September 27, Hill appeared on CBS and MSNBC to promote the paperback edition of her latest book "Believing: Our Thirty-Year Journey to End Gender Violence." The publisher singles out a sappy book review from National Public Radio, which first tried to take down Thomas with Hill's tawdry tales. Danielle Kurtzleben raved that Hill's book was "An elegant, impassioned demand that America see gender-based violence as a cultural and structural problem that hurts everyone, not just victims and survivors… It's at times downright virtuosic in the threads it weaves together."
Graham then played the hypocrisy card:
It would help liberals if you pay no attention to the disagreeable fact that those feminist icons Steinem and Hill came rushing to Bill Clinton's defense in 1998 when his sexual-harassment and sexual-assault charges boomeranged into the Monica Lewinsky probe. Republicans were talking about Clinton's abusive behavior toward Paula Jones and Juanita Broaddrick, but the feminists had "other political ambitions." Slick Willie had to be saved.

Feminists wonder why many women don't identify with them. One problem is feminists will put their policy goals (like untrammeled abortion) ahead of whatever sexual abuse that pro-abortion politicians have dished out. Anita Hill is not a saint. She's just another woke professor making a pretty penny.
Within a week, Graham and the rest of his anti-abortion activists at the MRC would be even more hypocritical by vociferously defending Republican Senate candidate Herschel Walker after credible accusations that he paid for a girlfriend's abortion.
Posted by Terry K. at 2:17 PM EDT
Updated: Thursday, October 27, 2022 2:31 PM EDT