MRC: Blame 'The Left' For Kim Kardashian Posing With Her Butt Exposed
Topic: Media Research Center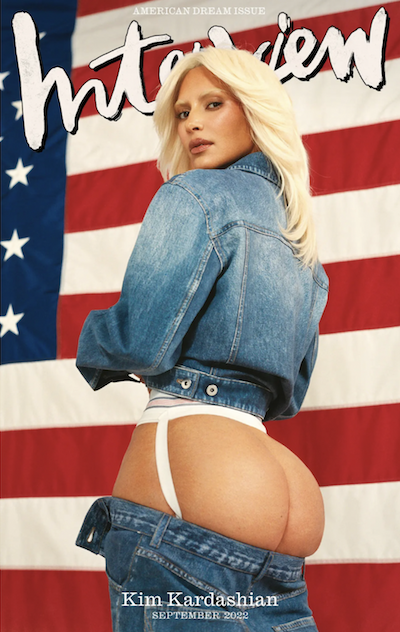 Earlier this year, the Media Research Center's Joseph Vaqzuez
praised Kim Kardashian
for her endorsement of the work ethic: "Get your fucking ass up and work. It seems like nobody wants to work these days. You have to surround yourself with people that want to work." This was praised as "tough love advice " that had the added benefit of "send[ing] the politically correct crowd in the liberal media into a crazed frenzy." Of course, the MRC
censored her walkback
a few weeks later.
But time marches on, and as we saw with Alyssa Farah Griffin, those will get honored by the MRC will eventually get Heathered. Thus, we have the spectacle of Tierin-Rose Mandelburg spending a Sept. 7 post body-shaming Kardashian for doing a magazine photo shoot that included a photo of her exposed rear end, under the nasty headline "The American Dream: Kim Kardashian's Fat A**":
The Kardashians are only good at one thing: being naked at inappropriate times. And they just keep proving it.

Interview Magazine released it's cover for the September 6 edition of "American Dream." The cover featured none other than Kim Kardashian's massive dump truck.

No, not a vehicle.

[...]

Damn! Baby got back is right! But, we've known that. Reminder: that IS how her fame erupted anyways.

Eight years ago, Kim's last (intentional) booty pic on the cover of a magazine broke the internet. She posed naked for the cover of Paper Magazine with her butt facing the camera and what looked like a black garbage bag draped just below her butt crack. At least she had a jacket on in this week's booty pic. I swear I should get workman's comp. for having to look at this garbage.

I'm unsure what part of a giant butt with a jock strap screams "American Dream" but, to each their own I guess?
Body-shaming of Black women is a thing at the MRC -- just ask Lizzo.
Not only did Mandelburg censor any mention of her MRC colleague's praise of Kardashian's work ethic, she uncritically quoted cranky British buy Piers Morganwhining to Kardashian that "Your entire fame and fortune are entirely attributable to your shameless, cynical exploitation of your sex life and naked body, and short-lived marriage to one of the world's biggest and most genuinely talented music stars, Kanye West. Your only "talent" has been in duping so many people into believing you're someone worthy of their misguided idolatry and money."
(Boy, that Kanye West reference didn't age well, did it? Remember that Mandelburg praised Ye's conservative values even after he clearly expressed his anti-Semitism.)
Mandelburg then somehow found a way to blame "the left" for Kardashian posing in a magazine with her butt exposed:

Kim has four children of her own and is a popular figure that many others see and are influenced by. Not only that but she's also promoted by children's television. At the moment she's working on voiceover for a kids show called Paw Patrol. Not a good look for either party involved.

But(t), that's what the left wants. They want to promote promiscuity. They thrive when the internet breaks over the latest display of a naked butt. They are fueled by stirring the pot.
The only way the young children that are the core audience of "Paw Patrol" -- which are not known for caring much about celebrity stunt-casting -- are going to know about this is if some adult lady bragged to them about how she got paid to write a post mocking Kardashian's butt.
Posted by Terry K. at 11:30 AM EDT
Updated: Sunday, October 30, 2022 10:25 PM EDT