MRC Defends Right-Wing Radio Host For Crude, Cynical Defense of Walker's Abortion
Topic: Media Research Center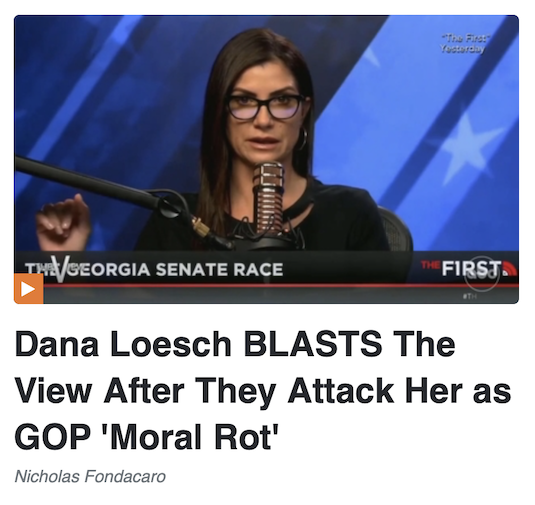 The Media Research Center's aggressive defense of Herschel Walker over his abortion scandal even extended to defending a right-wing radio host's crude, cynical defense of him.
When the co-hosts of "The View' called out the hypocrisy of right-wing radio host Dana Loesch in claiming that "I don't care if Herschel walker paid to abort endangered baby eagles. I want control of the Senate," smearing the woman Walker paid to have an abortion as a "skank," and smearing all women who have an abortion as "skanks," Nicholas Fondacaro used an Oct. 5 post to generously frame her cynical, hateful remarks as "reject[ing] liberal attempts to suppress Republican turnout/support for Walker with the scandal," hitting all the usual deflection points like trying to baselessly dismiss the story as somehow not true because it came from the Daily Beast, which he described without evidence as "left-wing":
Wednesday was day two of ABC's The View obsessing over the salacious claims made by the left-wing Daily Beast against Georgia Senate nominee Herschel Walker (R) that he paid for a woman's abortion back in 2009. On this second day, the cackling coven hyperventilated about conservative radio host Dana Loesch and how she rejected liberal attempts to suppress Republican turnout/support for Walker with the scandal. Loesch herself responded to NewsBusters reporting and blasted the ladies who were attacking her with vile suggestions.

[...]

"First of all, ma'am, there's a lot of women who find themselves in a position of having to have an abortion. How dare you call them 'skanks,' first of all," Goldberg (who has had an abortion and tried to pressure her daughter into one too) sneered. "I'm keeping calling you a name out of my mouth 'cause it's not the right thing to do."

Loesch responded to Goldberg on Twitter (throwing her own words back at her), saying, "FIRST OF ALL, @WhoopiGoldberg -- I refuse to coddle or celebrate irresponsible women who use abortion as birth control. I'm right, so get over it. That you're angrier over that than murder speaks volumes about your character."
As is de rigeur for Fondacaro, he lashed out at co-host Alyssa Farah Griffin for not agreeing with Loesch that women who have an abortion are "skanks":
Up next was faux Republican Alyssa Farah Griffin to bloviate about what was happening to "my party" and suggested Loesch was a manifestation of "the moral rot that's taking over."

"I can't defend that for a second. As a pro-life woman to hear someone else like Dana who is pro-life call women who get into situations where they need abortions 'skanks' is just shameful," she proclaimed.

Loesch had something to say to Farah Griffin too:
That "something was a rant calling aboriton "murder" and defending her sleazy insult of woman "an honest description of females who use abortion as birth control ."
Later that day, Tim Graham devoted his podcast to rehashing "The View" vs. Loesch, with help from Fondacaro, who laughably described Loesch's crude insult of women as "blunt, inartful language" -- which, of course, neither Graham nor Fondacaro criticized; Graham instead defended her as "trying to get some attention." Fondacaro then sounded like a Walker flack in baselessly arguing that he deserves a pass because the abortion Walker paid for happened in 2009 and "people's hearts change. I know stories of women who have had abortion and then they've been wracked with guilt over it and become pro-life." Fondacaro offered no evidence that Walker himself feels that way.
Both Graham and Fondacaro predictably trashed Farah Griffin as purportedly being a "liberal Democrat" for leaving the Trump cult and not being a dogmatic conservative -- then, without any sense of irony, attacked "The View" co-hosts for doing the same exact thing: "Anybody who doesn't match, you know, Joy Behar's ideal, like Hillary Clinton -- if you're not full Hillary Clinton, you're a woman-traitor."
Graham was still defending Loesch in an Oct. 9 post, insisting that she was being misquoted by the Washingotn Post's Jonathan Capehart in a TV appearance, even though the transcript clearly shows (and Graham boldfaced) Capehart saying he was "paraphrasing":
The PBS NewsHour caught up on the Hunter Biden scoop on Friday night, but that wasn't the subject when it came to reviewing the news of the week. The taxpayer-funded crew all assumed Herschel Walker was guilty of paying for an abortion, as the Daily Beast is asserting, and there was zero mention of Walker's denials!

Jonathan Capehart was so eager to smear all the Republicans, he asserted that conservative radio host Dana Loesch doesn't care about children -- which is always a weird allegation against pro-lifers.

[...]

Loesch provoked liberals by asserting "If the Daily Beast story is true, you're telling me Walker used his money to reportedly pay some skank for an abortion and Warnock wants to use all of our monies to pay a whole bunch of skanks for abortions." She added "I don't care if Herschel Walker paid to abort endangered baby eagles — I want control of the Senate." Like many conservatives, she sees the Daily Beast as using an anonymous woman's claims to keep Sen. Raphael Warnock in power.
Graham then jumped to an earlier PBS segment on Hunter Biden, with whom the MRC remains bizarrely obsessed.
Posted by Terry K. at 9:27 PM EDT