MRC Takes Potshots At Jeffries As Incoming House Dem Leader
Topic: Media Research Center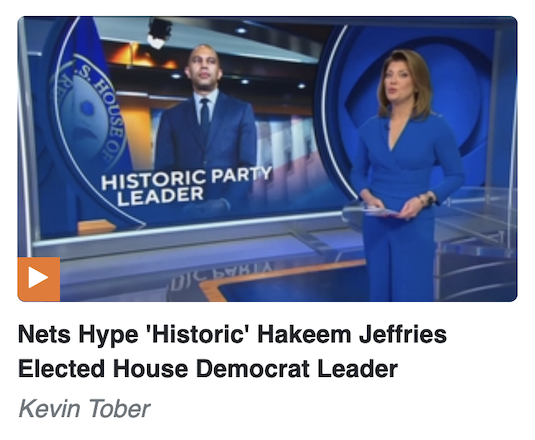 Just as the Media Research Center took shots at Nancy Pelosi on her way out of House leadership, it took shots at her replacement as House Democratic leader, Hakeem Jeffries. A Nov. 30 post by Kevin Tober whined that the historic nature of Jeffries' tenure was described as such:
On Wednesday, House Democrats officially tapped New York Democrat Congressman Hakeem Jeffries to be the next Democrat minority leader when the party becomes the minority next year. Because Jeffries is African American, and no African American has ever served as minority leader in the House of Representatives, the networks were quick to point that fact out and tout him as "historic."

While all three networks gave brief reports, none of them bothered to mention Jeffries' uncle Leonard Jeffries who has a long and troubling past spewing anti-Semitic and racist comments about Jews and white people. According to Fox News Digital, he blamed "Jewish people for the transatlantic slave trade" and supported "black supremacist ideals, like the theory that higher melanin levels make black people inherently superior to white people."

If Jeffries was a Republican, all three networks would have at least gotten in a brief mention of this or made a snide comment about it.
Nicholas Fondacaro went on another Heathering tirade against "The View" co-host Alyssa Farah Griffin, complaining in a Dec. 1 post that her refusal to spew irrational hate at Jeffries like he and his MRC buddies would disqualifies her from being a real Republican:
Alyssa Farah Griffin has been an utter disaster as the voice of Republicans and conservatives on ABC's liberal viper pit, The View. No matter how many times she declares the GOP as "my party," it's clear that she harbors resentment for those who made her. And that was evident on Thursday's show as she praised House Democrats for electing New York Congressman Hakeem Jeffries to be their leader and whined about GOP leadership.

"I think Hakeem Jeffries was a very wise call for Democrats," she proclaimed. Recalling her time working for real Republicans in the House, Farah Griffin touted Jeffries as someone who has "credibility" with the growing progressive wing of the party and could supposedly work with Republicans.

Describing the GOP as "my party," Farah Griffin lamented "their House leadership is a bit of a mess right now." She liked that the leadership was relatively young, but hinted at racism within the party:

We have fairly young leadership with McCarthy, Stefanik, but we lack representation. I actually really was hoping Byron Donalds, a Florida member would've challenged Elise Stefanik for conference chair because we don't have minority representation in our leadership.

This is an example of how detached and out of the loop she is from "her party."Donalds did runfor a leadership position, he just didn't win and was considered a long-shot candidate.

It was also another example of Farah Griffin putting the Democratic Party over "her party."
Only in the right-wing media bubble is saying something nice about a Democrat grounds for loyalty tests and expulsion from the Republican Party.
Tim Graham spent a Dec. 2 post being mad that right-wing attacks on Jeffries as being an "election denier" based on comments he made about Donald Trump's election in 2016 (in which he lost the popular vote) were being pointed out as dishonest:
The Congress certified the 2016 election -- despite the Democrat challenges to it -- so clearly Jeffries denied Trump's election. But Aguilera explains that somehow, Trump's denialism was more extreme and led to the January 6 riot, so somehow it's "misleading" to associate the term "election denier" with Democrats:
Graham was still complaining about all this a full month later, starting his Jan. 6 column by huffing about the "historic" nature of his position being noted:
On January 4, NPR's All Things Considered did a story on McCarthy failing to win support alongside a story headlined "Looking back at a decade of GOP hard-liners in Congress." But they also spent almost three minutes touting Jeffries as the first black lawmaker nominated for Speaker of the House.

Co-host Juana Summers touted how "Jeffries repeatedly earned the support of every member of his caucus -- the first time a Democratic leader has done so since 2007. That's the year when they elected Nancy Pelosi." Co-host Mary Louise Kelly added: "The symbolic torch-passing received a standing ovation from Democrats."

Then came a parade of happy Democrat quotes.
Then he whined about the "election denier" debunking, citing no less than than full-blown Republican oppo research to bolster his argument:
Meanwhile, to represent the view NPR refuses to consider, Kyle Martinsen of the Republican Party's messaging team sent around a memo on how all 212 Democrats voted for Jeffries despite the small problem that his "record of election denialism is well documented — and thoroughly unhinged."

[...]

Martinsen summed up: "In total, Jeffries denied the legitimacy of the 2016 election at least 163 times."

CNN host Jake Tapper proclaimed in 2021 that he wouldn't book any "election liars" on his shows. That didn't include election-denying Democrats, because this is CNN.
Graham censored all mention of Trump -- presumably to avoid having to explain why Trump's incitement of a riot because he cannot mentally handle the fact he lost an election is exactly the same as Jeffries making political comments about Trump and doing absolutely nothing to keep Trump from taking office, let alone not inciting a violent insurrection against him.
As the new session of Congress began, the Jeffries-bashing began anew. Alex Christy complained that "Kevin McCarthy hadn't even been Speaker for eight hours when MSNBC's Ali Velshi welcomed Washington Post national politics reporter Eugene Scott onto his Saturday show eagerly anticipate his replacement by new minority leader and noted election denier Hakeem Jeffries." And Clay Waters played Jeffries whataboutism when a PBS show accurately pointed out how the House Republicans who led opposition to McCarthy's selection as House majority leader were election deniers: "Speaking of congressmen who deny election results, Hakeem Jeffries, who was just elected House Minority Leader, would also qualify, based on his fiery reaction to Donald Trump's 2016 victory. But don't wait for PBS to be troubled about that." Just like we shouldn't wait for Waters to be troubled the fact that Republicans' election denialism led to violence, unlike Jeffries'.
Posted by Terry K. at 9:44 PM EST
Updated: Wednesday, January 11, 2023 10:05 PM EST