MRC Keeps Musk PR Machine Rolling To Promote 'Twitter Files'
Topic: Media Research Center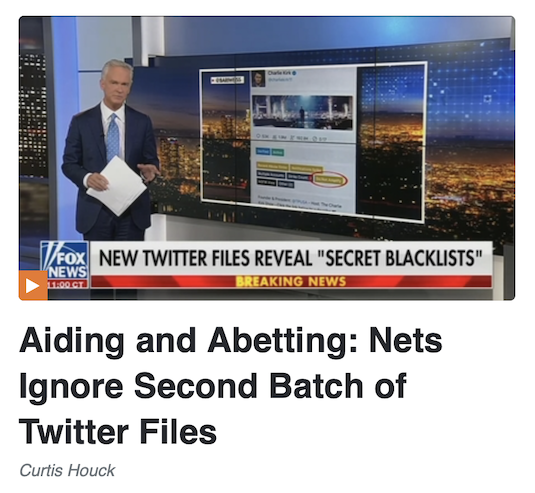 Given how enthusiastically the Media Research Center promoted the first release of Elon Musk's "Twitter files" selectively released to hand-picked journalists, it was again more than willing to serve as Musk's servile stenographer to promote the second installment. Curtis Houck did the usual MRC thing of complaining that non-right-wing networks wouldn't take the bait while praising Fox News for falling into line:
On Thursday night, journalist Bari Weiss released the second batch of the Twitter Files that showed unequivocally that Twitter has not only blacklisted conservative and opposing views, but lied repeatedly to the world about shadowbanning. Not surprisingly, the major broadcast networks ABC, CBS, and NBC censored this story from their flagship Friday morning shows and continued to purposefully live in denial.

In turn, the tally for network coverage of the Twitter files remained at 26 seconds courtesy of Monday's CBS Mornings regarding first Twitter Files, which were releasedDecember 2 by Matt Taibbi.

The Fox News Channel's Fox News @ Night provided an alternative approach by spending eight minutes and 53 seconds on Weiss's reporting. Host Trace Gallagher shared in a tease on how they revealed "not only were conservative accounts blacklisted, but the highest levels of the company were involved in the censorship."
Well, yes, "alternative approach" is one way to describe Fox's parroting right-wing talking points. Speaking of which, Joseph Vazquez served up exactly that:
Twitter owner Elon Musk dropped another batch of files exposing his predecessors for lying about the existence of the platform's elusive shadowbanning operation.

Former New York Times editor Bari Weiss, who first reported on the second batch of Twitter files Dec. 8, noted that they show how Twitter employees "build blacklists, prevent disfavored tweets from trending, and actively limit the visibility of entire accounts or even trending topics—all in secret, without informing users."

"Twitter executives have been lying to Congress and to the American public," MRC Free Speech America Vice President Dan Schneider said. "This is an illegal fraud on all of us. DOJ, SEC, FTC and the FEC should immediately investigate for criminal and other violations of law."
But as others have pointed out, there was nothing secret about any of this -- Twitter's terms of service specifically state that it may "limit the distribution or visibility" of any content on its site. And as others have also noted, this release actually shows how "Twitter spent years finding new and creative ways to keep large conservative and right-wing accounts on the site despite some pretty egregious behavior" -- something Houck and Vazquez will never admit.
Also note how Vazquez cites Weiss' former employment at the Times to boost her credibility. In fact, the MRC has been trying to promote her bid for victimhood after she made a show of quitting the Times because of criticism of her work, suggesting that she is very much a right-wing writer who is politically invested in the biased narrative Musk is pushing.
The MRC kept the PR campaign going while hiding reality:
Vazquez was back in PR mode for the third selective release of documents:
Twitter owner Elon Musk released through journalist Matt Taibbi yet another batch of documents revealing the sordid decision process by former executives to ban former President Donald Trump from the platform.

Taibbi, who reported on the new batch Dec. 9, said the documents reveal an "erosion of standards within the company in months before [the Capitol Hill riot], decisions by high-ranking executives to violate their own policies, and more, against the backdrop of ongoing, documented interaction with federal agencies." The most damning was revealed when Taibbi noted that the "intellectual framework" behind banning and censoring Trump "was laid in the months preceding the Capitol riots."
This was followed, of course, by the requisite whining that non-right-wing outlets weren't getting suckered into Musk's narrative. Alex Christy performed that duty:
The Saturday editions of the network morning shows concealed round three of The Twitter Files, where it was revealed that Twitter's decision to ban former President Trump was the culmination a process that began well before January 6. Other things that ABC's Good Morning America want to conceal include your face as prepare for your upcoming holiday festivities during flu season.
Christy didn't mention that Musk treating this release like a Friday news dump -- the time when bad news typically gets released because most journalists are done for the week and are slow to report on it -- pretty much guaranteed that coverage would be minimal. Yet the PR machine continued:
The MRC was also still complaining that people were pointing out that people really wanted to use the Hunter biden laptop story as an excuse to post pictures of Hunter Biden's penis. Jorge Bonilla was the designated whiner this time (also in Spanish):
Over two years have passed since Twitter censored the New York Post's story on Hunter Biden's "Laptop From Hell". We continue to learn about the internal processes behind the censorship, but CNN En Español insists on trying to avoid any substantive coverage of the story while gaslighting the public it claims to serve.

Whereas Univision and Telemundo simply avoided mention of the laptop and made their Twitter Files reporting all about Donald Trump, CNN En Español attempted to redirect the story by suggesting that the story was primarily about the sexually suggestive photos found in the laptop, as opposed to details about the peddling of influence while Joe Biden was Vice President of the United States.

[...]

[CNN En Español anchor Juan Carlos] Lopez' redirection is something to behold. Not only does he claim that there was nothing new in the first installment of the Twitter Files, but that the New York Post wasn't really censored, and that the decision to censor was about Hunter's skin pics.
Bonilla refused to acknowledge that people like right-wing actor James Woods were very much trying to post pictures of Hunter's schlong on Twitter, which does in fact violate policies against posting nude photos without the subject's consent.
Posted by Terry K. at 10:48 PM EST
Updated: Friday, January 13, 2023 10:49 PM EST