Chuck Norris' Second Endorsement Of Walker Just As Much Of A Failure As The First
Topic: WorldNetDaily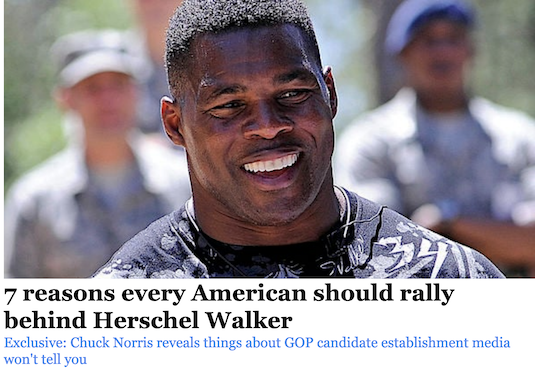 A good percentage of the right-wing candidates Chuck Norris endorsed before the midterm elections (which Joseph Farah glommed onto) did not win. One of those was Herschel Walker, who he declared "has proven his patriotic grit and love for the stars and stripes to be the 'Chuck Norris Approved' U.S. Senate candidate for Georgia. But Walker did win enough votes to make it into a runoff for that seat, which compelled Norris to write a Nov. 28 WorldNetDaily column dedicated solely to explaining why he was still endorsing Walker:
Liberal mainstream media have used every underhanded dirty trick and tactic to try and stop Herschel Walker from winning the Georgia U.S. Senate election. But the fact is, Walker is still in the ring fighting. He deserves to win. Let me tell you why.

First, if you didn't know, Republican Senate nominee Herschel Walker is set to face off against incumbent Democrat Raphael Warnock in a runoff election on Tuesday, Dec. 6, after both candidates failed to get at least 50% of the vote in the midterm race earlier this month.

Let me share with you seven reasons why my wife, Gena, and I passionately believe every American should rally immediately behind Herschel Walker. I'm going to tell you what mainstream media won't tell you about him.
What followed read like it was copy-and-pasted from Walker's campaign website, boilerplate text praising Walker's success in football and business. The top reason, meanwhile, was this:
Walker is a man of faith who has lived most of his life as a committed Christian. No man is perfect, including me. George Washington was absolutely right when he said, "Perfection falls not to the lot of humanity." But imperfections haven't stopped Walker or me from trying to be the best Christian examples we can be, including showing that we need forgiveness like anyone else.
That's the closest Norris gets to admitting certain unpleasant truths about Walker -- which is presumably was Norris was referring in his bashing of the "l'iberal mainstream media" for employing "every underhanded dirty trick and tactic." That, of course, are the credible accusations of domestic violence made against him by former girlfriends and the abortions he paid for (not to mention the secret children that came out of the woodwork) -- so damaging that even Walker's own son turned against him.
Nevertheless, Norris played the endorsement game and even begged for money on his behalf:
It's going to take every one of us to get out and help Walker win. So, please, fight to help Herschel win Georgia's Senate seat!

If you're a Georgian or know someone who is (especially in the 18-49 age range), please vote for or encourage them to vote for Hershel Walker for U.S. Senate. Please share this column with them and encourage everyone you know to financially support Walker via his website, Team Herschel.

The future of America and Americans are depending upon it.
As we all know, Norris' second endorsement didn't work any better than the first, and he lost the runoff. It's unclear whether this record of failure will dissuade Norris from continuing to endorse right-wing candidates.
Posted by Terry K. at 12:53 AM EST