CNS Keeps Up Hateful Biden-Is-Senile Narrative
Topic: CNSNews.com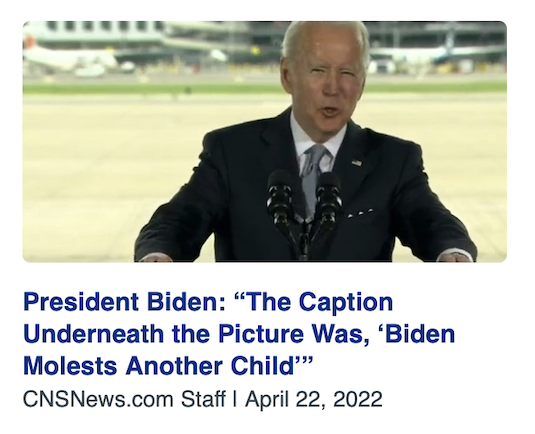 For the past three years, CNSNews.com has highlighted gaffes and misstatements by President Biden for the partisan purpose of making him look senile -- something it refused to do to Donald Trump despite a similar record of gaffes. That malicious narrative continued in 2022. Susan Jones sounded quite conspiratorial in an April 6 article under the headline "Watch As Barack Obama Returns to White House, Stealing the Limelight From 'Vice President Biden'":
Was former President Barack Obama kidding when he referred to President Joe Biden as "vice president" at a White House event on Tuesday? Obama called it a "joke," but...

Why did Biden feel the need to explain his wife's absence from the event celebrating Obama's signature achievement -- the Affordable Care Act?

And why did everyone, including Obama, ignore Biden, leaving him to wander alone in a room now dominated by his former boss?

Those are the questions. Here's the video:
An anonymously written April 22 article was provocatively headlined "President Biden: "The Caption Underneath the Picture Was, 'Biden Molests Another Child'" -- though the article was about Biden criticizing the picture, which was actually of him comforting a grandchild after the funeral for his son Beau. Talk about burying context.
The smears and deliberate out-of-context quotes continued:
A Sept. 27 article by Peyton Holliday, meanwhile, hyped a poll claiming that 56% of respondents "say they 'have doubts' about the president's mental fitness for office." There was also an implicitly snarky and anonymously written Oct. 31 article on Biden issuing a proclamation for National Alzheimer's Disease Awareness Month, in which he "call[ed] on Americans 'to recognize their fellow citizens with Alzheimer's Disease.'"
Concurrent with this was the occasional article about Republicans engaging in performative outrage over Biden's gaffes (again, despite the fact they never fretted over Trump's gaffes). For instance, Craig Bannister wrote in a March 30 article:
President Joe Biden's constant gaffes, especially those regarding classified information, emboldens the Deep State to keep him in the dark and make important decisions without him, Rep. James Comer (R-KY) warned Wednesday.

Discussing how the administration has had to walk back Biden's recent remarks, suggesting that Americans are training Ukrainian troops in Poland and that Russian President Vladimir Putin should be removed from office, Rep. Comer told Fox & Friends First that the gaffes endanger American citizens, not just U.S. troops:

[...]

The more public gaffes Pres. Biden makes, the more likely it is that the Deep State will cut him out of the loop and start making decisions without consulting him, Rep. Comer said:
None of that actually happened, of course; Comer was just saying what he thought would get him on Fox News.
Similarly, an Oct. 10 article by Jones reported that "President Joe Biden's comments last week about the world facing the 'prospect of Armageddon' were 'reckless' and dangerous, former (Trump) Secretary of State Mike Pompeo said on Sunday."
On the "opinion" side, Pat Buchanan (whose presidential campaigns CNS editor Terry Jeffrey worked for in the 1990s) has been the leader in pushing the narrative of Biden's purported senility:
But in a hilarious counterpoint to all of this, a Dec. 2 article by Jones quoted none other than Newt Gingrich conceding that Biden might not be so senile after all and criticizing his fellow Republicans because "We dislike Biden so much, we pettily focus on his speaking difficulties, sometimes strange behavior, clear lapses of memory, and other personal flaws. Our aversion to him and his policies makes us underestimate him and the Democrats":
"Republicans must learn to quit underestimating President Joe Biden," says former Republican House Speaker Newt Gingrich, who admits he's no fan of Biden or his policies

[...]

He credits Biden with waging war in Ukraine without any troops; and successfully "polarizing Americans against Donald Trump supporters," resulting in a strong midterm showing for Democrats, despite Americans' concerns about the economy, crime and the border.

Gingrich concludes:

"Today there is not nearly enough understanding (or acknowledgement) among leading Republicans that our system and approach failed. We need to rethink from the ground up how we are going to Defeat Big Government Socialism – including almost inevitable second-time Democrat Presidential Nominee Biden."
Is that a tacit admission that CNS' petty obsession with cherry-picking Biden statements to make him look senile has failed? Perhaps.
Posted by Terry K. at 12:26 PM EST
Updated: Tuesday, January 17, 2023 9:51 PM EST