MRC Still Defending DeSantis' Dubious Election Cops
Topic: Media Research Center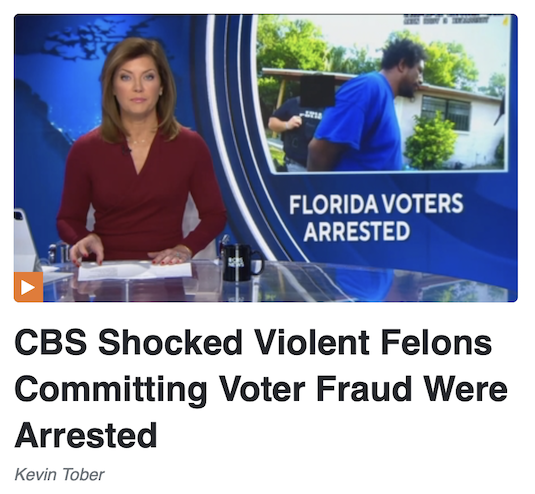 Earlier this year, the Media Research Center rushed to the defense of Florida Republican Gov. Ron DeSantis (again) for his "election cops" initiative to crack down on purported fraudulent voting in the state by former felons who weren't supposed to vote -- even though only a paltry number of alleged cases were found (just 20 in a state where 11 million people voted in the last election), several of the alleged violators thought they had the right to vote and were not stopped from doing so by state election officials, and the showy arrest targets were almost entirely people of color and not, say, white elderly people living in an enclave called the Villages, where people have ben arrested for voter fraud but never touted by DeSantis.
Well, the MRC came to DeSantis' defense once more after the dubiousness of the election-cop program was demonstrated again -- not that Kevin Tober framed it that way in an Oct. 18 post:
On Tuesday, during a segment on CBS Evening News, the leftwing newscast seemed shocked and appalled that in Florida, violent felons are being arrested for committing an act of voter fraud by illegally voting when they had lost their right to cast their ballots after being convicted of felonies.

"In footage obtained by CBS News on August 18, police showed up at the Tampa home of Tony Patterson a registered sex offender who was told he was under arrest for voter fraud," correspondent Ed O'Keefe announced.

"That same day, Romona Oliver, who served 18 years on a second-degree murder charge was arrested for voting illegally in 2020 even though she'd received a voter I.D. card from the state," O'Keefe added.

He then reported that "Patterson and 18 others were accused of violating a 2018 state law that allows most former felons to vote after they complete their sentences. But not those convicted of murder or felony sex offenses. As Patterson and Oliver were."

Then what's the problem? O'Keefe admitted that they were forbidden from voting because of the crimes they were convicted of. The purpose of running this story is obviously an attempt to smear Florida Republican Governor Ron DeSantis.
It wasn't until later in his post that Tober got around to alluding to the real issue: Manyt of these people were not explicitly told they were not eligible to vote, and their voting applications were not rejected by the state, which presumably would have a running list of which former felons are not eligible to vote. But Tober depicted reporting of that relevant context as "whining."
Nicholas Fondacaro echoed this dishonest framing a day later:
Leave it to ABC's The View to take up the position that murderers, pedophiles, and other sex offenders deserve to vote and commit voter fraud. That was the hill they wanted to die on Wednesday after body-camera video surfaced showing Florida law enforcement officers arresting individuals accused of illegally voting. The cast didn't seem to know what the law was with one claiming they were illegally arrested and another claiming the Republicans were cheating to win.

It was Whoopi Goldberg who seemed unable to understand the law as she decried "Florida Governor Ron DeSantis imposing his crackdown on so-called 'voter fraud' when he sent cops out to arrest people…" She also seemed to suggest DeSantis had a racist motivation, noting the "crackdown wound up with all of 20 arrests in total, 13 of whom were black."

"Clearly, it's not written anywhere or they would not have allowed him to do this,"Goldberg proclaimed, seemingly saying that the law didn't really bar murderers and pedophiles from voting. She then started screaming at DeSantis through the camera (using air quotes to describe the voter fraud they allegedly committed):
Fopndacaro also got annoyed when the co-hosts pointed out that DeSantis wasn't sending any police raids to the folks in The Villages:
Hostin went on to declare the law was "racially targeted" (an odd thing to argue since the law does not mention race, just that murderers and sex offenders can't vote). Assuming only white people are Republican, she angrily demanded elderly folks from a Florida retirement community be arrested in front of cameras:

The Villages. Overwhelmingly they found the amount of voter fraud that, like, 0.006 were Republicans, elderly people from there. Why were they not paraded in front of cameras? Why were they not arrested in front of cameras?

Hostin is a former federal prosecutor but doesn't understand that video of the arrests was from police body cameras. "Well, I don't think they were paraded. It was actually body-cam footage," explained "conservative" co-host Alyssa Farah Griffin.

For Farah Griffin's part, she had the job of trying to explain to the rest of the cast that they were taking "bait" supposedly placed by DeSantis. "This is what he does. He knows how to drive news attention. He wants us all to say, 'of course, murderers should be able to vote,'" she lamented.
Farah Griffin is right, of course, given that this is the exact framing both Tober and Fondacaro used in their posts -- but Fondacaro irrationally hates her too much to ever admit that.
Tober repeated his dishonest framing again in an Oct. 19 post:
On Wednesday night's edition of MSNBC's The ReidOut, host Joy Reid opened the show by lashing out at Florida Republican Governor Ron DeSantis for daring to enforce the laws of his state and not allow violent felons to illegally vote in elections. Reid who presumably wants violent felons to be allowed to vote melted down and accused Florida of being a Jim Crow state.

[...]

Of course, there's nothing wrong with DeSantis cracking down on voter fraud. Reid knows the only way her Democrat candidates in Florida can win is if violent criminals are allowed to vote. That's why she's melting down over police arresting rapists and murderers for voting illegally.
Tober, of course, censored the issues with DeSantis' election cops.
Two days later, the first defendant arrested by DeSantis' election cops had his case dismissed, albeit due to a jurisdiction issue. The MRC was completely silent about that.
Posted by Terry K. at 9:00 PM EST
Updated: Monday, November 7, 2022 11:58 PM EST