CNS Runs 2 Press Releases On Trump Receiving The Same Award
Topic: CNSNews.com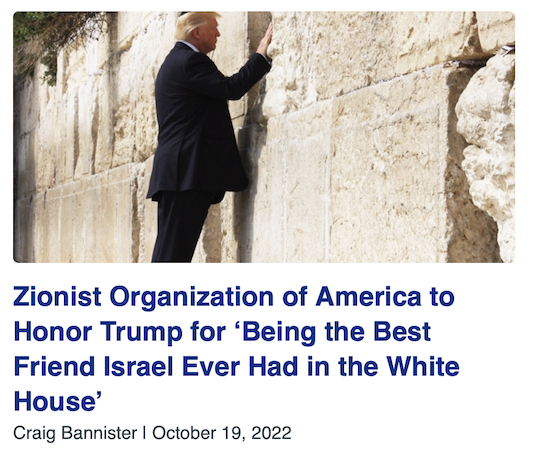 During the Trump years, CNSNews.com had a bad habit of devoting multiiple articles to pushing the same exact pro-Trump talking point. That hasn't stopoed just because Trump is no longer in office. Craig Bannister wrote in an Oct. 19 article:
Former President Donald Trump will be awarded the prestigious Theodor Herzl Medallion by the Zionist Organization of America (ZOA) at its upcoming gala.

[...]

Trump is being honored for his numerous pro-Israel actions as president, which include moving the U.S. Embassy to Jerusalem, recognizing Israel's sovereignty over the Golan Heights, pulling the U.S. out of the Iran nuclear agreement, praying at Jerusalem's Western Wall, and brokering Middle East peace accords.

Other honorees at the event include U.S. House Minority Leader Rep. Kevin McCarthy (R-Calif.), who will receive a "Defender of Israel" award. The list of distinguished award-presenters includes esteemed Harvard Law Professor Emeritus Alan Dershowitz.
Bannister linked to a 2017 article by Patrick Goodenough -- a major Trump-fluffer on Israel-related things -- who gushed that "Images of President Trump touching the ancient stones of the Western Wall in Jerusalem will send a strong signal to the Palestinians and their Muslim allies who have used U.N. forums to contest Jewish claims and heritage at the location of the biblical Temples."
This article, however, was apparently deemed insufficiently fluff-worthy of Trump, so intern Lauren Shank was tasked with writing about this same award again -- with more boilerplate quotes from ZOA officials -- in a Nov. 3 article:
The Zionist Organization of America (ZOA), the leading major American Jewish organization defending Israel and the Jewish people, will award former President Donald J. Trump the Theodor Herzl Gold Medallion for his "unprecedented accomplishments on behalf of Israel and the Jewish-American community" at its Nov. 13 Superstar Gala in New York City.

"ZOA rarely awards the Theodor Herzl Gold Medallion," ZOA National President Morton A. Klein said in a press release. "It has been presented only to other renowned world leaders and dignitaries like Lord Balfour, Winston Churchill, Harry Truman, David Ben-Gurion, Golda Meir, Menachem Begin, and Sheldon G. Adelson."

"As a champion of Israel and the Jewish people, President Trump is certainly worthy of being in that company," said Klein.

Trump's achievement of forging the Abraham Accords, which established peace between Israel and Bahrain, the United Arab Emirates, Morocco and Sudan, would merit the honor alone, ZOA Board Chairman David Schoen said.
CNS has not explained why it felt compelled to devote two press release-esque articles to Trump receiving the same award when one would have more than sufficed.
Posted by Terry K. at 1:02 AM EST
Updated: Friday, November 18, 2022 1:39 AM EST