MRC's Double Standard On TV Weatherfolks With An Agenda, Continued
Topic: Media Research Center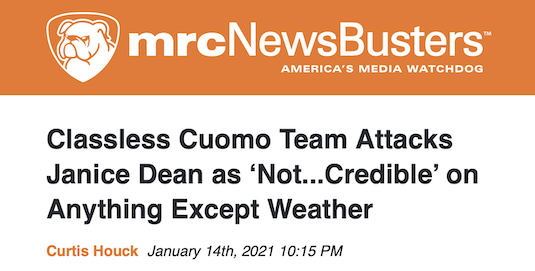 We've documented how the Media Research Center has promoted Fox News weatherperson Janice Dean's rage against New York Gov. Andrew Cuomo, vindictively blaming him for the deaths of relatives residing at a long-term-care facility in the state early in the coronavirus pandemic purportedly because of a policy under Cuomo in which COVID-19 patients were discharged from hospitals to nursing homes -- while dismissing NBC weather guy Al Roker for talking about climate change.
Since then, though, fact-checkers have ruled Dean's claim to be mostly false, since experts believe that the spread of coronavirus in nursing homes was more likely caused by visitors and employees rather than from patients transferred there in an effort to open up hospital space for other victims of the virus. Nevertheless, since we last checked in, the MRC has continued to push Dean's emotional greviances as authoritative.
In August, Curtis Houck wrote that Dean "was set to address a committee of New York legislators investigating the state's response to the coronavirus pandemic and specifically Governor Andrew Cuomo's nursing home policy, but she was never given a chance to speak due to fears that her presence would be uncomfortable," going on to tout how "FNC shows have given Dean over 17 minutes of airtime since she was axed from the hearing."
On Nov. 23, Tim Graham gave Dean another platform to vent:
Fox News meteorologist Janice Dean bluntly spoke out on America's Newsroom Monday morning on the International Emmys granting an award to New York Gov. Andrew Cuomo for being a Democrat -- er, for his wonderful COVID briefings. Both of Dean's in-laws died in New York nursing homes from COVID-19 after Cuomo pushed COVID patients into nursing homes to recover.

Fox host Sandra Smith asked Dean for reaction, noting this would be the first Thanksgiving without her in-laws.

[...]

The Washington Examiner reported that in October, Dean joined a throng of protesters who filled a casket placed outside of a Brooklyn nursing home with about 6,500 copies of Cuomo's new book on the coronavirus.
Graham clearly has no problem with blatant political activism by a supposedly objective news person -- at least, if that person works for Fox News.
Houck returned Jan. 4 to cheer another bout of Dean's activism:
On Monday morning, Fox News senior meteorologist Janice Dean continued her unrelenting fight against Governor Andrew Cuomo (D-NY), penning a lengthy, 3,500-word-plus FoxNews.com item recapping Cuomo's arrogance, failure to lead, and refusal to admit wrongdoing with his reckless coronavirus nursing home order.

Following an appearance on Fox & Friends, Dean revealed that an attempt to seek comment from Cuomo's office was met with more bullying and stonewalling instead of admission for why coronavirus patients were placed in nursing homes.

[...]

And with outlets ranging from ABC to CNN continuing to play footsie with Cuomo instead of holding him accountable, it's left to Dean and hurting families (plus a few outlets committed to real journalism) to continue the fight.
In a Jan. 14 post, Houck got huffy when someone pointed out that Dean's job is supposed to be a weather person, not a political activist:
In a Wednesday story for the Daily Mail, New York Democratic Governor Andrew Cuomo's administration sunk to a new low, lashing out like a grade-school Mean Girl at Fox News senior meteorologist Janice Dean, dismissing her fervent push for answers on behalf of deceased elderly New Yorkers (such as her late in-laws) because she's no more than a weather lady.

Cuomo spokesperson Richard Azzopardi told the Daily Mail: "Last I checked she's not a credible source on anything except maybe the weather."

So you shouldn't trust someone using platform to a voice for families across the state and country who lost elderly family members to the coronavirus (and whom most were never able to say goodbye to) because she's just the weather person? Would Azzopardi and Cuomo say the same about victims of gun violence?

[...]

Just last week, Dean penned a lengthy FoxNews.com column containing a deep dive into Cuomo's actions, why they led to the deaths of untold numbers of seniors, how he has yet to answer for what happened (other than to blame others), and what this all means. So perhaps that helped set them over the edge.

Perhaps its another case of liberals believing that speaking truth to power doesn't apply to them.

And nothing against the good men and women at ABC and NBC, but if this were something, say, a Ron DeSantis spokesperson said about a meteorologist on Good Morning America or Today, you can bet your life everyone from the CNN media team to late comics to MSNBC's Never Trumpers to even entertainment blogs would be calling for their firing.
What Houck won't tell you: He's mad that other people are treating Dean the way the MRC treats Roker.While the MRC has come to Dean's defense, it has repeatedly bashed Roker for talking about climate change or doing anything other than weather.
In June, Kyle Drennen sneered that "former Vice President Al Gore hailed weatherman Al Roker for his "consistent advocacy" pushing the liberal climate change agenda. Co-host Craig Melvin then asked Gore how people could maintain the supposed environmental "progress" caused by the devastating coronavirus pandemic, adding that "Friday was not the first time Gore showed up on the morning show to praise Roker's climate activism. Back in 2018, he appeared on 3rd Hour Today cheer the longtime NBC weatherman for his "long-time attention to the climate crisis."
(In a 2018 post on that appearance, Drennen unironically complained, "It's remarkable how unabashed the media can be when it comes to promoting the pet issues of liberal politicians.")
Drennen -- who is apparently the MRC's designated Roker-basher -- complained in September: "On Wednesday, NBC's resident climate crusader Al Roker was in awe of actor and far-left radical Jane Fonda as he hailed the 'Hollywood icon' for 'her dedication to the climate crisis.' The Today show weatherman cheered Fonda's extreme calls for an end to fossil fuels and implementation of economically destructive Green New Deal." Drennen dismissed Fonda as a "left-wing loon" and, by association, Roker. A coule days later, Drennen appeared on MRC executive Tim Graham's podcast to bash "the climate crusades of NBC weatherman Al Roker."
On Jan. 20, Drennen whined that "On NBC's Today show Wednesday morning, just hours before Joe Biden's inauguration, weatherman Al Roker hoped to be able repeat an embarrassing display during the 2013 inauguration when he yelled at then-Vice President Biden like an adoring groupie during the inaugural parade. That moment sparked a long-running 'bromance' between Roker and Biden that clearly continues to this day."
Drennen returned to grumble on Jan. 27:
On Wednesday, NBC's Today show weatherman and adoring Joe Biden groupie Al Roker could barely contain his excitement over the President planning to issue executive orders that would force through radical climate change policies. Roker gushed over Biden preparing to declare climate change a "national security priority" and treated a top White House environmental advisor to a softball chat to promote the left-wing agenda.

[...]

The longtime climate crusader seized on recent natural disasters to boost the Biden agenda in his first question to [Biden climate adviser Gina] McCarthy: "Well, according to NOAA, nearly 10.3 million acres of land destroyed by wildfires last year, record-setting 30 storms named during the Atlantic hurricane season. Globally, the second hottest year on record....Why is climate change a matter of national security?"
The MRC would never take such a dismissive tone with Dean, who's steering much further out of her lane than Roker is.
Posted by Terry K. at 8:32 PM EST
Updated: Monday, February 8, 2021 9:29 PM EST