MRC's Double Standard On TV Weatherfolks With An Agenda
Topic: Media Research Center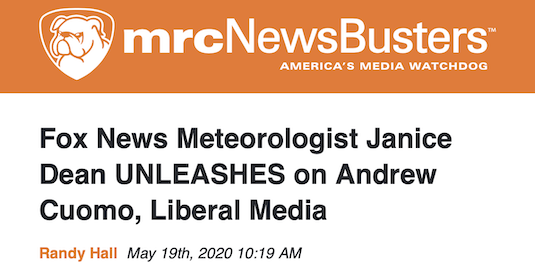 In an April 17 post, the Media Research Center's Brad Wilmouth complained about NBC weatherman Al Roker arguing that what Wilmouth called the "climate change agenda" is not a political issue and about "just the facts." Rather than disputing any of the facts Roker offered up, Wilmouth insisted that "The inconvenient truth is that Roker has been known for routinely making outlandish statements in order to push his environmentalism," citing several recent MRC posts attacking Roker for his stand on climate change.
So the MRC doesn't like TV weatherpeople who do anything other than report the weather. Except, of course, when they're employed by Fox News.
Last year, the MRC cheered a Twitter post by Fox News meterologist Janice Dean bashing longtime MRC target and CNN host Chris Cuomo. But Dean became even more beloved when ventured further out of her lane and offered opinions about the coronavirus pandemic. Randy Hall gushed in a May 19 post:
While Fox News meteorologist Janice Dean is usually known for her sunny disposition, she has done her best this week to rain on New York Governor Andrew Cuomo's parade. Dean is also pointing out how the mainstream media has been covering for the Democratic governor's disastrous nursing home decision in New York.

The reason for the torrent was that she learned her elderly in-laws had died due to complications from the coronavirus pandemic while being treated at long-term care facilities adhering to policies approved by Cuomo.
Two days later, Curtis Houck gushed even more over Dean's appearance on the show of Fox News colleague Tucker Carlson, with a megadose of Houck's festering CNN derangement:
Somewhere, Matt Dornic, Jeff Zucker, and the rest of CNN must be nodding and smiling in approval. Thursday afternoon on Twitter, Never Trumper and CNN political commentator Ana Navarro gleefully attacked Fox News senior meteorologist Janice Dean for calling out Wednesday's despicable, mega-swab-filled, and now-infamous Cuomo Prime Time segment.

Not only did Dean lose both her in-laws due to the coronavirus, but both were also New York nursing home residents and thus were victims of New York Democratic Governor Andrew Cuomo's deadly nursing-home policy. As our Nick Fondacaro wrote, the governor and brother/CNN host Chris Cuomo decided that such matters were beneath them, but Chris playing with giant swabs was fine.

We'll get to Navarro's smears, but first we'll look at Dean's powerful appearance on Tucker Carlson Tonight that paid tribute to how Mickey and Dee Newman were "real people…not just numbers on a curve."

Carlson asked if she believed that Andrew's policy "contributed to" their deaths, and Dean stated that she did "and that's one of the reasons I'm speaking out, Tucker because I have not seen the coverage of this" outside of Fox News and the New York Post.
So a weatherman talking about climate change is a bad thing at the MRC, but a weatherwoman exploiting a family tragedy for political purposes to advance a conservative agenda is totally cool. Got it.
Posted by Terry K. at 1:44 PM EDT