After Giving Trump A Pass On Deficits, CNS Eagerly Blames Dems For COVID Relief Bill Price Tag
Topic: CNSNews.com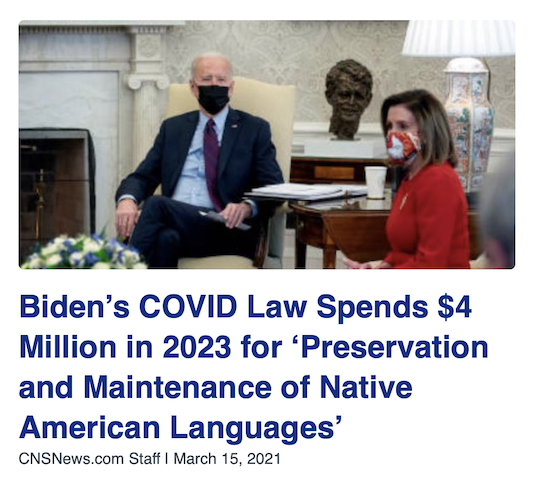 We've documented how CNSNews.com, led by supposed deficit-hawk editor Terry Jeffrey, almost entirely refused to hold President Trump and Senate Republicans accountable for the deficit spending created by coronavirus relief bills (though it usually found a way to blame Democrats for them despite controlling only half of Congress). With Democrats now in control of both the White House and Congress, CNS is unsurprisingly showing its bias bybeing much more vocal in complaining about allegedly wasteful spending in the latest COVID relief bill -- and in calling out Democrats while doing so.
Jeffrey declared in his Jan. 27 column that "The $1.9 trillion relief bill that President Joe Biden wants Congress to pass now as his response to the COVID-19 pandemic would cost Americans more than the entire federal government cost in fiscal 1981." Jeffrey did not make that comparision about last year's main relief bill, the CARES Act, even though it cost $2.2 trillion. Meanwhile, only now that Trump is safely out of office is Jeffrey criticizing him by name for running up the deficit:
Last March, President Donald Trump signed a $2.3 trillion spending law to deal with the COVID-19 pandemic.

In December, Trump signed another spending law that included $900 billion targeted toward COVID-19 relief.

Now Biden wants to spend another $1.9 trillion.

[...]

When Biden took office as President Barack Obama's vice president on Jan. 20, 2009, the federal debt stood at $10.6 trillion. Eight years later, when Donald Trump was sworn in as president on Jan. 20, 2017, it stood at $19.9 trillion. By Jan. 20, 2021, when Biden was sworn in as president, it had risen to $27.7 trillion.

In just the last two presidencies, the federal debt has risen by $17.1 trillion — or about 161%.

The COVID-19 pandemic was caused by a lethal virus this nation has sacrificed much to control. Our runaway federal government is caused by politicians we do not control enough.
Over the following weeks as the relief bill was debated, CNS went on to blame Democrats for the supposedly wasteful spending in the bill, mostly by uncritically repeating Republican and conservative attacks on it:
CNS' op-eds also raged against the bill:
Jeffrey returned in a March 10 column in which he declared that it is axiomatic that the relief bill "will use tax dollars to pay for abortions" because it contains no Hyde Amendment-style clause prohibiting it. He identifed no federal program or funding mechanism receiving relief bill money through which that might actually happen.
CNS couldn't be bothered to produce an article on Biden signing the bill into law.
Posted by Terry K. at 4:11 PM EDT
Updated: Sunday, March 21, 2021 4:13 PM EDT