MRC Changes Its Victimization Narrative On Extremist GOP Rep.
Topic: Media Research Center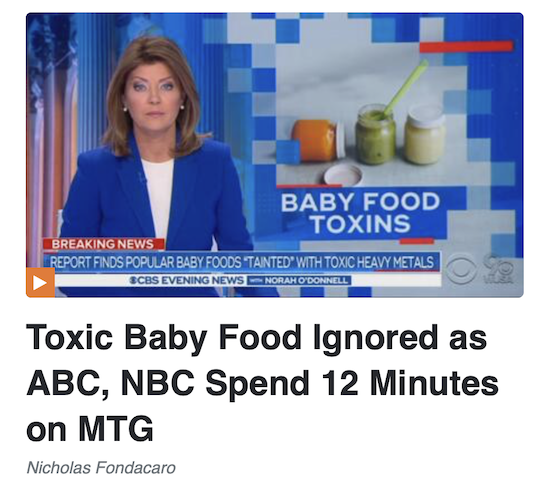 The last time we checked in, the Media Research Center was still aggressively portraying Rep. Marjorie Taylor Greene as a victim of "censorship" by social media over her extreme and crazy views -- all while censoring any mention of what those extreme and crazy views are to its readers. But when Greene's views became so extreme (and so publicized in non-right-wing media) that the couldn't be ignored, the MRC switched tactics.
Alex Christy firmly threw Greene under the bus in a Jan. 30 post demonstrating the MRC's new narrative, insisting that Greene's views don't represent Republicans and conservatives as a whole:
Are you opposed to massive job killing climate regulations? Do you believe that the Laffer Curve has some basis in reality? If so, CNN's John Harwood said on Friday that the rise of Georgia Rep. Marjorie Taylor Greene and her history of insane and bigoted conspiracy theory beliefsthat include 9/11 trutherism, Parkland trutherism, and anti-Semitic claims that Jewish space lasers caused California's wildfires in 2018 is the logical conclusion of your beliefs.

Harwood's remarks came after days of the media trying to make Greene the face of the Republican Party. CNN Tonight host Don Lemon asked, "John, President Biden is trying to get Republicans on board with the COVID relief deal but how is he suppose work with a party standing by the likes of Marjorie Taylor Greene?"

[...]

Marjorie Taylor Greene is a blot on the Republican Party, but if the media truly wants to see her marginalized, blaming people who just want lower taxes is not going to bring about those results.
Unsurprisingly, Christy failed to discuss the issue of why the MRC spent months defending Greene if her views were "extreme and crazy" and she "is a blot on the Republican Party."
In a Feb. 2 post, Scott Whitlock echoed the under-bus-throwing by noting "the repellant actions and comments from freshman Congresswoman Marjorie Taylor Greene," making sure to add that "Mitch McConnell has condemned her conspiracy theories."In his Feb. 3 column, Tim Graham referenced "nutty extremists like new Rep. Marjorie Taylor Greene," then attacked a "liberal" New York Times columnist who he claimed wanted to "shut down the opposition's media outlets" in order to stanch such extremism.
Mark Finkelstein didn't take it well when MSNBC's Joe Scarborough shot down efforts by Republicans to pretend that Greene is simply the Republican version of GOP-loathed Democratic Rep. Alexandria Ocasio-Cortez by pointing out that unlike Greene, AOC "never actually threatened to kill" anyone:
Scarborough made his remark for purposes of contrasting Ocasio-Cortez with unhinged, bizarre conspiracy-supporting Marjorie Taylor Greene. Scarborough noted that Greene liked a tweet calling for the assassination of Nany Pelosi, and spoke of strategies for hanging Barack Obama and Hillary Clinton. That's when Scarborough offered his backhanded compliment about AOC never having actually threatened to kill a Republican.

According to Scarborough, it was unfair of Republicans to try to attach Ocasio-Cortez's politics to Pelosi and Biden. Scarborough cited the fact that, soon after AOC was elected, Pelosi mocked her and her Squad on 60 Minutes, saying "your caucus is like five people."

But, argued Scarborough, it is fair to stick the Republican House with Greene, since they "won't criticize her, won't take away her committee assignments, won't rebuke her."

That remains to be seen. And on the Senate side a number of Republicans have voiced forceful condemnations of Taylor Greene.
Kristine Marsh, meanwhile, defended comparisons of "nutty, fringe" Greene to another Democratic House member right-wingers loathe, Ilhan Omar, declaring her to be a "radical Democrat" and attacking NBC's Seth Meyers because he "left out every similarly offensive comment made by the Democrat rep. He constructs a straw man, scoffing that "Medicare for All" is what Omar's biggest controversy is; not her repeated patterns of anti-Semitism, anti-Americanism, anti-Israel hate or her sick comments downplaying 9/11."
Nicholas Fondacaro whined on Feb. 4 that "The liberal media were making a full-court press in an effort to try to make freshman Congresswoman Marjorie Taylor Greene (R-GA) and her loony conspiracy theories the face of the entire Republican Party," allegedly ignoring "a new government report detailing excessive levels of toxins and heavy metals found in multiple baby food brands" to do so. He concluded, "It's a shame that ABC and NBC were willing to put toxic baby food in the backseat as they accelerated their efforts to divide America further." In another post the same day, Fondacaro complained that CNN's Chris Cuomo "was desperately trying to use the craziness of freshman Congresswoman Marjorie Taylor Greene (R-GA) to smear the entire Republican Party."
Christy returned to labor once more to turn the spotlight away from Greene, complaining that Omar appeared on CNN "to attempt to debunk Republican comparisons between her and Georgia Rep. Marjorie Taylor Greene," adding that "And while the media has spent the past week trying to make Greene and her crazy conspiracy theories the face of the Republican Party, despite three separate polls showing a majority of Republicans do not even have an opinion of her, back then the media covered for Omar, either ignoring her comments or even defending her.
Christy came back once more to huff that a former Republican congressman "pleased CNN by trying to portray conspiracy theorist and Georgia Rep. Marjorie Taylor Greene as& more popular than she really is." Christy ignored the inconvenient fact that she was obviously popular enough to get elected in the first place.
And, again, Christy -- like his fellow MRC writers -- failed to mention that Greene was the same person they had been painting as a victim because that very same extremism they now admit is "nutty" and "fringe" got her "censored" by social media, which feeds into a separate (and bogus) MRC narrative.
The MRC has to always forward a victim narrative, and the case of Marjorie Taylor Greene shows how cynical and calculated that strategy is.
Posted by Terry K. at 9:18 PM EST