CNS Tries To Mainstream Another Far-Right Member of Congress
Topic: CNSNews.com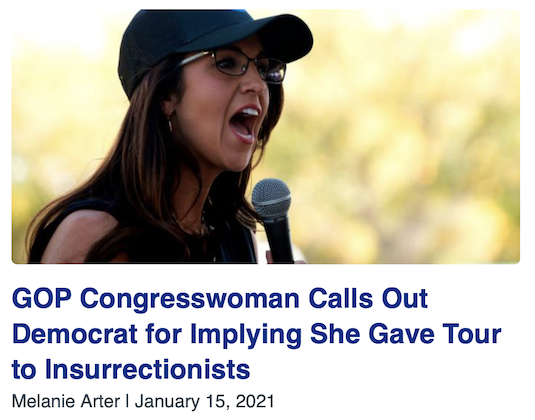 Marjorie Taylor Greene isn't the only newly elected extreme-right-wing Republican member of Congress CNSNews.com has been trying to mainstream. Rep. Lauren Boebert, like Greene, has expressed support for the QAnon, and she has also praised the thugs in the Proud Boys. And as with Greene, CNS has no interest in talking about her extremism.
Articles by Patrick Goodenough on Nov. 5 and Nov. 18 touted Boebert alongside Greene as the new "pro-life women" elected to the House. On Nov. 24, managing editor Micchael W. Chapman was quite giddy that Boebert "reportedly has asked what the rules are to carry a gun on Capitol Hill and in her congressional office," touting how she "is from a largely conservative district in western Colorado. She is a defender of the Second Amendment and operates a restaurant called Shooters Grill, in Rifle, Colorado. She is sometimes seen sporting a Glock pistol on her hip."
Susan Jones penned a gushy article about Boebert on Jan. 5:
Colorado's newly elected U.S. Republican Rep. Lauren Boebert on Tuesday described herself as "a 34-year-old woman who wants to protect herself in this dangerous city, here in our nation's capital" -- by carrying a gun.

"You know, it's very interesting that here in the United States of America that there is so much controversy over our Second Amendment rights," Boebert told "Fox & Friends" on Tuesday morning.

[...]

Boebert, the owner of a "gun-themed restaurant" in Rifle, Colorado (as the Denver Post described it) is allowed, as a member of Congress, to carry a gun in the Capitol, except in certain restricted areas.
In a post-riot Jan. 15 article, Melanie Arter featured how Boebert "called out Rep. Sean Patrick Maloney (D-N.Y.) on Thursday for implying that she gave a tour of the U.S. Capitol building to 'insurrectionists' a day before the Capitol riots." It wasn't until the seventh paragraph that Arter got around to admitting that "Maloney didn't name Boebert in his interview as the person who gave the tour."
None of these articles mention Boebert's extreme views, even though CNS is not shy about highlighting what it considers extreme views of Democratic politicians.
Posted by Terry K. at 12:36 AM EST