CNS' Managing Editor of Gay-Bashing
Michael W. Chapman uses his Media Research Center-provided platform to push the idea that gays and lesbians are literally the spawn of Satan.
By Terry Krepel
Posted 8/15/2017
---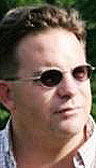 Michael W. Chapman
In addition to publish anti-gay reporting, CNSNews.com managing editor Michael W. Chapman loves to use his CNS blog to push right-wing opinions -- a reflection of the highly biased tone of the Media Research Center-owned website's "news" reports.

There's one thing particular part of this right-wing agenda Chapman loves to promote, and that's increasingly extreme opinions attacking the LGBT community. Here are some of the anti-LGBT attacks Chapman posted to CNS in late 2016 and early 2017, with a heavy emphasis on the rantings of his favorite right-wing minister, Franklin Graham, and of far-right WorldNetDaily columnist Jesse Lee Peterson:

In that time period, Chapman wrote nothing that was positive about the LGBT community, so we can assume that Chapman wholeheartedly endorses the hate he regurgitates.

Chapman ramped up the hate with a March 16 post:
Peter LaBarbera, founder of Americans for Truth About Homosexuality, gave a talk on Saturday about the destructive agenda of the LGBT movement and how it manipulates language in particular to disguise its evil intentions and spin them in a positive light -- darkness to light -- which, he added, is truly "satanic."

LaBarbera presented his talk at the Wisconsin Christian News Ministry Expo and Conference in Wausau, Wisc., on March 10. In a discussion about how "Words Lose their Meaning" when adopted and manipulated by the LGBT movement, LaBarbera gave the example, "Come Out of the Closet."

"This is one people don't think about," he said. "But think about it – come out of the closet. Come out of the dark closet of lies and self-hatred into the light of truth, right? You come out."

"But what is it really? said LaBarbera. "You come in, into darkness. You're embracing spiritual darkness as a personal identity, as who you are. Then you're selling it to everyone you know. You're doing Satan's work in the name of light."

[...]

For some reason, homosexuality has become the issue for the left," said LaBarbera. "The issue. It's satanic."

Homosexuality is satanic because it is a complete rejection of nature -- the natural design, order of one's body, male or female -- and an attack on the natural world (biology) that was created by God to function in a specific way. The principal entity that rejected God and His creation from the start was Satan, Lucifer. As he said, "I will not serve."
LaBarbera's NARTH is a leading promoter of anti-gay hate and junk science.
Chapman presents this post as fact, without offering a countering opinion (and you'd think it wouldn't be hard to find someone to point out that gays aren't, in fact, satanic).
In a May 26 post, Chapman regurgitated a rant from Franklin Graham attacking the New England Patriots for sponsoring a team in the "Gay Bowl" flag football tournament. Chapman then adds, without attribution or proof: "The clear agenda of the Gay Bowl is to promote homosexuality, lesbianism, and transgenderism and endorse the gay way of life. Through flag football, sports, this agenda is easily targeted to children and families."
The same day, Chapman wrote another post touting how "strong majorities of male adults, weekly church goers, conservatives, and Republicans" think no new laws to protect the LGBT community are needed. Chapman then served up his own biased definitions of transgender-related terms:
Birth gender refers to the biological, anatomical sex of a person at birth, male or female. Gender identity refers to the gender a person chooses to follow regardless of biology and genetics. A transgender is a person who believes they are the opposite sex of their biology, e.g., Bruce "Caitlyn" Jenner, a biological male who thinks he is a woman and has had breast implants, hormone treatments, and had his genitalia surgically altered to look like a vagina.
Chapman doesn't explain why he's so obsessed with Jenner's genitalia.

On June 1, Chapman published a post dutifully highlighting the anti-gay stylings of tennis legend Margaret Court, who complained that "tennis is full of lesbians" and that gays are "after our young ones" and "behind that bullying program in schools." After noting "gay critics" of Court like Billie Jean King and Martina Navratilova," Chapman parenthetically added: "Court beat Billie Jean King in four Grand Slam finals, and beat Martina Navratilova in two other matches."

Chapman went to the ultra-hateful gay=devil well once again with a June 20 post touting how WorldNetDaily columnist Jesse Lee Peterson literally thinks gays are the devil's spawn and parents who teach respect and tolerance for others don't love their children:
Reverend Jesse Lee Peterson, who runs BOND, which is dedicated to "rebuilding the family by rebuilding the man," said the people who are celebrating June as LGBTQ pride month are deceived because they actually are "celebrating sin," and contrary to their claims about being "children of God," they are "children of the lie" whose father is the "Devil."

He added that parents who allow their children to be indoctrinated in school with LGBT propaganda do not truly love their children, but turn them over to be "brainwashed."

[...]

"This month is so-called homosexual month -- can you imagine -- the whole entire month is dedicated to celebrating quote on quote wrong, celebrating sin, isn't that amazing?" said Peterson.

"We are all not children of God," he continued. "I don't know where that idea came from -- oh, from the children of the lie."

"We are not all children of God," said Peterson, "and this man Michael [who called in], this male Michael calls himself a preacher, so a lot of people are going to believe that lie simply because he says he's a preacher."

"You're not all children of God," said Peterson. "You're children of your father, the Devil."

[...]

Peterson then explained how some parents do not truly love their children because they allow them to be exposed, indoctrinated in pro-LGBT propaganda in the schools.

"Most or many parents do not love their children today," he said. "They don't. They sacrifice their children to the children of the lie."

"They allow their children to be sacrificed for evil, and I'm mentioning this because this whole month of June they're celebrating homosexuality in schools and playgrounds and everywhere else, and there's no outcry about it anymore," said Peterson.
Remember: Chapman did not repeat Peterson's words because he disapproves of them -- he's repeating them because he agrees that gays are the devil's spawn.
For a July 18 post, Chapman found another anti-gay preacher who spewed a similar message:
Speaking at the Sixth Annual Family Leadership Summit on Saturday, nationally renowned evangelical pastor and best selling author Dr. Jim Garlow explained how man and woman are created in the image of God and that gay "marriage" is "demonic" because it perversely mimics and mocks God's design for love and children, and seeks "to destroy the very image of God upon the planet."

[...]

"The bottom line is this," said Dr. Garlow, "if I were Satan, I would want to destroy on the Earth the image of God. This is why marriage is such a hotbed issue. It's more than just the issue of homosexuality. It's much more than that. It's much more cosmic. It's big, it's enormous."

"They want to destroy the very image of God upon the planet," he said. "This is a demonic happening in our midst."
Again: the idea that gays are directly linked to Satan is a message Chapman believes is true and one that must be disseminated. The MRC is effectively endorsing that message by giving Chapman a platform to spread it.
All this stuff makes Chapman the face of the gay-hating right at the Media Research Center (not to mention a lead example of why CNS has no credibility as a news organization). Apparently, he's quite cool with that.
The latest from