What Is The MRC Trying To Hide In Its War On 'Big Tech'?
Topic: Media Research Center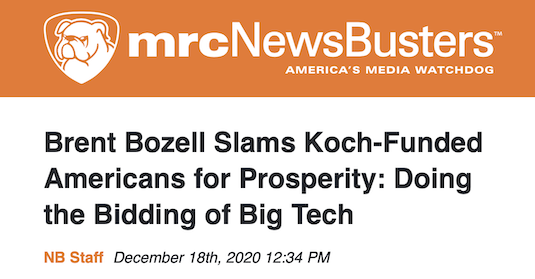 The Media Research Center huffed in a Dec. 18 press release:
MRC President L. Brent Bozell denounces Americans for Prosperity Foundation (AFPF) for aiding Big Tech companies in their fight to suppress and restrict conservative content. AFPF filed a lawsuit, following a FOIA request, for communications between the Department of Commerce and conservatives working to stop Big Tech from unjustly censoring conservative content. The Media Research Center, Bozell, and MRC VP Dan Gainor were all specifically named.

"AFPF backed off naming groups and leaders after strong pushback for their efforts, but what is done is done. The Koch machine has shown its true colors," said Bozell. "Koch and AFP should do the honest thing and disclose their agenda. Koch also launched a multi-million dollar venture with George Soros.

"Section 230 must be reformed to stop the abuse of conservatives by Big Tech. That's our position. It's the essence of free speech and free enterprise. The Koch machine believes in neither. They're supporting massive monopolies while also snooping about to read others' private emails. What they're doing smells to high heaven. They should just admit they're doing the bidding of Big Tech, and we'll all know where they stand," Bozell concluded.
Weird how Bozell and the MRC are suddenly concerned about the content of "private emails" when it spent years salivating over Hillary Clinton's leaked private emails and Peter Strzok's private texts. If the MRC did nothing wrong and all of its lobbying to change Section 230 was above board, it shouldn't be bothered by anyone's "snooping." What are Bozell, Gainor and the MRC trying to hide?
Also: The AFPF's original FOIA request was made back in September. Why did the MRC wait three months to complain about it? Presumably because there was an article in the Washington Times two days before Bozell's rant noting that the AFPF filed a full lawsuit against the Commerce Department becuase it wouldn't release those emails.
Also curious is that the MRC is specifically lashing out a prominent funder of conservative causes. this is likely driven by the fact that it doesn't get much funding from Koch-related foundations -- just $15,000 in recent years, according to one count. It linked to another reason: a July 2019 MRC post complaining that Charles Koch is cooperating with hated liberal boogeyman George Soroson something called the Quincy Institute for Responsible Statecraft, the creation of which was driven in part by U.S. emphasis on military force over diplomacy and "the foreign policy establishment is ill-equipped to interpret what was happening, particularly the foreign policy of Donald Trump." Writer Joseph Vazquez -- the MRC's designated Soros fearmongerer -- rehashed that "An MRC Special Report proved that 'In just 10 years, Soros has given more than $550 million to liberal organizations in the United States. And that's really just a beginning. That total represents about 27 percent of the $2 billion given out by the American branches of his Open Society Foundations from 2000 to 2009.'" Besides, the MRC has its own right-wing funders in the form of the Mercer family.
As the old saying goes: If you have nothing to hide, you hide nothing. The MRC is very much acting like it has something to hide. It had noproblem with the release of Hillary Clinton's emails or Strzok's texts, so it should have no problem with the release of its own emails for the purposes of full transparency on an issue in which it is heavily involved.
Posted by Terry K. at 7:08 PM EST
Updated: Sunday, January 3, 2021 9:16 PM EST