Conspiracy Theory: WND Suggests Its Muslim-Hating Author's Death Wasn't Suicide
Topic: WorldNetDaily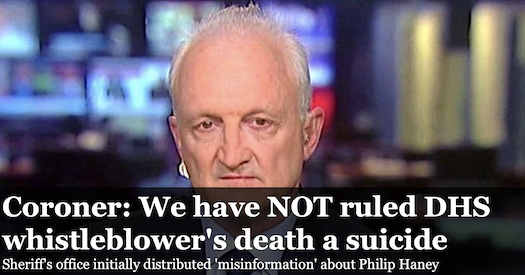 Philip Haney was a former employee of the Department of Homeland Security who spent his retirement years in anti-Muslim activism, accusing the Obama adiministration of downplaying the Islamic threat to the U.S. This earned him the attention of WorldNetDaily, where he co-wrote a book with WND news editor Art Moore, "See something, Say Nothing," on the subject and saw his anti-Muslim rantings regularly promoted. Haney also appeared to the person who fed Glenn Beck the never-proven story he promoted on his radio and TV shows that a Saudi Arabian student was an Al Qaeda "control agent" and "money man" for the Boston Marathon bombing in 2013. (The student sued Beck for defamation and slander, and they later reached an undisclosed settlement.)
Haney died Feb. 21; his body was found next to his car on the side of a California road with a single gunshot wound that appeared to be self-inflicted.WND, meanwhile, has gone into conspiracy-theory mode to suggest that Haney was murdered.
WND's initial, anonymously written Feb. 22 article on Haney's death admitted initial suspicions that his death was a suicide but added that "many of Haney's friends who had spoken to him in the past week say he was happy and looking forward to getting married." WND did not name any of these "friends" or directly quote them saying that, instead rehashing his anti-Muslim activism.
Two days later, another anonymously written article featuring how the county corner "issued a correction Monday afternoon, saying he has not determined that the Department of Homeland Security whistleblower's gunshot wound was self-inflicted." It again repeated the claim that "many of Haney's friends who had spoken to him in the past week say he was happy and looking forward to getting married" without offering further details or on-the-record sourcing.
A Feb. 27 WND article touted how "In an emotional speech on the House floor, Rep. Louie Gohmert, R-Texas, praised his friend Philip Haney, the Department of Homeland Security whistleblower whose death is under investigation by the FBI and local authorities in Northern California." The article highlighted the coroner's walkback, adding that "Haney's colleagues, friends and family have vowed to make sure everything is done to find out what happened." Once again, none of these "friends and family" are named or quoted.
A March 2 column by Barbara Simpson, though, went full conspiracy theory:
On Feb. 22, the sheriff's office in California's Amador County reported that a dead body was found next to the man's truck, in its jurisdiction 40 miles from Sacramento, the state capital. Their first report was that the man died from a single, self-inflicted shot to the chest. A gun was found near the body.
The body was found in an open area, adjacent to State Highway 16 – about 3 miles from the R.V. park where Haney lived.

That conclusion about the death of the 66-year-old garnered a mountain of objections from the man's friends and family – that it could not have been a suicide. He was about to publish a new book and was planning a marriage in the next month.

They said it was not suicide – but foul play. Murder. They called it an "assassination."

There was so much commotion about the case that the sheriff has issued further reports and is investigating further the cause and manner of death. Also, the sheriff's office has backtracked on the "suicide" claim.

[...]

As quoted in Breitbart, Rep. Steve King, R-Iowa, said Haney "didn't kill himself." He said Haney "was a target because of all he knew of Islamic terrorist cover-ups. He insured his life by archiving data that incriminated the highest levels of the Obama administration."

[...]

My local paper has printed not a word about the incident – the body, the man, the cause of death. I checked the paper daily and found nothing, yet editors found it important to print more than 200 column inches, front-page stories and color pictures last week about a local couple who was lost and found in good shape by rescuers.

It'll be interesting to find out the results of the sheriff's investigation into the death. People usually do not shoot themselves in the chest to commit suicide – just as they don't shoot themselves in the back of the head. Think Vince Foster.

If I ever – or you ever – needed an example of a massive cover-up by the "political establishment," this is it – and I have no doubt the truth is more than ugly. That our "free press " would be party to the cover-up is more than reprehensible.
Expect to hear more about this at WND, since conspiracy theories are kind of its jam.
Posted by Terry K. at 12:47 AM EST
Updated: Wednesday, March 4, 2020 1:56 PM EST