CNS-Mark Levin Stenography Watch
Topic: CNSNews.com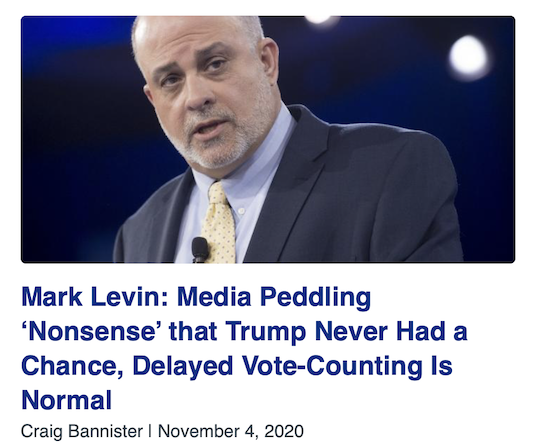 The last time we checked in, CNSNews.com was falling behind on its usual pace of uncritically promoting things said by right-wing radio host Mark Levin or by guests on his show. So how did CNS finish out the year in Levin promotion? Here are the Levin-touting articles CNS published in the final two months of 2020, which was heavy on pushing dubious election fraud conspiracy theories:
That's 10 articles over November and December, for a total of 86 articles in 2020. That number is well off the pace of previous years, when CNS published at least 96 articles annually:
2017: 105
2018: 135
2019: 96
Still, that pace is good for an article every 4.25 days at CNS -- coverage frequency people normally have to pay for (and we still don't know whether that's actually the case).
Posted by Terry K. at 10:57 AM EST