CNS Dishonestly Floods The Zone On Dr. Seuss
Topic: CNSNews.com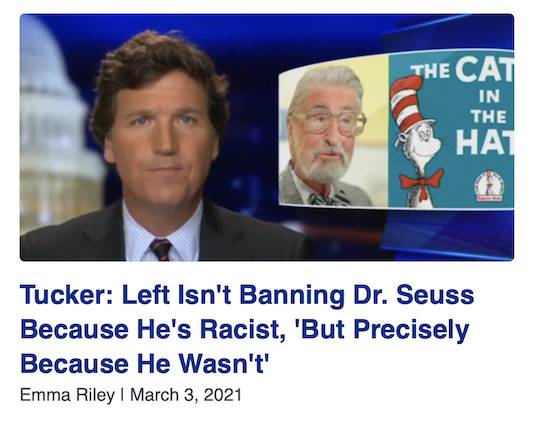 When Dr. Seuss became a news item, mostly for the Seuss estate deciding to pull a few of his many books out of print due to their racist imagery that didn't age well in the decades since they were first drawn, CNSNews.com did its best to flood the zone. Craig Bannister started things in an article that got a separate but related story wrong:
The educational arm of the Southern Poverty Law Center (SPLC) has bullied a Virginia school district into cancelling any mention of beloved children's book Author Dr. Seuss on a pro-reading day established by National Education Association (NEA) to honor his birthday.

Every year since 1998, schools have celebrated "Read Across America Days" on Seuss' birthday, March 2. But, the Loudon County, Virginia school system will snub Seuss this year, bowing to the demands of SPLC's "Learning for Justice" activists, the Daily Wire reports[.]
In fact, as we've noted, Read Across America has de-emphasized Dr. Seuss and played up more diverse children's literature after the Seuss estate's contract with the National Education Association, which runs Read Across America, ended in 2019 -- which is the story the school district has told. The district also pointed out in response to bogus right-wing media stories like the one that Bannister relied on that Dr. Seuss has not been "canceled," only de-emphasized.
A March 2 article by Emma Riley on the Seuss estate's decision to no longer publish those offensive books was surprisingly balanced, though she repeated the false claim that the school district "made the decision to shun Read Across America Day after a push from the Southern Poverty Law Center's Learning For Justice Activists."
Riley also wrote: "In his Proclamation on Read Across America Day, President Biden made no mention of Dr. Seuss. Former President Bill Clinton, former President Barack Obama, and former President Donald Trump all paid tribute to Dr. Seuss in their Read Across America proclamations." She failed to mention the fact that the reason Biden didn't reference Dr. Seuss is because the Seuss estate is no longer contractually linked to Read Across America.
Riley also transcribed a Tucker Carlson rant complaining that "They're banning Dr. Seuss not because he was a racist, but precisely because he wasn't." She did not fact-check to point that the vast majority of Dr. Seuss' work remains in print and, thus, is not being "canceled."
Bannister returned to disingenuously complain further:
While today's Cancel Culture is denouncing Dr. Seuss, alleging his work contains racist content, both then-President Barack Obama and First Lady Michelle Obama have celebrated Seuss' beloved children's books and encouraged young Americans to learn the lessons they teach.

On Monday, CNSNews.com reported that six of Seuss' books have been discontinued due to complaints by those who suddenly find the books offensive.

But, at a White House gathering in 2015, Pres. Obama, an African-American, said that "pretty much all the stuff you need to know" about how to treat others can be learned from Dr. Seuss, Fox News reports:
No, Craig, people didn't "suddenly find the books offensive"; they were always offensive, and if Bannister had bothered to actually read the Riley article he linked to about rthe Seuss estate discontinuing publication of the books, he would have known why. And the Obamas' praise for Dr. Seuss for the majority of his work doesn't change the fact that those books do, in fact, contain racist imagery.
This sort of dishonest "news" content is why CNS appears to have little credibility.
Posted by Terry K. at 12:17 AM EDT