Disgraced Ex-Cop Cheers Disgraced Ex-Governor
Topic: Newsmax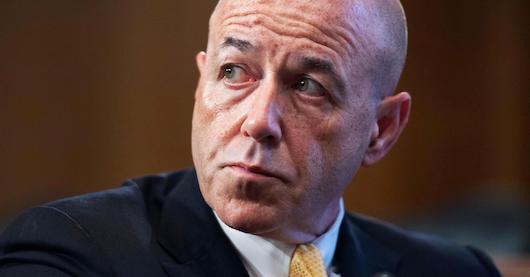 Bernard Kerik gushed in his March 12 Newsmax column:
It's a time for courage in America. Of all the people who might step forward in the United States Senate race in Missouri, there is no stronger supporter and advocate for President Donald Trump and his America First policies than former Missouri Governor Eric Greitens.

That is why we need him to fight for us in the U.S. Senate.

The liberal Democrats currently have complete control of Congress.

We need to take back the Senate. And take it back with fighters like Eric Greitens.

We have seen what weakness looks like, especially in the Senate. They bend to the political winds, instead of standing strong through the storm.

As a Navy SEAL and former Missouri Governor, Greitens stood up the political establishment—the same establishment that opposed President Trump. Because he was such a threat, Democrats colluded with the establishment political class and mainstream media to attack Greitens during his time as governor.

As governor, Greitens prohibited lobbyist gifts, killed-a pay raise for politicians, and ended a corrupt tax credit program that lined the pockets of insiders at the expense of Missourians.

He got rid of bureaucrats who failed our veterans.

He backed our cops.

Let me say that again; He backed our cops.Every. Single. Day.

He was the most pro-police governor in the country.
The only hint that Greitens might not be the shining example of manhood that Kerik depicts him as came in this brief paragraph: "No surprise then that a Soros-funded prosecutor attacked him. Greitens has now been fully exonerated and those who perpetuated the witch hunt against him are being prosecuted. They are facing seven felonies for going after a MAGA-warrior."
Kerik didn't explain what, exactly, Grietens had been "fully exonerated" of -- perhaps because he actually hasn't been.
Greitens was accused by a woman he allegedly had an affair with of taking a photo of her in a compromising position for blackmail purposes. The "Soros-funded prosecutor," Kim Gardner, didn't "attack" him over this -- she launched an investigation of the claim after it became public, and a grand jury indicted him on felony invasion of privacy charges. The charges were dropped not because he was "exonerated," but because a private investigator Gardner hired in the case was accused of perjury and withholding information (and is the person facing the "seven felonies" Kerik referenced). The alleged compromising photo was never found, but it was discovered that thousands of files had been mysteriously deleted from Greitens' phone.
Greitens was also accused of misusing a donor list from a nonprofit he once headed in his political campaign, but the investigation was ultimately droppednot because he was "exonerated," but because Greitens resigned as governor. Separately, the Missouri Ethics Commission fined the Greitens campaign $178,000 over other misdeeds.
People then "go after" Greitens for being a "MAGA-warrior" -- they went after him because he's a sleaze. Given that Kerik is a convicted felon for deeds commited while New York City police chief, it seems that he has found a kindred spirit.
Posted by Terry K. at 3:44 PM EDT