NewsBusters Still Freaking Out About Redskins Criticism, Ignoring That Prominent Conservative Agrees
Topic: NewsBusters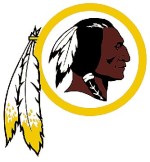 The Media Research Center continues to rage against critics of the Washington Redskins name. Randy Hall ranted in an Oct. 21 NewsBusters post:
Just when you think you've seen it all, along comes a political cartoon in the New York Daily News attempting to change the name of a National Football League team that's not even in their city.

The illustration posted on Thursday featured three flags, the first containing the swastika symbol of the Nazis, then the star-filled banner of the Confederates from the Civil War, and finally the logo of the Washington Redskins with a caption that read: "Archaic Symbols of Pride and Heritage."

[...]

Of course, if liberals with too much time on their hands and members of the tiny Oneida Indian Nation succeed in getting the Redskins' name changed, what other sports teams are next? The Cleveland Indians? The Atlanta Braves? The Kansas City Chiefs? The possibilities for extracting sports fans' fun are endless!
Hall joins with his fellow MRC critics in failing to note that one of those "liberals with too much time on their hands" isn't a liberal at all. As we've documented, Charles Krauthammer -- such a rock-ribbed conservative that the MRC gave him its "William F. Buckley Jr. Award for Media Excellence" last month -- endorsed a name change because word meanings have changed over the years.
There is, however, a post by Brent Baker about how Krauthammer "is capable of delivering funny lines and humorous anecdotes."
Of course, mentioning that one of its favorite conservatives has taken a position it opposes, and was not doing so using funny lines and humorous anecdotes, would be inconvenient to its agenda. So the MRC remains silent.
Posted by Terry K. at 12:29 PM EDT