WND Touts Bogus Hydroxychloroquine Study Pushed By Fringe Group
Topic: WorldNetDaily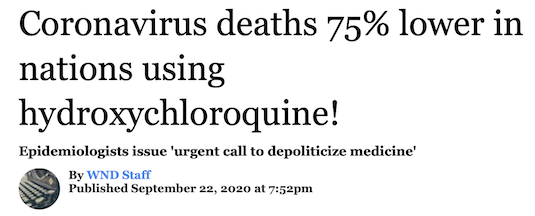 From an anonymously written Sept. 22 WorldNetDaily article:
With media solemnly spotlighting the passing of the 200,000 mark in deaths attributed to COVID-19 in the United States, a physicians assocation has a question.

"Why is the death rate about 75 percent lower in many countries?" asked Dr. Jane Orient, executive director of the Association of American Physicians and Surgeons.

The reference is to a country-based analysis updated Sept. 20 that shows a gap between countries that treat COVID-19 early or prophylactically with hydroxychloroquine and those that, like the U.S., discourage or prohibit its use.
That link to the "country-based analysis" goes to an anonymous website, HCQTrial.com, featuring a bogus study. Lifehacker points out that the results on the website are "not a study, but it's definitely packaged to look like one":
What it actually is, is an anonymous website with many of its sources credited to also-anonymous Twitter accounts. But it wears the garb of science: The charts mirror the style of other epidemiological graphs that have been floating around; the typography smacks of certain scientific journals' style.

But what's even sneakier is the way it co-opts the language of science and deliberately misuses words. The phrasing has changed after criticism, but at one point the site claimed to describe a "country-randomized trial" of literally billions of people.

[...]

As many actual epidemiologists have pointed out, all these folks did was to look at COVID-19 death rates in a handful of cherry-picked countries and conclude that the countries that made a "strong decision" in favor of hydroxychloroquine usage had lower death rates.
The Science-Based Medicine website details further that "There's no such thing as a 'country-randomized trial'. It's a meaningless term. Subjects were not 'randomized by country'. They couldn't have been. This is a retrospective study," concluding that HCQTrial.com "is obvious pseudoscience to anyone who has any expertise in epidemiology and/or clinical trials, but unfortunately it has spread far and wide faster than experts could debunk its disinformation."

It also theorizes (since the site's operators are anonymous and the domain owner has been hidden form public view) that Orient's AAPS may be affiliated with this website, but admits that this and an apparently affiliated website, c19study.com, "are simply useful repositories of disinformation for AAPS to use. Either way, it's clear that these sites are all related and that they are all spreading the same sort of disinformation."
Indeed, in a WND column published the same day (and also published at Newsmax), Orient made a similar claim about hydroxychloroquine having a "75% lower mortality rate," but this time linking to c19study.com, which is just a list of HCQ-related studies with a similarly anonymous provenance.
In that column, Orient also wrote about how "Epidemiologist Harvey Risch of Yale University estimates that 100,000 people may have lost their lives needlessly because of governmental agencies obstructing the use of HCQ." But Science-Based Medicine argued that Risch was employing "bad science" in trying to defend HCQ through the use of cherry-picked studies and positively referencing Vladimir Zelenko, who made numerous unverified claims about HCQ's efficacy (debunked by state health officials) that WND promoted earlier this year.
Orient went on to argue that "the authorities' cherished dogmas about viral diseases in general are wrong," citing what is effectively an opinion piece in the AAPS' own journal by one Dr. Lee Merritt, who concluded by likening "a corrupt, and yes murderous, vaccine industry" to "the murderous and corrupt Soviet regime." Merritt is not an epidemiologist; she's an orthopedic surgeon. She was also formerly known as Lee Hieb, a past president of AAPS who is, as we documented, an anti-vaxxer who's more than a little factually challenged.
WND continues to publish misinformation and falsehoods from a fringe group that's known for doing so -- even though publishing misinformation is one big reason that WND has been teetering on the edge of existence for the past couple years. It hasn't learned anything.
Posted by Terry K. at 1:01 AM EDT
Updated: Wednesday, October 7, 2020 2:55 PM EDT