MRC More Angry At Criticism Of Redskins Name Than The Fact The Redskins Hired A Suspected Abuser
Topic: Media Research Center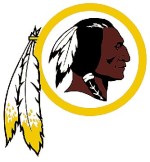 Proving that conservative correctness rules over all at the Media Research Center, mysterious sports blogger Jay Maxson writes in a Nov. 30 post:
Signing linebacker Reuben Foster, released earlier this week by the San Francisco 49ers for alleged domestic violence, opened up the Washington Redskins to collateral media attacks on their team nickname. ESPN Around the Horn commentator Kevin Blackistone, USA Today For the Win writer Steven Ruiz and others couldn't resist the temptation to take swipes at the Redskins' nickname while blasting the team for signing Foster.
Maxson went on to whine that "Ruiz emptied a bagful of grievances he has with the Washington team, much of it devoted to the issue of the Redskins' name, which many liberals want changed" and that Ruiz "blasted team founder George Preston Marshall, 'a man whose Wikipedia page features a 'Racism' section, ...' and who was the last NFL owner to sign black players." Maxson said nothing further about Foster.
That's right -- Maxson is more offended at writers criticizing the Redskins team name than he is about the fact that the Redskins signed a player credibly accused of domestic violence against his girlfriend. Shows you were the MRC's priorities are.
A few days earlier, Maxson had ranted about the idea that Colin Kaepernick -- about whom Maxson has regular attacks of derangement -- might be hired by the Redskins as a replacement quarterback. Maxson sneered that Kaepernick is a "notorious anthem kneeler" and a "SJW favorite," dismissing those advocating for Kaepernick as making "pithy powder puff arguments" and adding that "to objective people, these are flimsy, pathetically weak points. Beating a dead horse, the Kaepernick apologists are embarrassing themselves by begging and pleading for his return."
Maxson can't even be bothered to write more about Foster than he has about a former NFL player whose political views he disagrees with.
Posted by Terry K. at 5:44 PM EST