CNS Obsesses Over Rogue Trump-Loving Democrat
Topic: CNSNews.com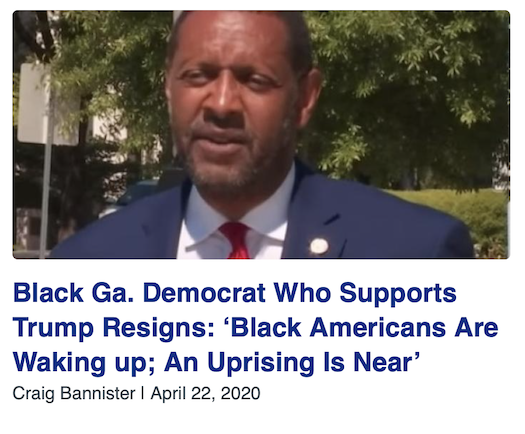 CNSNews.com is way too excited about a rogue Democratic politician in Georgia. Michael W. Chapman wrote in an April 17 article:
Georgia State Rep. Vernon Jones (D), a "lifelong Democrat," said he supports President Donald Trump and cited the success of Trump's policies in reducing black unemployment to a historic low (before COVID-19), criminal justice reform, protecting the nation from illegal immigration, and Trump's support for historically black colleges.

Rep. Jones, who is not switching political parties, added, "I didn't leave the Democratic Party. The Democratic Party left me."
Chapman served up more gushing over Jones' pro-Trump views, but he didn't tell his readers the full story about Jones. As a real news outlet reported, ones is a Republican in all but name, supporting Republican presidential candidates and even receiving a campaign donation from the notoriously right-wing National Rifle Association.
CNS continued to follow Jones' antics anyway. On April 22, Craig Bannister highlighted Jones' delcaration that he would resign his legislative seat but "has no plans to leave the Democrat Party [sic]," using a deliberately incorrect name for the Democratic Party even though Jones himself never used it.
Jones flip-flopped on resigning the next day, and CNS covered that too, leaving Melanie Arter to do that writeup; she also used the deliberately wrong "Democrat Party" name.
Obsessing over a conservative-friendly politician and not only failing to report the full story but putting delilberately false information in its stories is, sadly, par for the course for CNS these days.
Posted by Terry K. at 12:36 AM EDT