MRC's Houck Uses Space Force Quip To Attack Psaki
Topic: Media Research Center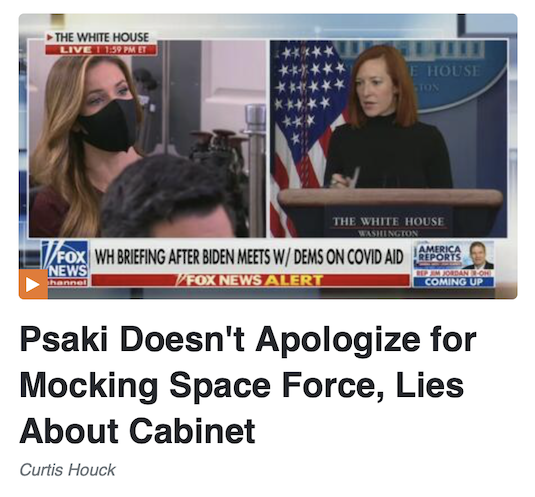 The Media Research Center's Curtis Houck has made it claear that -- in a reversal of his obsequious fawning over Trump press secretary Kayleigh McEnany and wild attacks on any reporter who asked her a challenging question -- Biden press secretary Jen Psaki would be a target and any reporter who asked her a challenging question would be virtuous.
Houck is reviewing Psaki's press briefings as a "performance," looking for ways to attack. Thus, he declared in a Feb. 2 post because she was not sufficiently reverent of the Space Force that was created under President Trump:
Tuesday's White House press briefing was perhaps Press Secretary Jen Psaki's most combative one yet, facing tough questions on China, coronavirus relief, illegal immigration, Israel, and schools but also softballs on topics like COVID and impeachment.

[...]

It was the Space Force question that raised the most eyebrows as Bloomberg's Josh Wingrove simply wanted to know if President Biden "has made a decision on keeping or keeping the scope of the Space Force."

Psaki interjected and chuckled, making a reference to a question about Air Force One from the inaugural briefing: "Wow, Space Force. It's the plane of today."

Wingrove pushed back that this matters and Psaki further beclowned herself: "It is an interesting question. I'm happy to check with our Space Force point of contact. I'm not sure who that is and find out and see if we have any update on that."

Hours later, Psaki tweeted in a piece of damage control that the administration "look[s] forward to the continuing work of Space Force."
We don't recall Houck ever saying that McEnany "beclowned herself" -- he was much to enamored by her allegedly sick burns and scripted insults of the media she was supposed to be briefing (thought she did, indeed, beclown herself regularly).
The next day, Houck got more mileage out of the Space Force kerfuffle while adding in a couple other pedantic attacks:
On Thursday's episode of the White House press briefing, Press Secretary Jen Psaki refused to apologize for having mocked the Space Force a day earlier and skimped on funding schools that teachers unions have kept shuttered, and falsely claimed that Transportation Secretary Pete Buttigieg was the first openly gay cabinet secretary.

[...]

The daughter of astronauts, the Fox News Channel's Kristin Fisher brought up the Bloomberg reporter Josh Wingrove's Space Force question: "The top Republican on the House Armed Services Committee is asking you to apologize for the comments made yesterday in the briefing room about the space force. Will you apologize?"

Psaki declined, only alluding to a tweet she sent "invite members of Space Force here to provide an update to all of you on all the important work they're doing and we certainly look forward to seeing continued updates from there — from their team."

But before the above quote, she worked in another dig at the Space Force: "I did send a tweet last night. You may not all be on Twitter. Maybe they're not on Twitter."
Houck then complained that "Psaki memory-holed former acting DNI Richard Grenell as having been the first openly-gay cabinet official when she boasted that the Senate had 'just confirmed as the first LGBTQ secretary in a cabinet.'" But he didn't mention that Grenell was only an acting cabinet official; Buttigieg is the first gay official to be confirmed by the Senate, nor did he mention all the falsehoods McEnany from the podium.
Houck also grumbled: "And yet, no one stepped up to the plate to ask Psaki about a 2020 tweet of hers calling "LadyG," specifically). After expressing interest in past statements from Kayleigh McEnany, the press corps doesn't seem to care about Psaki's record." Houck didn't care about McEnany's record, and he certainly didn't mention the MRC's proud anti-LGBT record -- which included the MRC's Dan Gainor working to get Grenell fired from Mitt Romney's 2012 presidential campaign simply because he was gay.
Posted by Terry K. at 6:41 PM EST
Updated: Friday, February 26, 2021 6:59 PM EST