CNS Spent Months Promoting Trump-Loving State Legislator Who Claimed To Be A Democrat
Topic: CNSNews.com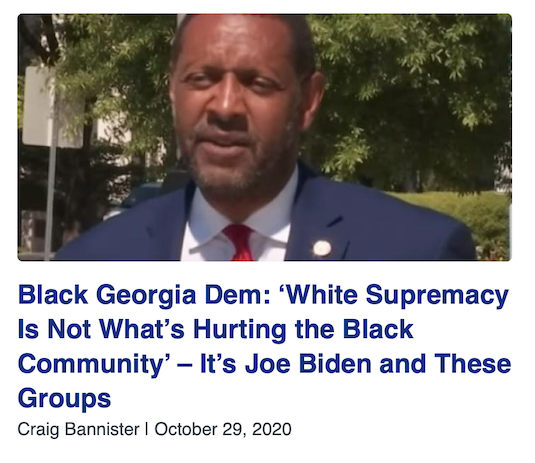 Last May, we highlighted how CNSNews.com had been touting a minor politician, Georgia state Rep. Vernon Jones, who claimed to be a Democrat but declared his love for then-President Trump. Well, he has continued to be a thing at CNS -- well, mostly for writer Craig Bannister -- for the goofy unicorn antics of a Republican pretending to be a Democrat. These are from last summer alone:
In August, Bannister hyped how Jones "posted a video recalling how he was 'met by a violent mob' and feared for his life when as he left Pres. Donald Trump's White House speech last Thursday." Bannister did not note that Jones offered any proof to back up his claim, but he did uncritically report Jones' assertion that "my life was threatened."
Before the 2020 presidential election, Jones got more press from Bannister for his schtick:
After the election, Bannister gave Jones space to rant about Stacey Abrams motivating Democrats to vote, claiming that she was "'practicing hypocrisy and not democracy' by ignoring the election concerns plaguing her state." Bannister added that "Democrat Jones says he's endorsing the two Republican Senate candidates in Georgia's upcoming runoff elections – because, if they don't win 'It's going to be chaos, it's going to be communism.'"
And on Feb. 11, Bannister rehashed Jones' claim of being "ambushed" by a liberal "mob":
Democrats at this week's Senate trial are accusing former President Donald Trump of inciting a deadly insurrection by a speech he gave. But, last year, a Democrat Georgia state representative repeatedly warned that it's the left that Americans should fear.

As CNSNews.com reported, last August, Georgia Rep. Vernon Jones tweeted a video recalling how he had been "ambushed leaving the White House by a left-wing mob for proudly supporting @realDonaldTrump."

"My life was threatened and others' lives were threatened" by "a violent mob," Jones said, adding that "I feared for my life."
Again, Bannister noted no proof from Jones that this actually happened. And he buried the real news here: "Since the attack, Rep. Jones has left the Democrat Party [sic] and become a Republican."
Of course, that means Jones has lost his unicorn gadfly status, and CNS will likely not have much to do with him again.
Posted by Terry K. at 2:13 PM EST
Updated: Wednesday, March 10, 2021 2:46 PM EST