MRC's Double Standard On Anonymous Whistleblowers, Part 3: The Whine Factor
Topic: Media Research Center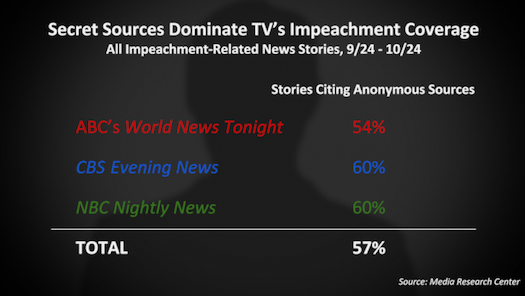 It seems the Media Research Center just can't stop whining about the media citing anonymous sources in stories (except, of course, when that anonymous source happens to advance the MRC's anti-media narrative).
The Oct. 22 column by MRC honchos Tim Graham and Brent Bozell was an extended screed against anonymous sources:
Thus the dominant narrative of the first two years of the Trump presidency was the accusation of Russia colluding with the Trump campaign….until it collapsed. The network evening news shows wasted thousands of minutes just oozing with doom for the president. In 2018, the Russiagate stories were 98 percent negative. Now they're doing it all over again with Ukraine.

All of this is based on what? Evidence provided by whom? How many dozens, maybe hundreds of television and print reports have been based on "anonymous sources"? How many times have we read about the reporter's conversation with "multiple" or "six" or "more than a dozen" or some such number of sources?

Why can't a single one come forward? Why must we find out, after digging and digging, that their most recent "whistleblower" has vanished from the scene?

As consumers of "news," it's exhausting to wade through wild quotes, accompanied by phrases like "the official spoke on the condition of anonymity to speak candidly." But how on Earth would we know if the source was "candid"? The word, after all, is defined as "the quality of being open and honest in expression." So why not come forward?
Meanwhile, Curtis Houck whined that the anonymous author of an "infamous" New YOrk Times op-ed stating how White House staffers are trying the save the country from Trump's worst impulses is writing a book: "Despite the fact that there's no way for anyone other than The Times or the book publisher to vet them (plus the claims they're leveling), the book will undoubtedly be celebrated as a modern-day Gospel by the liberal media. All the while, this person will be allowed to remain anonymous and thus take the coward route." He whined further: "Yuck. So a book about being anonymous and why it's a good thing the author is staying anonymous will financially benefit an industry (the WH beat) that operates almost entirely on anonymous sources. Neato!"
Thew MRC's Nicholas Fondacaro and Alex Christy similiarly whined about the book.
With all that whining, you knew what was coming next: another patented MRC "study"! Bill D'Agostino did his duty:
Despite the unreliable nature of anonymous sources, the three major broadcast networks (ABC, CBS, and NBC) have used them in nearly three fifths of their news reports about the impeachment probe since it first began, mostly to pass along damning accusations against the President that cannot be independently verified.

From September 24 — the day the impeachment inquiry was announced — to October 24, these three broadcast networks devoted 322 minutes to the probe in their evening newscasts, across 140 separate news segments. Of those, more than half (82, or 57%) relied at least in part on information from anonymous sources:
D'Agostino then intoned: "A policy piece by the Society of Professional Journalists cautions strongly against the use of anonymous sources, noting: 'Some organizations do not allow anonymous sources except in the most vital news stories.'"
Note that D'Agostino's chart references "TV's Imeppeachment Coverage" when, in reality, it the MRC's usual extremely narrow slice of TV in the form of network evening newscasts. Apparently, Fox News is not part of the "TV" world for D'Agostino. This was followed by the MRC's promotion of the requisite Fox News segment that touted this so-called study.
While all whining was going on, the hypocrisy got deeper as the MRC was touting yet another story that was, yes, anonymously sourced.
An Octy. 21 post by Gabriel Hays excitedly touted how, according to a Hollywood Reporter article, China is demanding edits to Quentin Tarantino's new film "Once Upon A Time in Hollywood" before it can be shown there. Hays wrote: "The outlet's anonymous sources claimed, 'Once Upon a Time in Hollywood's local release has been indefinitely put on hold.'"
Oops! Looks like someone forgot to check with the narrative creators at the MRC to make sure his post didn't undermine said narrative.
Posted by Terry K. at 6:16 PM EST