Cleanup Mode: CNS Tries To Fix Trump Claim On China And The Bidens
Topic: CNSNews.com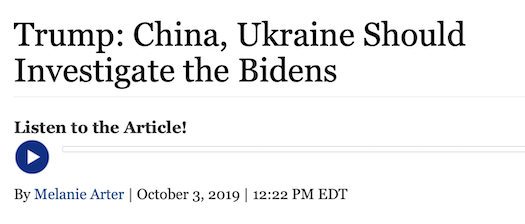 CNSNews.com writer Melanie Arter served up another one of her Trump stenography specials in an Oct. 3 article:
China and Ukraine should investigate former Vice President Joe Biden and his son Hunter, President Donald Trump said Thursday.

Speaking to reporters prior to heading to Florida, the president was asked what he hoped Ukrainian President Volodymyr Zelensky would do about the Bidens after his phone call with Ukraine.

"Well, I would think if they were honest about it, they'd start a major investigation into the Bidens. It's a very simple answer. They should investigate the Bidens, because how does a company that's newly formed, and all these companies – and by the way, likewise, China should start an investigation into the Bidens because what happened in China is just about as bad as what happened with Ukraine," Trump said.
This invitation by Trump to a foreign government to investigate a political opponent didn't go over well, especially since the impeachment inquiry is centered on his attempt to get a different foreign government to investigate the same political opponent. So, a couple days later, CNS went into cleanup mode by suggesting that Trump was merely joking (though Arter didn't indicate he was doing so).
Thus, in a Oct. 7 article, Arter quoted a chief Trump defending trying to retcon and spin away Trump's remarks:
Rep. Jim Jordan (R-Ohio) told ABC's "This Week with George Stephanopolous" on Sunday that he doesn't think President Donald Trump was serious about China investigating former Vice President Joe Biden and his son, Hunter.

When asked whether he thinks it's appropriate for Trump to ask China and Ukraine to investigate Biden, Jordan said, "George, you really think he was serious about thinking that China's going to investigate the Biden family?"

"He said it right there in public," Stephanopolous said.

Jordan said Trump has been tougher on China than any other president, and the president wants to make sure China quits stealing America's intellectual property and starts abiding by international trade norms.

Jordan said he wished there was the same outrage from the media when the DNC hired a foreigner who worked with the Russians to dig up dirt on the Trump.
The same day, Arter penned a different article by a different Trump defender pushing the same just-kidding talking point:
Sen. Roy Blunt (R-Mo.), who serves on the Senate Intelligence Committee, told CBS's "Face the Nation" on Sunday that he doubts that President Donald Trump was serious when he called on China last week to investigate the Bidens.

"I doubt if the China comment was serious to tell you the truth," Blunt said, adding that he hadn't talked to Trump about his comments and doesn't know what the president was thinking, "but I do know he loves to bait the press."

Blunt said he baits the press "almost every day" to see what they will talk about.
Two days later, on Oct. 9, Arter eventually wrote about Biden's response to Trump's demand. Unlike with her original bit of Trump stenography, she allowed another side of the story to be told in the form of Trump tweeting in response to Biden.
It wasn't until a nearly week later, on Oct. 14 -- 11 days after the original story broke -- that Arter got around to quoting a Republicanb who disagreed with Trump's call for China to investigate the Bidens:
Asked whether it is appropriate for President Donald Trump to say that China should investigate the Bidens, Sen. Ted Cruz (R-Texas) said, "Of course not."

In an interview with CBS's "Face the Nation" on Sunday, Cruz said, "Of course, not. Elections in the U.S. should be by Americans, and it's not the business of foreign countries, any foreign countries, to be interfering in our elections."

[...]

"Listen, foreign countries should stay out of American elections. That's true for Russia. That's true for Ukraine. That's true for China. That's true for all of them. It should be the American people deciding elections. I don't know what Rudy's been saying. I do know, though, that we should decide our elections. It should be the American people making those decisions," Cruz said.
That's life as a pro-Trump stenographer at CNS. And even then, she wasn't so dedicated to the job that she could be moved to figure out how to spell George Stephanopoulos' name correctly.
Posted by Terry K. at 12:51 AM EDT
Updated: Tuesday, October 22, 2019 12:53 AM EDT