CNS' Syria Withdrawal Coverage Becomes A Little Less Pro-Trump
Topic: CNSNews.com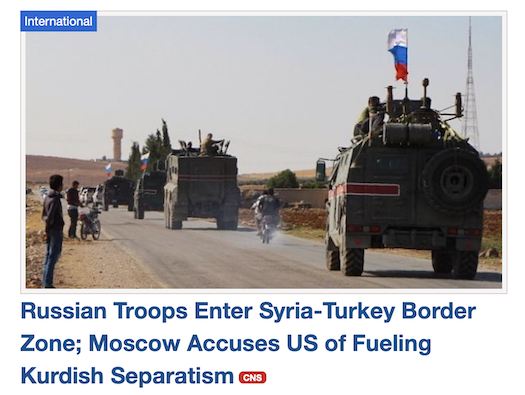 CNSNews.com's interest in defending President Trump over withdrawing U.S. troops from northern Syria, thereby permitting Turkey to attack the Kurds that once were U.S. allies, has waned as the media in general has lost interest in the story.
On Oct. 21, Patrick Goodenough detailed a backtracking on Trump's withdrawal (though, of course, he didn't call it that): "As U.S. troops are being redeployed from Syria to western Iraq, there were indications at the weekend that President Trump may be prepared to leave a residual force across the border in eastern Syria, in a bid to keep a lid on ISIS and help to ensure that oilfields in the area to not fall into hands of the Iranians, whose forces are in Syria to bolster Bashar Assad's regime." The same day, James Carstensen touted a German plan to create an "internationally controlled security zone" in Syria.
More stuff came in over the next couple days:
CNS then turned the narrative to the U.S. trying to capture Syrian oil:
Then things flipped back to Goodenough making Turkey the bad guy:
Meanwhile, CNS did publish an op-ed by conservatives Ken Blackwell and david Phillips asserting that "Turkey is practicing genocide again" in northern Syria and that "by allowing ethnic cleansing to remove the Kurds from northern Syria, the U.S. may be seen as an accomplice to Erdogan's war crimes." But it also published a couple of pieces by managing editor Michael W. Chapman trying to retroactively justify Trump's withdrawal by dismissing the Kurds as terrorists and, perhaps even worse, a bunch of commies.
In the first, on Oct. 23, Chapman ranted:
Although many liberal news outlets and some politicians have described President Donald Trump's decision to pull U.S. troops out of Syria as a "betrayal" of the Kurds, our allies in fighting against ISIS in the region, it is important to note that the Kurdistan Worker's Party, or PKK, is a "Marxist-Leninist separatist organization" that was designated as a "Foreign Terrorist Organization" by the U.S. State Department in October 1997.
The next day, Chapman served up a somewhat altered version of the first article that walked back that one a bit:
Although many liberal news outlets have described President Donald Trump's decision to pull U.S. troops out of Syria as a "betrayal" of the Kurds -- our allies in the fight against ISIS -- the Kurds who make up the People's Protection Units (YPG), are a direct offshoot of the Kurdistan Worker's Party (PKK) in Turkey, which was designated a terrorist organization in 1997.

This does not apply to all the Kurds in Syria but specifically to those in the YPG.
But as actual foreign policy experts point out, the links between the PKK and the YPG are not as clear-cut as Chapman portrays them; the YPG denies direct links with the PKK though there is some overlap and shared goals. Perhaps Chapman can write another article walking back things a bit more.
Posted by Terry K. at 12:46 AM EST
Updated: Thursday, November 7, 2019 10:56 PM EST