MRC Embraces Russian-Linked Gabbard To Bash Media, Hillary
Topic: Media Research Center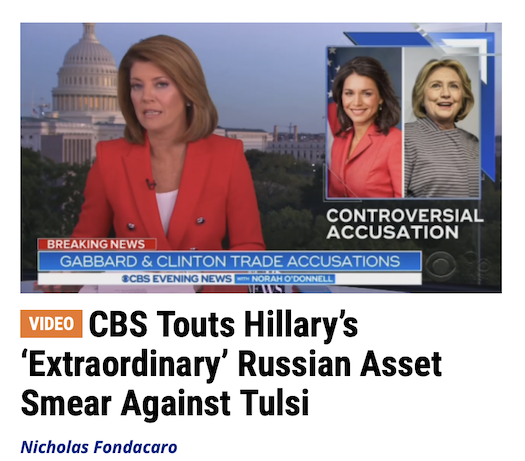 Conservatives hae long loved Democratic presidential candidate Tulsi Gabbard for being useful to their agenda. And moving in lockstep with its "news" division CNSNews.com, the MRC proper is boosting her because she's attacking conservative-friendly targets.
In an Oct. 5 post, Curtis Houck cheered when Gabbard "took a giant whack at the liberal media during Tuesday night's 2020 Democratic debate, taking issue with debate partners CNN and The New York Times as being overly hostile due to her foreign policy views." It wasn't until a few paragraphs later taht Houck conceded that those outlets might have a point, admitting that "much has been written about Gabbard's closeness to despicable Syrian dictator Bashar al-Assad, her skepticism about Assad's culpability in chemical weapons attacks, and acknowledging how Russian bots and Russian media have praised her." But apparently that's all good in Houck's eyes because "she knocked the two far-left media companies running the debate."
It goes to show how utterly skewed Houck's political lens is -- warped from years at the MRC -- that he considers CNN and the Times to be "far-left."
Yet when Hillary Clinton pointed out that Gabbard is "the favorite of the Russians" and may be groomed by them to become a third-party presidential candidate next year -- you know, basically what Houck conceded to be true about her -- the MRC ran to Gabbard's defense, or at least used the accusation to have a collective fit of Hillary Derangement Syndrome.
Nicholas Fondacaro went into full-blown derangement meltdown mode, declaring that "any rational person who listened to Hillary Clinton's recent suggestion that Congresswoman and combat veteran Tulsi Gabbard (D-HI) was a Russian plant in the 2020 election understood it to be the ramblings of a person unglued," calling them "baseless smears" (didn't he read Houck's post?) and bizarrely insisting that the media didn't report on the claims to his satisfaction "possibly to keep such an accusation as a viable smear against President Trump."
P.J. Gladnick didn't dispute Clinton's claim, but he did baselessly speculate it was made "because Hillary needs yet another excuse why she lost due to the Russians." Mark Finkelstein, meanwhile, tried to play down Gabbard's Russian ties, complaining that an MSNBC segment identified only three Russian sympathizers who have donated to Gabbard's campaign: "an NYU professor; someone who has actually been arrested by Russian authorities; and [an RT employee using the alias] Goofy Grapes."
Kristine Marsh echoed Fondacaro's Clinton derangement:
The media's happily taking their marching orders from Hillary Clinton again, since she's thrust herself into the spotlight in recent weeks, even parroting her shocking claim that 2020 Democrat candidate Tulsi Gabbard is a "Russian asset." The View hosts similarly were shameless in their praise over Clinton's "deep knowledge" and accuracy, even claiming she had been "exonerated" and "was right about almost everything."
Meanwhile, Houck forgot he substantiated how "Russian bots and Russian media have praised her" just a few days earlier and pretended Hillary said a terrible thing as an excuse for the usual lame MRC media-bashing:
Appearing twice in as many days on CNN, The Hill's Rising co-host and former MSNBC host Krystal Ball attempted to breakthrough the CNN machine and their establishment crowd by calling out Hillary Clinton for referring to 2020 Democrat, Congresswoman, combat veteran, and Hawaii Army National Guard Major Tulsi Gabbard as a Russian asset.

Further, Ball attempted to make the argument that if droves of people were repeatedly accused of being Russian assets or ideas or campaigns were deemed Russian-backed, then nothing is. Unfortunately, CNN's Zuckerbots weren't interested in this point of view.
The MRC also published a column by Cal Thomas accusing Hillary of having "offered no evidence to support her allegations" and defending Gabbard as someone "who joined the military shortly after 9/11" and who "fired back in the take-no-prisoner style of President Trump," then baselessly whining that "It appears Clinton cannot get over her 2016 election defeat and so she blames everyone but herself."
This is what happens when mindless bashing of the media and the Clintons comes before intellectual or ideological consistency.
Posted by Terry K. at 5:18 PM EDT