Newsmax's Ruddy Defends His Buddy Trump on Impeachment
Topic: Newsmax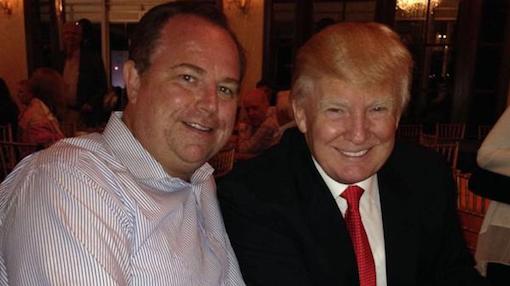 Twenty years ago, Christopher Ruddy and his Newsmax operation were rabidly anti-Clinton and supported his impeachment. Now, he's trying to save his buddy, Donald Trump, from the same impeachment fate. Ruddy declared in his Oct. 20 column:
If you can't beat him, destroy him.

That's the Democrats' game plan when it comes to the impeachment of President Donald Trump.

I spoke with the president shortly after House Speaker Nancy Pelosi's nonsensical impeachment announcement.

To me, it was so clear this was nothing more than a political act, not motivated by constitutional or legal matters.

[...]

Almost from the hours after his stunning election in 2016, the far left went into attack mode, launching protests that very night.

Calls for impeachment began at the time of his inauguration.

The president has been hindered by these actions, and his approval ratings, which should have been sky high, have been dented.

The country has no history of impeaching and removing popular presidents.

The key for Trump, as he faces impeachment, is to use the same playbook he's employed since he started as a rising business, entertainment and political star: just remain popular.
Unmentioned by Ruddy: Bill Clinton was a popular president at the time he was impeached.
On Nov. 1, Ruddy took a different defense approach: Trump is being impeached for being too good of a president:
Donald Trump may make history once again.

He is on track to become the first U.S. President to be impeached for being too successful.

Yesterday's House vote, along party lines, is setting in motion a plan to impeach the President because his record is so strong the Democrats can't beat him at the ballot box.

Unable to deal with the President's A-plus performance managing the country, the Democrats have launched yet another "allegation in search of a crime" probe. (A phrase I coined to describe the Mueller investigation.)
Again, Ruddy did not mention Clinton, who presided over significant economic growth during his presidency. He did, however, weirdly try to throw President Reagan under the bus, claiming Trump "pales in comparison" to the Iran-contra scandal, adding that "Donald Trump's involvement in the Ukrainian matter looks like small potatoes compared to Iran Contra, where laws were clearly broken."
Then, in an italic-laden Nov. 15 column in which every sentence is its own paragraph, Ruddy does his best to spin away the impeachment hearings:
Hey, are you seeing these hearings?

They don't have anything.

It's come down to someone hearing the president on the phone with Sondland.

In a crowded Kyiv restaurant. But still hearing every word.

Then there is another person who amazingly heard Trump too.

Heard what?

Trump wanted "investigations."

Trump always wanted investigations.

Long before his "call" with Zelensky, he openly and publicly complained about the Bidens' role in the Ukraine.

[...]

Almost two months since the impeachment inquiry, we're just discovering this is "bribery."

But a quid pro quo, per se, is not bribery.

[...]

Finally, two things resonate with me.

First, Steve Bannon is looking like a prophet.

At the White House, all he talked about was cycling out the Obama holdovers from the NSC.

"We're going to have big problems," he would warn, seeing danger if Trump staffers were not brought into the NSC.

I heard it myself.

And then there's Trump.

The legendary Ben Hogan said a great golfer isn't defined by his best shots, but by his best "bad shots."

That's Trump.

He always makes the best bad shots.

He has a track record of making miracles out of messes.

Nancy, mark my words.
Now that's some serious shilling right there.
Posted by Terry K. at 8:49 PM EST