CNS Still Loves DiGenova's Insult Comedy -- But Censors His Involvement In Ukraine Scandal
Topic: CNSNews.com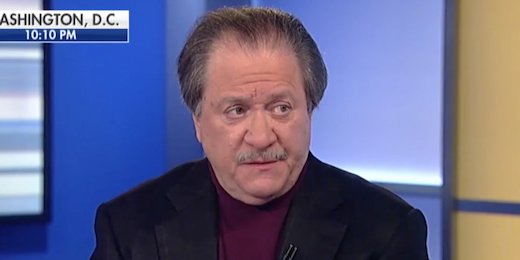 We've documented how enamored CNSNews.com has become with the insult-comedy stylings of right-wing lawyer Joe DiGenova. He's contributed a couple more to the ouvere over the past few months, lovingly documented by CNS managing editor Michael W. Chapman:
What you're not going read about from Chapman or anyone else at CNS, however, is the involvement of DiGenova and his wife, Victoria Toensing, in the Ukraine scandal for which President Trump is being scrutinized (and which Chapman uncritically let DiGenova bizarrely denounce as "regicide").
In late September, Fox News -- on which DiGenova and Toensing are frequent guests -- reported that the pair were working with Trump attorney Rudy Giuliani in an off-the-books operation to dig up dirt on Joe Biden, with the apparent knowledge of Trump. (They deny that Trump knew about it.)
A few days later, it was revealed that DiGenova and Toensing are representing Dmitry Firtash, a Ukranian oligarch fighting extradition to the U.S. on bribery charges. It was later discovered that Firtash has paid the pair around $1 million for their defense, while he was also helping Giuliani dig up Biden dirt.
It has since turned out that another of DiGenova and Toensing's clients is John Solomon, who has been writing pro-Trump stories spinning away the Ukraine scandal for The Hill (which he recently left). DiGenova has apparently been leaking information from Firtash to Solomon for publication.
You'd think all this intrigue would be worthy of news, and it is -- or it would be if you're not a pro-Trump outlet like CNS and looking to curry favor with the president.
CNS is very much sticking to the Trump White House's preferred narrative on the Ukraine scandal, and telling readers the full truth about DiGenova does not align with that narrative.
Posted by Terry K. at 12:25 AM EDT