MRC Gives A Pass to Revenge Porn to Own The Libs
Topic: Media Research Center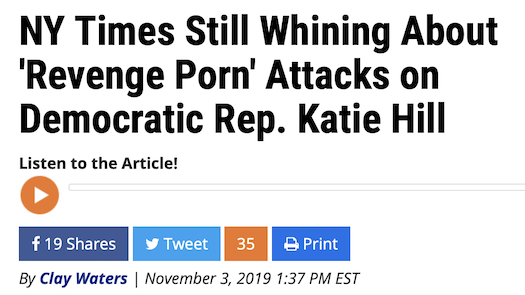 The Media Research Center practically salivated over the sex scandal of Democratic Rep. Katie Hill, accused of having a sexual relationship with a member of her staff. The fact that revenge porn -- on the form of conservative websites publishing photos of a nude Hill, allegely supplied by her estranged husband? The MRC didn't want to explore that aspect very much, despite its long history of complaining about the mere existence of LGBT people on TV.
In complaining that the media was "censor[ing] news of the scandal in an Oct. 24 post, Nicholas Fondacaro was clearly reveling in the salcaciousness -- she has a "Nazi-era tattoo"! -- when he made sure to link to an article about it at the conservative Daily Mail with the note, "Use caution when visiting that link. There's adult content."
A post the next day by Ryan Foley similarly complaining over lack of coverage drooled over the salaciousness -- "The scandal, to say the least, is weird. It involves threesomes (or 'throuples') and an alleged Nazi-era tattoo" -- but let a reference to revenge porn in the transcript go without comment.
An Oct. 28 post by Kyle Drennen complained that one TV discussion of Hill's resignation from her House seat over the scandal "portrayed the liberal lawmaker as the victim of a 'double standard' and even a 'crime,'" which wold be the revenge-porn stuff. Kristine Marsh complained that one commentator "gushed sympathetically" about Hill's career being ruined by revenge porn (no, really, that's what she wrote).
Corinne Weaver whined that Twitter was blocking links to the Daily Mail story on Hill because of the salacious pictures. She then tried to dismiss revenge-porn concerns as something only "the left" cares about, with a bit of added whataboutism:
Sharing graphic photos of undressed people against their will is bad. However, the Katie Hill story is not just about " revenge porn," as the left alleges. Rather, this is about a relationship between a congresswoman and one of her staffers, that if Hill had not left office, would have reportedly resulted in an "ethics investigation," according to NPR.

Outlets on Twitter have run stories on the platform before that displayed or linked to private information. Liberal outlet Splinter ran a story that gave out senior policy advisor Stephen Miller's private cell phone number. The outlet was told to take the story down, and was reportedly suspended for a tweet with the private number, not the story itself.
Weaver appears to be unaware that a phone number and nude photos are not the same thing.
Foley returned to complain that MSNBC's Chris Hayes called out the Daily Mail and RedState for possibly "committing a crime" and "technological domestic violence" in publishing the revenge-porn photos of Hill.He didn't respond to Hayes directly; instead, he concluded his item by apparently arguing that conservative outlets publishing revenge porn was justified: "As for the idea that the media have ruthlessly gone after Hill, that's preposterous. It took the resignation of Hill for MSNBC to even begin reporting on the complex sex scandal surrounding Hill in the first place."
Clay Waters summed up the MRC's new narrative in an Oct. 30 post: Highlighting revenge porn was juyst a liberal talking point no different than complaining that Hill was being treated more harshly than male congessmen caught in similar scandals, adding that it was "muddy[ing] the waters" to point out that the websites that published the explicit photos are conservative.
Fondacaro tried the whataboutism card again, complaining that "the liberal media once celebrated the resignation of former Congressman Chris Lee when photos of him were leaked." But those photos -- shirtless mirror selfies -- weren't pornographic.
Foley lashed out at Samantha Bee for calling out conservative website for publishing the revenge porn, grousing that "It seems unlikely that Bee would give the same lecture about the horrors of revenge porn if intimate recordings or pictures of the President she despises ever emerged."
Waters came back with about attempt to not talk about revenge porn by making it a talking point: "the Times used the same term 'revenge porn' as Hill's 'supporters.' Apparently the Times counts itself among "her supporters" as well." Waters added whataboutism as well: "By contrast, Joe Barton, a former conservative Republican congressman from Texas, didn't get nearly this kind of backing. There were no laments about 'revenge porn.'" But it wasn't clear how the nude picture of Barton got on social media, and he was merely allowed to serve out his term and not run for re-election rather than Hill's forced resignation -- and we don't recall conservative websites (or any other mainstream news operation) posting the photo.
Finally, Tim Graham and Brent Bozell got in one last bit of whataboutism, asserting that talking about revenge porn in the Hill case "completely sidestepped the ethical issues of sex with subordinates" -- never mind that nobody was defending Hill doing that -- and whining that "this kind of creepiness happens to both parties."
Posted by Terry K. at 9:25 PM EST