MRC Tries to Portray GOP Sit-In Stunt As Something Other Than A Stunt
Topic: Media Research Center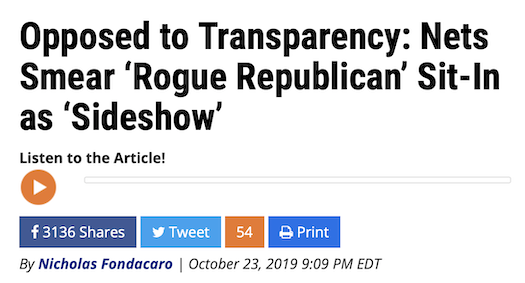 When Republican members of Congress barged into a closed hearing room with the goal of disrputing a Democratic-led closed-door impeachment inquiry, the Media Research Center was quick to cheer it -- and to defend it against charges it was nothing more than a stunt.
Nicholas Fondacaro framed criticism of the stunt as "an attempt to force House Democrats to hold public hearings for their impeachment investigation" and that those in the "liberal media" who criticized it "were appalled by the idea of transparency for Democrats." Fondacaro also played whataboutism, complaining that "The networks used to be all for dramatic sit-ins that disrupted the business of Congress. But in those days it was to support the Democrats." He linked to a 2016 post of his about a House Democrat sit-in to protest the Republican stalling of gun-control legisation, about which he huffed, "Many are calling their actions a publicity stunt, and they seem to be right." Fondacaro did not cite an example of the "many" who allegedly said that.
Fondacaro rehashed his particular narrative in another post:
Calling for transparency in the impeachment investigation of President Trump, several House Republicans stormed the conference room being used for the hearing and staged an old-fashion sit-in. Transparency was apparently something only demanded of Republicans because the liberal media spent Wednesday decrying the GOP tactic.

[...]

It's interesting what CNN was willing to denounce as a publicity stunt because they fell in love with congressional sit-ins when Democrats were obstructing business for gun control.
It's also interesting that Fondacaro is so desperate to reframe this is something other than a publicity stunt, but he can sure throw around that word when Democrats do it.
In a separate post, Fondacaro expressed his support for the stunt as a way to protest "the shady way House Democrats were conducting their partisan impeachment crusade," the complaing that networks "ignored and minimized their efforts."
Other MRC writers served up something similar:
Kristine Marsh wondered why a commentator who argued that the Republicans should be "criminally investigated" -- not out of line, since the GOP stunt did violate House rules, at the very least -- "didn't recommend the same harsh punishment for Democrats, who've done similar 'stunts.'"
Brad Wilmouth decided that to point out this was a stunt was to be "negative."
Tim Graham took particular offense to one commentator who said "This looked like a Klan group assembled outside a jail trying to get the sheriff to let them in so they could deliver justice to somebody who was inside," fretting that the comment was "mudslinging sleaze." Somebody tell Graham that his boss once likened President Obama to a "skinny ghetto crackhead."
Nobody at the MRC is actually denying this was a stunt; they just don't want it called that.
Posted by Terry K. at 1:50 PM EST