CNS Still Putting Pro-Trump Spin On Syria Withdrawal
Topic: CNSNews.com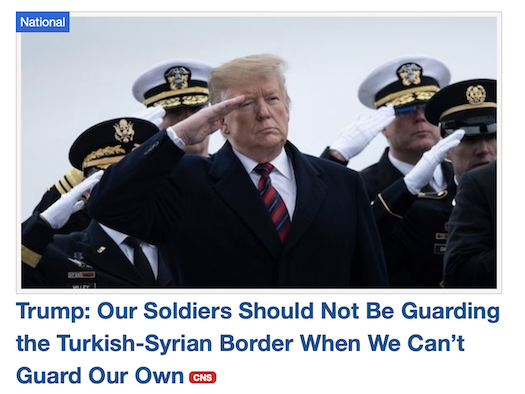 We've documented how CNSNews.com put a pro-Trump spin on the first week of coverage over President Trump's decision to remove U.S. troops from northern Syria, thus exposing Kurds in the region to attack from Turkey (which is exactly what happened). That spin continued largely unabated in the second week of coverage.
An Oct. 14 article by Patrick Goodenough noted that Trump's withdrawal was a "widely-criticized decision, but devoted his article entirely to Trump defending his decision and not mentioning what, exactly, those who opposed the decision were criticizing. That was joined by a Goodenough article highlighting further U.S. troop withdrawals "in the face of Turkey's military onslaught," not mentioning that the withdrawals are what's prompting the military onslaught in the first place; it's not until the 22nd paragraph that Goodenough mentions one key reason Trump's decision was criticized, that it could allow ISIS to reconstitute itself. An article by James Carstensen highlighted European Union criticism of Turkey's invasion, but made almost no mention of the U.S. withdrawal that facilitated it.
Meanwhile, Melanie Arter served up a third article featuring Republican Sen. Rand Paul's support of Trump's withdrawal, and Susan Jones played whataboutism in an article highlighting Democratic criticism of Trump's "precision airstrikes" in Syria in response to the country's "gassing of civiliians" while criticizing Trump's withdrawal, not noting the significant differences between the two situations.
On Oct. 15, Goodenough highlighted U.S. sanctions on Turkey "in a bid to pressure its Islamist government to change direction on policies seen as inimical to U.S. interests." It's not until the 21st paragraph that he notes Trump's withdrawal "has drawn flak from critics who argue it amounts to abandoning those Kurdish allies, risks strengthening the hands of Russia and Iran in Syria, and could result in a resurgence of ISIS."
An Oct. 16 article by Arter uncritically repeated another Trump defense of his withdrawal. Goodenough, meanwhile, served up pro-Trump spin on a letter Trump sent to Turkish President Recep Tayyip Erdogan under the sycophantic headline: "Trump Urged Erdogan Not to be 'a Tough Guy' and 'a Fool.' Erdogan Ignored Him and Went Ahead"; Goodenough made no mention of the fact that Trump's letter has been almost universally panned as unprofessional and disrespectful and, thus, utterly ineffective as a tool of diplomacy (Erdogan himself threw the letter away).
The next day, Goodenough repeated a claim from Secretary of State Mike Pompeo that Trump could adjust his withdrawal decision, claiming that "My experience with the president is that he makes decisions and then absorbs data and facts, evaluates situations"; no mention of why Trump doesn't absorb data and facts before making a decision. Arter did more Trump stenography in another article, repeating claims from White House deputy press secretary Hogan Gidley's claims that the media is lying about the withdrawal giving Turkey a green light to attack Syria.
Surprisingly, CNS also published an Oct. 17 op-ed from Hans Bader criticizing the withdrawal, highlighting that the Turkish invasion in the face of the U.S. withdrawal has resulted in the deaths of "hundreds of people" and that "the Kurds relied on the Trump administration's claims to their detriment," adding: "Our shameful treatment of the Kurds is one of many examples of American politicians being unreliable in their dealings with foreign peoples. That discourages people in foreign lands from helping and cooperating with the United States." But Bader also made sure to play whataboutism, referencing what he called "the Obama administration's even more disastrous military intervention in Libya," which is what got his op-ed published at CNS.
Seemingly to offset that, CNS also published two more columns by Pat Buchanan cheering the withdrawal.
Meanwhile, the pro-Trump spin continued: Arter touted how Vice President Mike Pence announced that "the United States and Turkey have agreed to a ceasefire in Syria, and Turkey will allow for the withdrawal of YPG forces from the safe zone" -- no mention, of course, of the fact that the decision effectively lets Turkey get away with its invasion -- though a follow-up by Goodenough points out that the cease-fire "applies only to one relatively small section of the strip of Syrian territory that Ankara wants as a buffer zone" and quotes a Turkish official admitting that the country got what it wanted under it.
Arter did, however, add a late-Friday article featuring Republican Sen. Mitt Romney's criticism of Trump over the withdrawal.
Posted by Terry K. at 3:58 PM EDT
Updated: Thursday, November 21, 2019 12:16 AM EST