MRC Falsely Smears Gayle King By Accusing Her Of A Smear
Topic: Media Research Center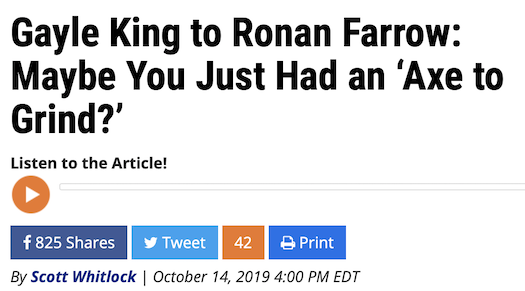 The hypocrisy of the Media Research Center to obsess over sexual harassment scandals at some TV network while it effectively ignored similar scandals at Fox News is breathtaking, to say the least -- but we've come to expect no less than that. The MRC is so committed to that narrative that it's misrepresenting the words of "liberal" network employees.
Thus, we have this Oct. 14 item by Scott Whitlock:
CBS's Gayle King, who co-hosted a show with Charlie Rose (a man who resigned in disgrace after sexual misconduct claims) and who worked for network President Les Moonves (a man who resigned in disgrace after sexual misconduct claim) pressed investigative journalist Ronan Farrow on Monday about his possible "ax to grind" when it comes to sexual misconduct claims... at NBC.

The somewhat confrontational segment featured all of the current CBS This Morning co-hosts grilled Farrow with detailed questions about his sourcing on sexual abuse claims from powerful men. While they referenced the problems at CBS, the questions came about the problems on NBC.

Regarding NBC's refusal to proceed with Farrow's reporting on disgraced Hollywood mogul Harvey Weinstein, Gayle King demanded, "The bulk of the book is about your efforts to tell the Harvey Weinstein story and in the end NBC killed the story saying it didn't reach their level of journalism. How do we know that this is not just — they're saying it's an axe to grind on your part."
Actually, it appears that King is simply setting Farrow up to respond to his critics, particularly at NBC, which has attacked his book (detailed in the transcript that Whitlock didn't otherwise acknowledge).
Whitlock repeated his smear of King in an Oct. 22 post, claiming that "King suggested Farrow might have an 'ax to grind." That post was otherwise about Fox News anchor Bret Baier's appearance on "CBS This Morning,"with Whitlock whining that the show's co-hosts "grilled" Baier "about the departure of Shepard Smith from the network, baiting him to divine what exactly Smith meant when he said that the 'truth will always matter.'" (The MRC hates Smith for failing to march in lockstep with Fox News' right-wing agenda.)
Whitlock didn't mention that Baier has his own issues with the truth, touting an anonymous sourced story before the 2016 election that Hillary Clinton's indictment was imminent -- a story that Baier had to retract and a story the MRC totally embraced yet never told its readers was retracted.
Posted by Terry K. at 11:12 PM EST