Alveda King Now Shilling for Trump Over Impeachment
Topic: Newsmax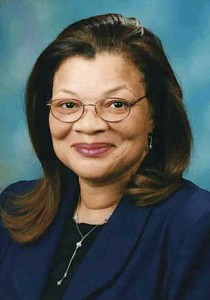 We've detailed how anti-abortion activist Alveda King is desending into pro-Trump worship and outright shilling. She went further down that path in her recent Newsmax columns. On Oct. 25, she wrote:
Blessings to Senator Lindsey Graham of South Carolina for his stand for justice in the case of the current unfair impeachment efforts against President Trump.

Yesterday, Senator Graham introduced a resolution denouncing the current impeachment inquiry into President Trump. He said impeachment is "very dangerous to the country," and that is true.

Please join the battle for justice in support of this effort. Support Sen. Lindsey Graham's resolution by doing three things:

First, pray that what is being done in secret will be exposed in the light.

Next, get on all your social media platforms and post your support of the resolution and for your support of due process for President Trump.

And, put a call in to your Senators and Representatives, let them know they must honor the rule of law, to put the impeachment proceedings to a vote and for your support of SR 378. Assure them of your support.
She repeated more pro-Trump talking points: "The illegitimate impeachment proceedings lack due process for the president and transparency, as standing members of Congress have been shut out of the hearings, and U.S. citizens are being denied facts while POTUS is denied due process.
King then gushed in her Nov. 8 column:
I am in Atlanta today with President Trump and it's been a great day for the president.

There is a lot of support for Trump in Atlanta. We all need to love, forgive, and support our leaders. Through loving our enemies we can all get along. We can have the greatest nation on the planet.

Today we rolled out the "Black Voices for Trump" coalition. There is a lot of energy and excitement in the air. President Trump spoke to a large crowd of supporters along with Vice President Mike Pence and Housing and Urban Development Secretary Ben Carson.

In his run for the presidency in 2016, in asking for the Black vote — "What do you have to lose?" Since that day, with many promises kept, POTUS has consistently shown us what we have to gain. Now, 3 years later, not only did Blacks not lose anything but we have gained a lot with the unemployment rate being at historic lows and the establishment of opportunity zones to help revitalize struggling neighborhoods. He has also been the most prolife president we have ever had, protecting all life from the womb to the tomb. With Blacks accounting for about a third of all abortions, that's a lot of Black babies our president is protecting.

So, please pray for us! God is good.
King's prayer for Trump included this bit of worship: "God bless humanity and America with four more years with Donald J. Trump in your hands as our president."
In her Nov. 14 column, King bizarrely framed the impeachment in biblical terms:
This most recent bloodthirsty demand for impeachment, a drive based on lies, secrecy, and hearsay reminds one of a passage in 1 Kings 18.

Let's examine the passage through 21st century "woke" lenses.

"Then the Truth-seekers said: Let the haters seek impeachment. Let them lay it out on their altar — but don't ignite it. We will take the truth, lay it before the people. And wait; neither will we light the fire. Now you do your worst; we will do our best. You fan the media furor, we will pray to GOD.

The one who answers with fire will prove to be, in fact, God.

[...]

A Challenge from Truth Seekers to America:

"How long are we going to sit on the fence? If GOD is the real God, follow GOD; if it's the politicians, follow them. Make up your minds!"

Immediately the fire of GOD fell upon the altar of the truth seekers and burned up the offering, the wood, the stones, the dirt, and even the water in the trench. All the people saw it happen and fell on their faces in awed worship, exclaiming, "GOD is the true God! GOD is the true God!

Truth seekers arise. We don't worship government, we worship God. Overcome impeachment with truth. Pray for America.
It's almost cute how King thinks that an inveterate liar like Trump is a "Truth Seeker."
Posted by Terry K. at 9:45 PM EST