MRC Kaepernick Derangement Syndrome Watch
Topic: Media Research Center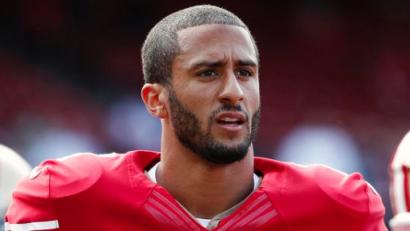 Colin Kaepernick popped up in the news earlier this month, and you know what that means: Mysterious Media Research Center blogger Jay Maxson came down with yet another case of Kaepernick Derangement Syndrome.
Maxson broke the news in a Nov. 13 post: "There's been a major thaw in the cold war between the NFL and former San Francisco 49er quarterback Colin Kaepernick. The league has arranged a private workout and interview for the cop-hating NFL cast-off this Saturday, and all 32 teams are invited to attend."Maxson further huffed that the "media have never stopped whining about him being 'blackballed' for his national anthem protests"; Maxson doesn't disprove the argument.
The next day, Maxson whined that there was "plenty of Kaepernick Kool-Aid" on ESPN programs talking about the tryout for "the radical former pro quarterback/anthem kneeler." Maxson was so in derangement mode tha the wrote a second post about Kaepernick that day, huffing that "the groupthink media parrots had their talking points down pat: the NFL's Saturday workout and interview with the famous anthem foe is a sham and a PR stunt" -- as if Maxson wasn't peddling right-wing groupthink -- further whining that "The NFL is creating a stage for the three-year free agent that no veteran player has ever had."
Maxson rested from Kaepernick-related derangement for a day before returning with a Nov. 16 post denouncing the NFL workout for him as "unprecedented' and "privileged" and attacking media folks as being "fully in the tank for Kaepernick." Maxson further huffed: "Kaepernick has a losing career record of 28-30 as a starting NFL quarterback. That's just an inconvenient, seldom-mentioned truth to his media apologists, who are fixated on his social justice "exploits". They have fuzzy memories of past greatness and fuzzy visions of Kaepernick turning his new team into a Super Bowl contender."
Kaepernick also played in a Super Bowl, which we can safely assume is more than the mysterious Maxson has done.
Maxson wasn't the only one reveling in hate, though. A Nov. 14 post by Gabriel Hays had a meltdown over "U.S. women's World Cup champion, feminist activist and angry lesbian Megan Rapinoe dedicating her Glamour 'Women of the Year Award' to disgraced, race-baiting former NFL quarterback Colin Kaepernick." Reminding us that the MRC hates Rapinoe too, Hays sneered that she is merely "famous for playing soccer, for being a lesbian, and for having the right politics."
Posted by Terry K. at 10:32 AM EST