Terry Jeffrey Trump Deficit Blame Avoidance Watch
Topic: CNSNews.com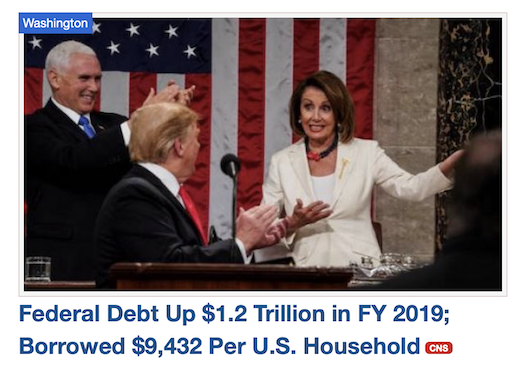 In case you were wondering: No, CNSNews.com editor in chief Terry Jeffrey still has not explicitly assigned blame for increasing federal debt where it belongs: at the feet of President Trump and Republicans. He lamented in an Oct. 16 article:
The federal debt increased by $1,203,343,570,253.55 in fiscal 2019, according to data released by the U.S. Treasury Department.

That equaled approximately $9,432 for each of the 127,586,000 households the Census Bureau estimated were in the United States in 2018.

In the decade that began on the first day of fiscal 2010 and ended on the last day of fiscal 2019, the federal debt increased by $10,809,572,749,922—for an average of $1,080,957,274,992.20 per year.

That $10,809,572,749,922 in additional debt accumulated by the federal government over the past decade equaled approximately $84,724 per each of the 127,586,000 households in the United States in 2018.
As usual, Jeffrey avoided using the words "Trump" and "Republicans" in his article, and it was accompanied with yet another stock photo that included Nancy Pelosi, even though she leads only one-half of one branch of government, while Republicans control one and a half branches.
Jeffrey further complained in an Oct. 23 column:
Federal spending programs that are "designed to transfer income ... to individuals or families" are set to hit a record $3,223,943,000,000 in fiscal 2020, according to projections published by the Office of Management and Budget.

These so-called "payments for individuals" (as the OMB calls them) are projected to account for 67.9% of all federal spending this fiscal year and consume 14.4% of the nation's gross domestic product.
Again, no mention of Trump or Republicans -- despite vaguely huffing that "The people who run our government are truly record setters — when it comes to taking money from one group and giving it to another" -- and again there's a stock photo that included Pelosi.
More budget-related huffing came in an Oct. 28 article:
The amount of money the federal government collected in individual income taxes and the total amount of money the federal government spent both set records in fiscal 2019, according to the Monthly Treasury Statement released Friday afternoon.

However, even while collecting a record amount in individual income taxes, the federal government still ran a deficit of $984,388,000,000 during the fiscal year.
The template was followed again: no mentionof Trump or Republicans, and a stock photo featuring Pelosi even though she's never mentioned in any of these articles either.
Jeffrey returned to the subject again in his Oct. 30 column, and he misportrayed the situation by arguing that Republicans and Democrats share equal blame for the deficit situation:
The leaders of both the Republican Party and the Democratic Party in the U.S. Senate proved again this week that they favor a bigger federal government that spends and borrows more money.

[...]

Congress is continuing what is now a bipartisan tradition.

In the first two decades of the 21st century, real federal spending has increased by 70.7%.

[...]

When Republicans and Democrats work together in Washington, D.C., today, it is not to cut a bloated federal government but to cut the chances this nation will be solvent and prosperous for our children and grandchildren.
But Jeffrey still couldn't bring himself to utter the word "Trump," even though the president signs those buget bills he considers too bloated and, thus, is ultimately responsible for them.
Posted by Terry K. at 1:09 AM EST