Terry Jeffrey Trump Deficit Blame Avoidance Watch
Topic: CNSNews.com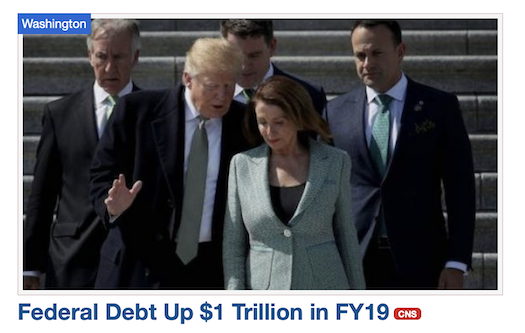 CNSNews.com editor in chief Terry Jeffrey's issues with declining to blame President Trump and Republicans by name continued in a Sept. 9 article complaining that "the federal debt had already increased by more than a trillion dollars in fiscal 2019 with more than three weeks to go in the fiscal year":
At the close of business on Sept. 28, 2018, the last business day of fiscal 2018, the total federal debt was $21,516,058,183,180.23, according to the Treasury.

At the close of business on Sept. 4, 2019, it was $22,517,297,955,639.18.

At that point, the federal debt had increased by $1,001,239,772,458.95 in fiscal 2019.

As of Sept. 6, 2019, the latest day for which federal debt numbers have been reported by the Treasury, the debt had risen to $22,532,757,499,591.39.

Thus, so far in fiscal 2019, the federal debt has increased $1,016,699,316,311.16.
As usual, the words "Trump" and "Republican" appear nowhere in the article. As usual, he tries to implicitly blame Democrats for the deficit by including his favorite stock photo of Trump and House Majority Leader Nancy Pelosi together.
Jeffrey followed that with a Sept. 13 article complaining that "The federal government spent a record $4,155,323,000,000 in the first eleven months of fiscal 2019" while it "ran a deficit of $1,067,156,000,000." Again, the words "Trump" and "Republican" are missing, and again, Jeffrey's favorite Trump-Pelosi stock photo is used.
This story has a tag at the end that "The business and economic reporting of CNSNews.com is funded in part with a gift made in memory of Dr. Keith C. Wold." Once again, we have to wonder if Wold's memory is best served by such misleading, politically driven economic reporting.
Posted by Terry K. at 12:38 AM EDT
Updated: Tuesday, September 24, 2019 12:40 AM EDT