MRC Complains About Labeling Of Trump Jr.'s Hecklers
Topic: Media Research Center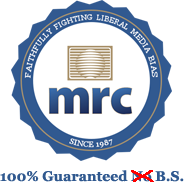 It's bizarrely entertaining to see the Media Research Center -- which loves to label things and people as "far left" in a way that ignores degrees of liberalism because that's an attack label that plays well with its right-wing base -- have a fit over how people on its side of the political spectrum are labeled.
Curtis Houck used a Nov. 12 post to lecture CNN about its labeling of hecklers who drove Donald Trump Jr. off a stage:
On CNN Right Now, host Brianna Keilar had three teases boasting of these protesters. The first tease had the chyron "Campus Chaos; Far Right Crowd Heckles Trump Jr Off Stage" and the others read:"Campus Chaos; Trump Jr Leaves Stage After Protests by Far Right Crowd."

In the segment, Keilar claimed that the protesters were "right-wing activists." Ah, yes. So the same people that have turned their ire to attacking the Daily Wire and editor-in-chief Ben Shapiro with anti-Semitic tropes?

Further, such individuals would be classified as alt-right, so more akin to neo-Nazis (which, after all, are National Socialists) than the ideals of Russell Kirk, William F. Buckley, and Ronald Reagan. But sure, CNN. Tell us more about what's conservative and what's not.
Houck praised CNN's Brian Stelter for being "correct" in labeling the hecklers as "far right wing," then complained that "Just over seven hours later, AC360 host Anderson Cooper hyped that "it was conservatives" who protested the event.
If Houck wants to address the issue of sloppy political labeling, perhaps he should start with the MRC's NewsBusters operation, for which he serves as managing editor. Over the past month or so, here are the people and things the MRC has labeled as "far left":
Houck cannot plausibly, objectively or accurately claim that all, or even most, of these people and things are "far left" -- again, this is just meaningless clickbait for MRC readers.
If Houck wants the "liberal media" to learn the difference between conservative, right-wing, far-right and alt right, he and his co-workers should make the effort to learn the difference between liberal, progressive, left-wing and far left -- and make sure the MRC's writers and bloggers use that labeling consistently. If right-leaning political labels mean things, then left-leaning ones do as well.
Houck apparently has yet to learn that nobody will treat his "media criticism" seriously as long as he continues to act in an unserious, unprofessional manner.
Posted by Terry K. at 12:42 PM EST