MRC Can't Quite Deal With Nicolle Wallace's Insult of Fox News Host
Topic: Media Research Center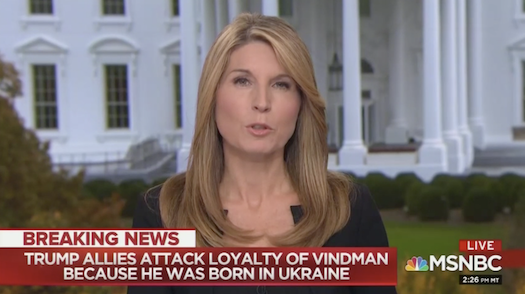 MSNBC host Nicolle Wallace insulted a Fox News host, and the Media Research Center isn't quite sure how to handle it.
In an Oct. 29 post, Scott Whitlock wrote that Wallace "lashed out at Fox News host Laura Ingraham, calling her "chickenshit." Weirdly, Whitlock did not explain exactly why Wallace hurled the insult at Ingraham, noting only that "Wallace played a clip of Ingraham talking about Lieutenant Colonel Alexander Vindman, who is testifying in front of the impeachment probe. The MSNBC host attacked Ingraham and her guests Alan Dershowitz and John Yoo for criticizing him." In fact -- according to the transcript of their words that Whitlock did not note anywhere else in his article -- Yoo suggested Vindman was committing "espionage" in his work as a U.S. national security official advising on Ukrainian matters, and Ingraham claimed that Vindman was working "against the President's interests," failing to note that Vindman was working to advance the country's interests.
Whitlock seemed to suggest Wallace had a point, stating that "Vindman has an inspirational life story and has devotedly served his country." But since it's not the MRC's job to agree that any criticism of Fox News is justified, Whitlock went on to attack Wallace by recounting past statements he didn't like: "Wallace is in no position to offer moral judgments. She had to apologize in August after falsely accusing Trump of 'talking about exterminating Latinos.' She has also joked about 'punching' the President and wondered if the Trump women are 'dead inside.'" He then provided a link to an earlier MRC "montage of Wallace's bizarre, unhinged hate."
Despite a brief bit of clarity on Whitlock's part, it's clear that the MRC will ignore that use Wallace's comment as another way to attack her. In a Nov. 14 post, Kristine Marsh wrote about an appearance by Wallace on Stephen Colbert's late-night show. Showing the intolerance for conservatives who have left the fold that the MRC is known for, Marsh complained that Wallace "has been trying her hardest to prove her allegiance to Democrats by trashing the party she used to work for, at every opportunity she gets. Marsh further complained: "Colbert, who also used to pretend he was a Republican on TV, began by playing the clip of Wallace calling Ingraham and guest John Yoo, "chickensh**." The audience cheered loudly at her crude quip, while Wallace grinned and put her hands in front of her face as if she was embarrassed by what she said. A pleased Colbert looked on approvingly, and asked if she came on the show to clear things up. Wallace admitted she was only sorry because she got caught swearing in front of her kids."
Of course, Marsh declined to provide the context of Wallace "chickenshit" remark -- probably so she similarly wouldn't have to concede that maybe she had a point.
Posted by Terry K. at 8:50 AM EST