CNS Puts Pro-Trump Spin on Withdrawal of U.S. Troops From Syria
Topic: CNSNews.com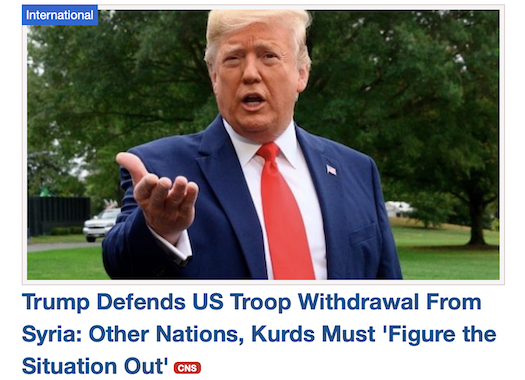 CNSNews.com is framing its coverage of President Trump's declared withdrawal of U.S. troops from northern Syria -- thus clearing the way for a Turkish invasion of the region targeting the Kurds, who are U.S. allies -- in its usual pro-Trump fashion, by going on the assumption that Trump is right and downplaying the widespread and bipartisan criticism of his plan.
CNS' first story on the decision was an Oct. 7 piece by Trump fan Susan Jones, who waited until the fifth paragraph to mention what she called "predictable fury from pundits and politicians on liberal cable outlets as well as Fox News," then noted "criticism from both Republicans and Democrats" -- all the while uncritically repeating Trump's tweets defending his decision -- and it was not until the 11th paragraph (six of which were straight Trump quotes) that Jones offered a detailed criticism of Trump's decision.
The next day, Patrick Goodenough highlighted Trump's further defense of his withdrawal plan, but waited until the sixth paragraph to mention that it's "drawing strong criticism from many Democrats and Republicans" and offer no further mention of the nature of that criticism, focusing instead on the issue of repatriating captured ISIS fighters.
Jones, meanwhile, contributed an article touting Republican Sen. Rand Paul's comments on how he "strongly supports the president's move," even though "some Republicans, including Trump allies such as Sen Lindsey Graham, have joined Democrats in sharply criticizing the president's decision to withdraw an unannounced number of U.S. troops from northeastern Syria."
(In between, CNS published a column by Pat Buchanan cheering the "American withdrawal from the forever wars of the Middle East.")
An Oct. 9 article by Goodenough noted criticism of Trump right at the top, for once -- but from Turkish officials critical of "Trump's threats to destroy the country's economy if it acts in a way that he views as 'off limits' in Syria." It wasn't until the 21st paragraph of his article that he acknowledged that "Critics, including some senior Republicans, argue that withdrawing could benefit hostile elements like the Assad regime and its allies Iran and Russia, and facilitate a resurgence of ISIS," though he then noted a Department of Defense report linking a drawdown of U.S. troops in the region to a likely ISIS resurgence.
Also on Oct.9, Jones finally wrote the first CNS article putting criticism of Trump's withdrawal in the headline, from former national security adviser Susan Rice. That was joined by an article noting European criticism of the withdrawal.
The next day, however, it was back to the prevailing narrative. An article by Jones gave Secretary of State Mike Pompeo space to defend Trump's decision and to insist that it didn't give a "green light" for Turkey to invade northern Syria. It wasn't until the 11th paragraph that Jones got around to noting that "A number of Republicans have joined Democrats in criticizing President Trump's decision to stand aside for Turkey." And CNS touted Paul's support of Trump's withdrawal plan again, this time in an article by Melanie Arter.
An article by Goodenough the same day was a bit confused; he claimed Republican Sen. Lindsey Graham was "breaking with President Trump" by pushing for sanctions against Turkey over the military operation everyone predicted would take place upon announcement of Trump's withdrawal plan, but then quoted Trump saying he thought that was "okay."
Posted by Terry K. at 4:11 PM EDT
Updated: Tuesday, October 15, 2019 12:50 AM EDT